How to Put a Condom on a Soft Penis — With Your Mouth

Those of us in our 50-80+-year-old age group who are dating or in non-exclusive relationships need to take safer sex seriously. Yet how often do we face the challenge that the penis owner in our bed loses his erection (or thinks that he will, or doesn't have one in the first place) when we want him to don a condom? We can have plenty of sexy fun with or without his erection, but what do we do about barrier protection?In honor of
STD Awareness Month
, I'd like to share with you an easy and sexy way to put a condom on a soft penis — using your mouth. With the help of the delightful
Kendra Holliday
(who told me, "I've never done this before!), the perfectly flaccid 
Sailor Soft Pack
from
Good Vibrations
, and an expired condom (don't we all have those?), I presented this demo during my "25 Tips for Sexy Aging" presentation at
CatalystCon Midwest
.  Here are the step-by-step instructions. (Practice on a dildo, soft packer, or consenting vegetable first.)
1. Start to unroll the condom, just enough so that you're sure of the direction it unrolls. Squeeze out any air in the tip. (That doesn't matter for the demo, but it's important when you do it in real life.)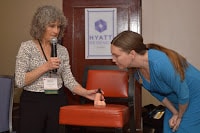 2. Perch the condom on top of the head of the penis and roll it down just a little, keeping it in place with your fingers. If the penis is soft, the condom won't go down much — that doesn't matter. You're just getting it in position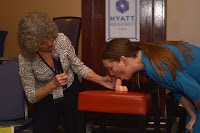 3. Put your mouth over the tip of the condom-clad penis head, leaving the rim of the condom outside your mouth. Use your fingers to keep the rim in place. Start to suck.
4. Keep sucking gently. Use your fingers to assist the condom to roll down over the penis, which is disappearing into your mouth, much to the enjoyment of its owner. As you continue to suck and the penis gets pulled into your mouth, the condom will continue to unroll over it — magic!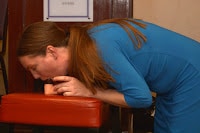 5. Keep going until the condom is fully unrolled. Keep it in place with your hand as you remove your mouth — if indeed you want to remove your mouth — from the well-clad penis.
Doesn't that sound like fun? Oh, it is! Thank you to the lover whom I will not name who first introduced me to this trick.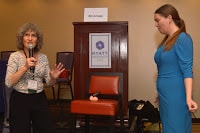 Many thanks to Kendra Holliday for her willingness to learn this method in front of an audience. Kendra is a sex surrogate in St. Louis and co-leader of SEX+STL (Sex Positive St. Louis). She blogs as The Beautiful Kind.
Thanks also to Randy Austin-Cardona for photographing this process, and to CatalystCon for inviting me to give my "25 Tips for Sexy Aging" at this conference.
Note to meeting planners who were considering hiring me to speak until they read this — don't worry, this demo is optional! As always, my talks are personalized for your audience and your needs and preferences.