Womanizer W500: Outstanding Clitoral Suction Vibrator!
2/12/22: This Womanizer model is no longer available. Please check out LoveHoney's current array of Womanizers. I deleted the dead links but didn't delete the review because, hey, Jeffrey Dean Morgan.
1. It's stronger, with 8 speeds (instead of 5). Even this power queen didn't need to turn it up to the highest intensity, and I almost never say that.
3. It's much more attractive! No more garish, girly ear thermometer — now it has a subtler, more appealing design.
5. It comes with a classy, black satin storage bag instead of a bright, bubblegum pink case.
Both models come with two detachable silicone cups and a USB charger. Use a small amount of water-based lubricant to create a seal.
If you're close to my age (72), you're probably challenged by decreased blood flow to the genitals, making arousal and orgasm a slower and sometimes more difficult process. But this gentle suction pulls the blood into the clitoris and makes arousal and orgasm happen. It just does.
Here are a couple of ways you can enjoy the Womanizer:
* For solo sex, especially if you want a quickie, the Womanizer gets you there faster than most vibrators.
* For partner sex, make the Womanizer part of the arousal warm-up. Then once your clitoris is engorged and you feel ready, you'll find it easier to reach orgasm in any way you play.
"But is it good enough to warrant the $230 price tag?" you ask. I know: ouch. But I really do think it's worth it. I think you'll love it as much as I do.*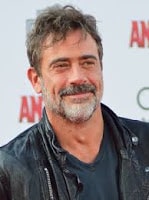 Jeffrey Dean Morgan