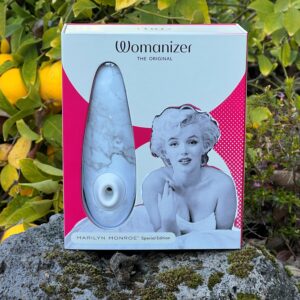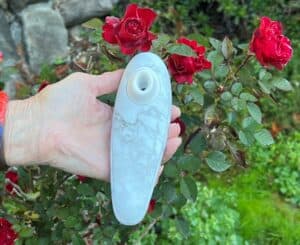 The Womanizer Marilyn Monroe™ Special Edition Clitoral Suction Stimulator from LoveHoney is a gorgeous, elegantly designed and packaged gift for your clitoris. It comes in four colors: white marble (pictured), black marble, mint green, and vivid red.
This powerful "Pleasure Air" technology toy has 10 intensity levels from "ummm" to "oh, yes, yes, yes!" It's completely waterproof.
If you're new to "Pleasure Air" sex toys, they feel a lot like gentle pulsing and sucking. Apply water-based lubricant to your clitoris, and place the nozzle-looking part over it. Start with the lowest setting, relax, and gradually raise the intensity as you need it. It's a delicious feeling!
Why Marilyn Monroe?
Born 1926, Marilyn became the sex symbol for my generation. I remember devouring stories about Marilyn in movie star magazines when I was in junior high and trying to figure out what being a woman meant. I barely understood what "sexy" meant or stood for, but I knew she was the epitome, way beyond my aspirations. My little breasts were embarrassing. Hers were awe-inspiring.
She had it all, or so we thought. Marilyn died by suicide of a barbiturate overdose at age 36.
Controls
The controls on the back are remarkably clear and easy to use. From bottom to top:
The two raised silver dots are for the connecting points for the magnetic charger.
Power button: press and hold for 2 seconds to turn on and off.  Press and release quickly for the "afterglow" setting (see below). The power button lights up in use. It's also a handy battery level indicator which flashes quickly when the Womanizer is half-charged and slowly when it's close to discharged.
Minus (-) button: press and release to lower intensity.
Plus (+) button: press and release to raise intensity.
Note that the plus (+) and minus (-) buttons are different sizes, easy to choose the right one, even with eyes closed.
Accessories: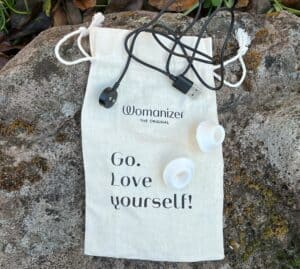 Like the Womanizer ECO (my personal favorite), this version comes with a cotton drawstring bag for storage.
Charging is simple with the USB magnetic charging cord. Unlike many magnetic chargers, this one attaches tightly and doesn't disengage until you pull it off.
Two silicone "stimulation heads" are included. These pop off for easy switching or washing. Although one is a little higher than the other, the difference in width is negligible.
A short, clear, illustrated user booklet with easy-on-the-eyes black print on white. I've complained in the past about user manuals that were all but illegible to our old eyes, e.g. small white print on pink background, ugh.
Afterglow
I love the Afterglow function! If you require high intensity to orgasm, and immediately afterward your clitoris is too sensitive and you abruptly remove or turn off your vibrator, here's a special treat. After enjoying a strong orgasm at whatever intensity gets you there, press the power button quickly and it switches to the lowest setting. I think of it as letting your clitoris "purr" for a while after your orgasm.
Is Womanizer Marilyn Monroe for you?
Yes, if you're a Marilyn Monroe fan and want to honor her with your orgasms.
No, if you're uncomfortable with Marilyn's name and image used without her consent. (Her estate did consent.) FYI The Marilyn Monroe is exactly the same as the Classic 2, other than the appearance and references to Marilyn.
Yes, if you're giving a gift and want a beautiful design.
No, if you already have another Womanizer or air puff stimulator that you use and love. Other than the colors, it's similar to other Womanizers.
Yes, if you're a beginner to "pleasure air" technology. The lowest settings are mild and will help you get used to this kind of stimulation.
You've come a long way, Womanizer!
I've been enjoying and reviewing Womanizer clitoral stimulators since the first one — a hideously garish but marvelously effective game changer — entered my bedroom in 2015. Since then, I've reviewed updated Womanizers as they became prettier, sleeker, easier to use, more powerful, altogether more deliciously satisfying.
Thank you, LoveHoney, for sending me the Womanizer Marilyn Monroe™ Special Edition Clitoral Suction Stimulator in return for an honest review.