Secret Sex Lives by Suzy Spencer: book review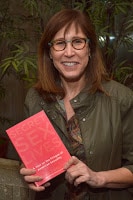 Suzy Spencer
photo by Randy Austin-Cardona
Since first grade, when I first lusted over a gorgeous dark-haired boy named Travis, I prayed to Jesus for a boyfriend. I never got one. The closest I ever came was a couple of briefly consummated associations with married men. . . I don't trust men enough to be emotionally intimate with them. And I don't know why men terrify me so. They just do. God, they do.
Does that sound like the kind of person who interviews strangers about their sexual behavior for a book? Yet that's what Suzy Spencer did. At age 50, she took a yearlong detour from writing true crime and placed an ad on Craigslist, asking for people who were willing to talk about their sex lives.
Her "sex freaks" — as she dubbed them — contacted her in droves. They were eager, often titillated, to talk about their sexual encounters, desires, and secrets — including cheating on their spouses, swinging, kink play, Dom/sub, phone sex, cross-dressing, and more. The result: Secret Sex Lives: A Year on the Fringes of American Sexuality.
Was Spencer kinky and wild herself? Quite the opposite. She hadn't had sex in ten years and admitted feeling out of her element about the whole subject. Raised Southern Baptist and never having experienced satisfying sexual freedom personally, she was uneasy about her own reactions to some of the wild stories and confessions she was hearing. Sometimes she was fascinated past journalistic curiosity. Sometimes she pushed journalistic boundaries* as well as personal ones. Sometimes she was disgusted. And occasionally she described trying not to laugh.
Those last two reactions interfered with my appreciation of the book at times. I don't think she realized how judgmental she was (or if she did realize it, it didn't bother her). For example, she told a round-bellied, truck-driving Texan that he didn't look bisexual ("I am just shocked — I mean, no one would look at you and think — ever."). She had to fight back "something putrid" rising in her throat when one of her interviewees described having daddy/daughter phone sex. She described Lady Sapphire, giving a presentation on bondage, this way:
Lady Sapphire's demeanor is pure rural. Her eyeglasses look like one-hour wire frames. Her…dress reveals white, scarred, toneless arms. Its neckline…covers her breasts, which are aligned with her protruding stomach…Slump-shouldered, Lady Sapphire looks like she's about to go grocery shopping on a hot summer day.
* About the boundary pushing. At one point, a man who has been describing his phone sex encounters invites Spencer to listen in on his multi-orgasm-producing conversation with phone sex partner of the moment. However, the recipient of this call — and of the multiple orgasms — would not know that Spencer was listening in. Spencer agreed and went through with it, which struck me as highly unethical. The phone sex was consensual — but would it have been if the recipient had known that a journalist was listening and taking notes, and would later record this conversation in a book?
I appreciated seeing the changes in Spencer's attitudes about sex as she delved into other people's sex lives and how they felt about what they did. She was painfully aware of how tightly closed up her own desires were, and she realized she was living vicariously through her "sex freaks."
Much as I didn't like Spencer's judgmental reactions to her subjects, I respect her as a writer for her courage in revealing the jarring flaws in her own sex-positivity. She easily could have cut comments like "I need a break from cross-dressing, enemas, slaves, sluts, and whips" or "I was so tired of hearing men rationalize their cheating by complaining that their wives had lost all sexual interest due to menopause or a hysterectomy" or "I wasn't all that interested in watching a beer-bellied retiree with rosacea rub his penis until sperm oozed," and we'd be none the wiser. But the struggles with her upbringing and prejudices are part of the journey for Spencer.
This aim of this book reminded me a little of America Unzipped: In Search of Sex and Satisfaction by Brian Alexander, which I enjoyed tremendously and reviewed in 2008. If you haven't read that one and you like learning about how other people enjoy/ express/ revel in sex (and we're not talking about missionary position with the lights out), check it out, too.