Rumble: Unique, Lightweight Vibrator from Tantus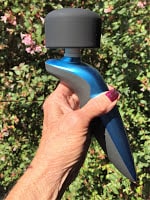 Do you want a vibrator that's well-designed, well-made, body-safe, and fairly strong — with a truly ergonomic shape, size, and weight? Impossible, you say? Check out The
Rumble
from
Tantus
, a solution if you have wrist arthritis or any condition that makes it difficult to grip or hold up a wand vibrator for as long as it takes to get the job done.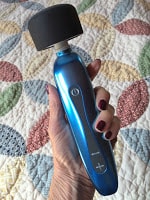 I couldn't believe how light the Rumble is to hold: just 6.6 ounces. (For comparison, the Doxy Die Cast, fabulous as it is, weighs almost two pounds.) Tantus describes the Rumble as "featherweight," and I agree. The shape is also unique — you can hold it in several different ways and it remains easy on the wrist. The silicone head is removable for easy cleaning — it's even dishwasher safe.
I love the size of the head. The shape is versatile: you can use it flat-headed for all-over vulva sensations, or, if/when you prefer, tilt it so that the edge pinpoints your clitoris. Either way (or changing it up as you go), the sensation is yummy. Although I'm speaking from the point of view of a vulva owner, its use is not restricted to a particular gender — all Tantus products are gender neutral. (I'd love to hear from you about how your penis enjoys it.)
The controls are large, easy to see (they even light up), and even if your hand is closed over them, you're not likely to press a button accidentally. Some vibrators are annoying because either any light touch turns the darn thing off, or the opposite, you have to use uncomfortable pressure. The Rumble has it right — you can touch or glide over the buttons while adjusting how you want to hold it, and you won't accidentally turn it off. When you do want to change the settings, a light, intentional pressure will do it. The power button is placed far away from the "-" and "+" buttons, good thinking.
Is it as strong as the monster king vibrators I tend to prefer, like the Doxy Die Cast, Magic Wand, or Sybian? No, not even close. But for those of you who don't require a turbo power tool to get your orgasm going, you'll prefer the lightweight Rumble for the ergonomic qualities I described. Even if you usually do require mondo stimulation, you might find — as I did! — that when you're especially in the mood, this works just dandy.
The Rumble is USB rechargeable and has seven settings — three intensities and four additional patterns. The vibrations at the lower settings are deep and rumbly, which makes the sensations especially pleasurable, though they do get buzzier with higher speeds. The Rumble is quieter than most wand vibrators.
Tantus is a wonderful company for many reasons. It's owned by one of my favorite sex educators and innovators, Metis Black. Metis spearheaded the silicone sex toy movement in 1997, long before the rest of us were aware of the health repercussions of the materials used in sex toys at that time. Metis values the health of her customers as much as our pleasure, plus she's a delightful, warm person.
If you're into dildos or butt plugs of any size or shape, take a look at the original silicone products created by Tantus. And don't miss the sex ed articles — pegging, spanking, and how to bring up that sexual itch that's been tickling your brain, for example. Now I've got your attention!
Thank you, Tantus, for the gift of the Rumble in return for an honest review.
The review above was originally published 9/8/16. My 8/1/17 update: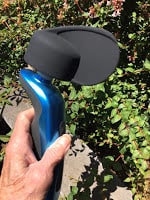 The dear folks at Tantus sent me the Dorado Head to try with my Rumble. The Dorado has a silicone "fin" shape that flicks and flutters, good for stimulating any erogenous zone that wants to be flicked and fluttered.
I found the sensation underwhelming for clitoral arousal, but my penis owner tester reported that it felt nice on his nipples and oh yeah, really, REALLY nice when fluttered up and down and on and around his penis.
For just an extra $24, this attachment makes the Rumble even more versatile. All the Rumble attachments (scroll down from here to view three styles) are easily interchangeable — just pull off the regular head and substitute the attachment of your choice.