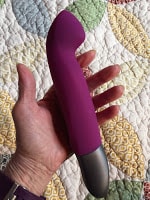 If your vagina likes penetration and your G-spot likes pulsing stimulation, the Stronic G Pulsator II from Fun Factory delivers. It doesn't just vibrate — it "pulses," which feels like quick, tiny thrusts that easily zero in on the G-spot. It was sort of like a pleasure-giving, superhuman, abnormally fat finger on my G-spot going faster than a finger can go.
If that's a muddled description, because, seriously,  it could never be mistaken for a finger of any size. This video may help. Let's just say that the sensations were pure pleasure.
The Stronic G has seven speeds and three different rhythms. Though normally I go straight to steady rhythm and highest speed, I found myself enjoying the pattern and speed variations as much as strong-and-steady.
The G-spotter "head" is firm yet has enough cushioning for comfort. I worried that the pressure of tightening the vaginal muscles around it would reduce the pulsing. The sensations changed a tad, but didn't weaken, hurray. The Stronic G is made of body-safe silicone, like all Fun Factory vibrators, and is waterproof for shower, tub, and pool use. It charges via a USB magnetic charger, easy peasy.
Prop a small pillow between your legs, snuggle the handle into the pillow after you insert the Pulsator, and it works hands-free! Most insertable vibrators  don't stay in place — they rotate gradually — but this one stays put, tilted against your G-spot, as long as you don't use too much lubricant. Use just enough water-based lube for comfort, but not enough to make it slippery. I can't guarantee that it will stay put for you (we're all different), but when it works, it's a terrific bonus.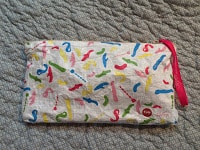 Karim Rashid Toybag
Just a few cons:
Expensive: $200 (US)
No pouch. Come on, Fun Factory, for that price you could include one of your sweet Tyvek zipped toybags!
Pacemaker alert: The Stronic G uses a magnetic charger which is incompatible with pacemakers. Although this warning appears on the box and the insert, it is not on the website, where it should be. After all, you don't want to buy something and learn afterwards that you can't use it.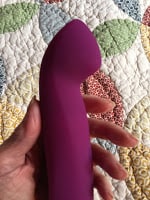 A few words about size: Fun Factory makes a huge variety of fine sex toys: vibrators, dildos, anal toys, and more. I don't  review them often because most Fun Factory penetrative toys have more girth than many of my senior readers and I prefer. Many older vagina owners find that penetration with a thick dildo, vibrator, or penis isn't comfortable or pleasurable anymore, or takes more warm-up than we like when we want a quick orgasm with a sex toy.
But the gently tapered shape of the Stronic G "head" makes penetration smooth and comfortable. The widest part measures 1.65 inches in diameter, but it doesn't feel that large because the shape makes insertion smooth and gentle, especially when you tilt it. Pulling it out may be less comfortable if you prefer slim products, because the "hook" shape can tug unless you tilt it. Relax,  go slowly and, of course, use lube.
Thank you, Fun Factory, for sending me the Stronic G Pulsator II in return for an honest review.
⇒ SPECIAL 10% DISCOUNT ⇐
My readers get 10% off all Fun Factory products with the code JOANPRICE. Go to Fun Factory using this link or any of the links in this post. Explore. Choose. Use the coupon code JOANPRICE at the bottom of your shopping cart, before clicking checkout. Fun Factory is so eager to introduce you to the pleasures of their products that you can continue to use this discount code on all future orders. (This coupon cannot be combined with other offers.)