"Tell Me What You Want" by Justin Lehmiller: book review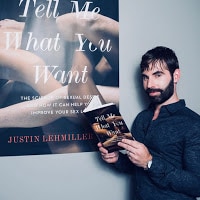 "I'm scared people will find out what I masturbate to." — Donald Glover


Tell Me What You Want:The Science of Sexual Desire and How It Can Help You Improve Your Sex Life by Justin Lehmiller, Ph.D. is the book we've all needed, even if we didn't know it. We all have sexual fantasies, but we don't usually share them with others, even our own partners. Many of us agonize about what our fantasies say about us, or we struggle (unsuccessfully) to repress them.
What Is a Sexual Fantasy?
A sexual fantasy is any mental picture that comes to mind while you're awake that ultimately turns you on … Simply put, a fantasy is a conscious thought that makes you feel all hot and bothered, and maybe gets some blood flowing to your genitals, too.
In this barrier-smashing book, sex researcher Lehmiller surveyed more than 4,000 Americans, ages 18 to 87, who answered 350 detailed questions about themselves, their sex lives, and their sex fantasies. The result is a solidly researched book that answers questions you probably have, such as these:
How common is my sex fantasy?
Does my fantasy mean that I'm a bad person?
What sorts of people have fantasies like mine?
Should I tell my partner about my fantasy?
What should I consider before acting out my fantasy?
What do other people fantasize about?
What are the most common fantasies?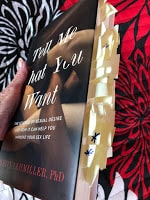 My biggest problem reviewing Tell Me What You Want is that it's so good that I don't know how to narrow down what I tell you about it. Look at all these Post-Its! Instead of summarizing or interpreting Lehmiller's points, here are some of them in his own words:
Multipartner Sex: The results of my investigation reveal that the single most popular sexual fantasy among Americans today is — drum roll, please — group sex … perhaps the most normal thing there is to fantasize about because almost everyone has been turned on by the thought of it.
Men and women are not polar opposites when it comes to their sexual psychology … most of the things that men fantasize about, women fantasize about as well.
Our sexual fantasies appear to be carefully designed to meet our psychological needs — and because those needs change and evolve over our life span, it seems that our sexual fantasies naturally adjust in order to accommodate them.
There's a world of difference when it comes to what turns someone on at [different] life stages … older adults — especially those in long-term, monogamous relationships — are more likely to crave something fresh and new … like an orgy or an open relationship.
According to my survey data, if there's one specific person who's likely to appear in your sexual fantasies, it's your current romantic partner.
When we feel ashamed or guilty about what turns us on, it can potentially lead to sexual performance difficulties … the more negative emotions [survey participants] reported — things like guilt, shame, embarrassment, fear, anxiety, and disgust — the more sexual problems they had.
When the novelty of a new relationship has worn off, adding new and exciting elements to your sex life by acting on your fantasies can potentially prevent passion from subsiding and allow it to keep burning.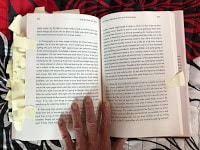 There's more, so much more. Whether you're interested in the world of sex research, or you just want to understand your own sex fantasies better, or you're looking for tips for communicating better with your partner, I know you'll enjoy and learn from Tell Me What You Want:The Science of Sexual Desire and How It Can Help You Improve Your Sex Life, as I did.