Review of JETT from Hot Octopuss
Review of JETT from Hot Octopuss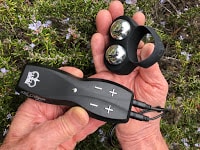 "Gentlemen, start your engines!" begins the famous Indianapolis 500 automobile race. With the JETT, the wonderful new sex toy for penises from Hot Octopuss, you can start your own engine, and really rev it up.
JETT's dual engines are vibrating silver bullets powered by four AA batteries. One "engine" contains a motor that produces treble vibrations, and the other yields deeper, more rumbly bass vibrations. What makes this innovation exciting is that you control the intensity of each motor. You can play with and set the levels of treble and bass intensity against 10 built-in vibration patterns to provide a wonderfully wide range of stimulation.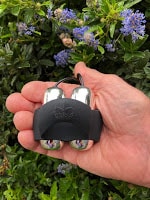 JETT has an expandable, circular silicone sleeve positioned directly above the dual jet engines into which you place your penis — flaccid or erect. The sleeve surrounds the frenulum on one side and the ridge atop the penile head on the other. When JETT revs up, the sensations are multiple and magnificent. The real fun with this toy comes (pun intended) in locating precisely the right treble and bass frequencies, paired with one of the 10 vibration patterns, that launches you into the JETT stream.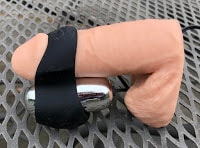 soft packer from Good Vibrations
When I used JETT for solo sex, I loved the way I could stretch out the glorious sensations by switching intensities and vibration patterns. I tried it starting with a flaccid penis (flaccid didn't last long!), and next time with a semi-erect member. JETT's "dual exhausts" quickly brought me to orgasm in both cases.
I thought JETT was solely for masturbation until my female partner asked to observe it in action. To my immense pleasure, she discovered that fellatio on the protruding tip of my penis sent me into an ecstatic state and rapid ejaculation. So there is a place for JETT in partner sex as well as solo.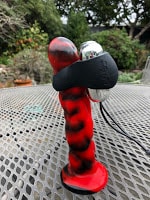 dildo from Tantus
Twice when I tried to change from one vibration pattern to another, JETT simply stopped on me, and I had to restart it. Also, be aware that a battery-powered device is not waterproof. But these are minor inconveniences compared to the enormous positives that surround this delightful and fun new sex toy for penises. It is also priced affordably at just $69.
Learn more about the JETT here. Thank you, Hot Octopuss, for providing me with the JETT in return for an honest review.
Shamus MacDuff, age 75, was oblivious to the delights of sex toys for penises until about 1-3/4 years ago. He's been making up for lost time! Read his other posts here.