Posts Tagged 'health benefits of sex'
5/6/14: In honor of "Senior Sex Month" and "International Masturbation Month," I'm moving these tips, originally posted 12/24/10, to the top. We're not all in sexual relationships, and self-pleasuring is so important at our age! Here are some tips for enjoying hot SOLO senior sex.  
10 Tips for Hot Solo Senior Sex
By Joan Price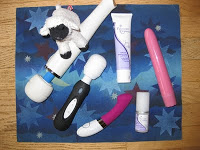 Senior sex isn't just partner sex. Many of us don't have partners, yet keeping our sexual selves vibrant and health is crucial for many reasons. It's true that if we don't use it, we lose it — and that's true for both women and men.When we have less hormonal rush to stay sexual, especially if we're without a partner and maybe blue about that, we can fall into a pattern where we don't think as much about sexual pleasure, and we don't give it to ourselves. Arousal and orgasms may feel second-rate and inconsequential, and sometimes just too much trouble.
Instead, let's see our marvelous bodies as still capable of pleasure, and let's nurture that. We have the capacity — and the responsibility! — to keep ourselves fully functioning by pleasuring ourselves, discovering what feels good (it may have changed, so don't assume that of course you know) and what it takes to make our brains and body parts sing. Let's celebrate that we don't have to close down just because we're older and partnerless. Indeed, let's enjoy what we can offer ourselves.
Here are some tips for bringing the sizzle back to your sex life — on your own!
1. Plan for solo sex. At this time of life, we need slow arousal and gradual build-up. So set aside enough private time to enjoy the journey without rushing. Set up whatever you need for comfort, such as special pillows. Shut off distractions like phone and computer, lock the door, and settle in for pleasure.
2. Enjoy solo sex during high energy times. When do you feel most sexually charged? When you first wake up? After morning coffee and a good poop? Mid-afternoon? That's when to indulge in a solitary romp, rather than after a meal when you're digesting or at night when your sensations are shutting down. When you feel the tingle, indulge it!
3. Create your own foreplay. Do sexy things that get you in the mood. Remember hot times with a special lover. Read erotica, play special songs, watch porn (or, if you prefer, a movie with a star who always turns you on), write sexy thoughts in your journal, take a waterproof vibrator into the bath or shower — whatever starts your path to arousal. Appreciate, decorate, and celebrate your body with lingerie, silk, velvet, massage oil, candlelight–whatever feels good and puts you in the mood.
4. Use a silky lubricant. Don't just settle for the drugstore variety — there are many different varieties of lubricants for moisture and slickness that feel great and bring back the joy of friction, whether we're using our hands or a toy. Experiment to find your favorites. Keep the lube within reach so you can reapply frequently.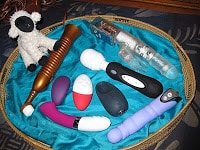 5. Explore sex toys and other erotic helpers. Our hormonally challenged bodies may need extra help to reach orgasm these days, and our wrists may tire before we reach our goal. Women: try a clitoral vibrator, with or without a dildo, depending whether you like the feeling of a full vagina. (Read the many vibrator reviews on this blog to help you choose.) Men: try a sleeve, cock ring, or prostate stimulator. Lucky for us that sex toys for both genders are easy to find, fun to try, and wow, do they work!
6. Fantasize. Let yourself explore fantasy scenes and partners, no limits. Let your brain (your main sex organ!) indulge in whatever arouses you. Be open to whatever comes into your mind, even if it is something you would not do in real life or with someone you consider off limits. No fantasy is "wrong," and no one has to know what images or scenarios turn you on. Just go with it.
7. Be physical in daily life. Walking, biking, dancing, yoga, Pilates, lifting weights, and other forms of exercise all enhance blood flow and get you in touch with your own physicality. This translates to your sexual arousal because the blood flows to your genitals as well as to your muscles, making arousal easier and faster. Plus you mentally feel "in your body."
8. Realize that your solo practice not only gives you pleasure, it's important for health. Experts recommend at least one orgasm a week for both men and women for genital health and for heart health as well. Weekly orgasms keep the pelvic floor strong and the nerves firing, boost the immune system, and reduce the risk of incontinence, depression, and heart disease. Men – regular orgasms are important for prostate health.
9. If you think you're not in the mood, do it anyway. It's too easy to put solo sex on the back burner, and once we're out of the habit, it's harder to get revved up again. This is especially true at our age, when our hormones are no longer screaming for release. So reread tips #1-8, and just do it. You'll find that the physical arousal will happen, that that will trigger your emotional arousal, and that triggers more physical arousal, until it's all working just right.
10. Don't think of solo sex as "settling for" a substitute for partner sex. You're celebrating your own sexuality, glorying in your body's capability of pleasing you, and enjoying the journey. This is a gift you can give yourself whenever you want, and isn't that wonderful?
(These tips are copyright 2010-2011 by Joan Price and may not be reprinted without permission from Joan Price. Thank you!)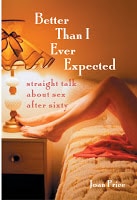 Better Than I Ever Expected: Straight Talk about Sex after Sixty is available from
www.joanprice.com
(personally autographed) or from
Amazon
.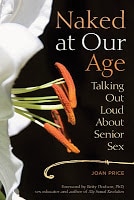 Naked at Our Age: Talking Out Loud about Senior Sex
is available from 
www.joanprice.com
 (personally autographed)
 — be sure to let me know to whom to autograph it — and by clicking the PayPal button below…
What a lovely coincidence! May is "
International Masturbation Month
," according to
Good Vibrations
. It's also "
Senior Sex Month
," thanks to
Senior Planet
, the senior site that advocates "aging with attitude" and is launching my new "
Sex at Our Age
" column this month. In this column, I'll answer reader questions about the realities and challenges of staying sexual in aging bodies.I love that International Masturbation Month and Senior Sex Month happen at the same time. I propose that we combine the two! We're not all fortunate enough to be partnered at this time of our lives, and many of us who are in relationships are not having sex with our partners as much as we'd enjoy. Pleasuring ourselves is a way we can stay vigorously sexual, give ourselves wonderful jolts of joy, and enhance our health simultaneously.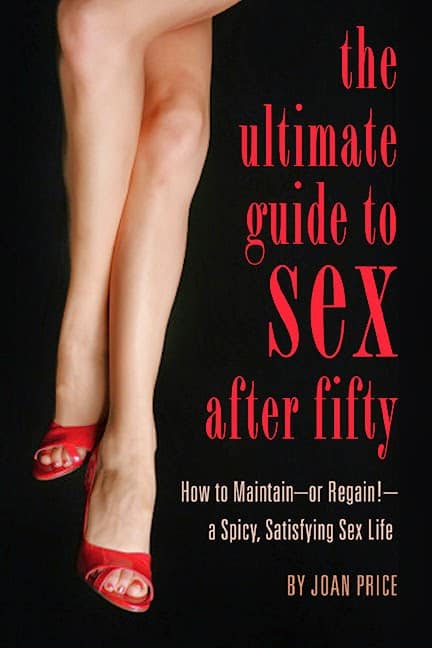 Oh? You doubt that solo sex enhances health? Here are just a few of the benefits of sexual activity and orgasm with or without a partner that I list in The Ultimate Guide to Sex after Fifty: How to Maintain – or Regain! – a Spicy, Satisfying Sex Life, coming soon from Cleis Press:
• Reduces stress
• Enhances mood
• Strengthens the immune system
• Helps fight infection and disease
• Lowers diastolic blood pressure
• Keeps sex organs healthy
• Improves blood flow
• Helps with sleep
• Relieves headaches and other body aches
• Relieves depression
• Reduces risk of heart disease
• Reduces risk of prostate cancer
• Relieves chronic pain
• Increases blood flow to the brain, increasing mental acuity
• Makes your skin glow
• Relaxes you
• Makes you happier
• Feels really good
Reasons not to self-pleasure? Hmm… Can't think of any.
And if you need an assist, check out the many dozens of sex toys I've reviewed from a senior perspective here — keep scrolling down to "older posts" because there are about a hundred reviews. (Don't worry, you won't end up with a list of 100 toys to buy — some of the products are horrid and you'll just laugh at those reviews. But the wonderful ones? Ah, your body will thank you for adding these to your sexual repertoire!)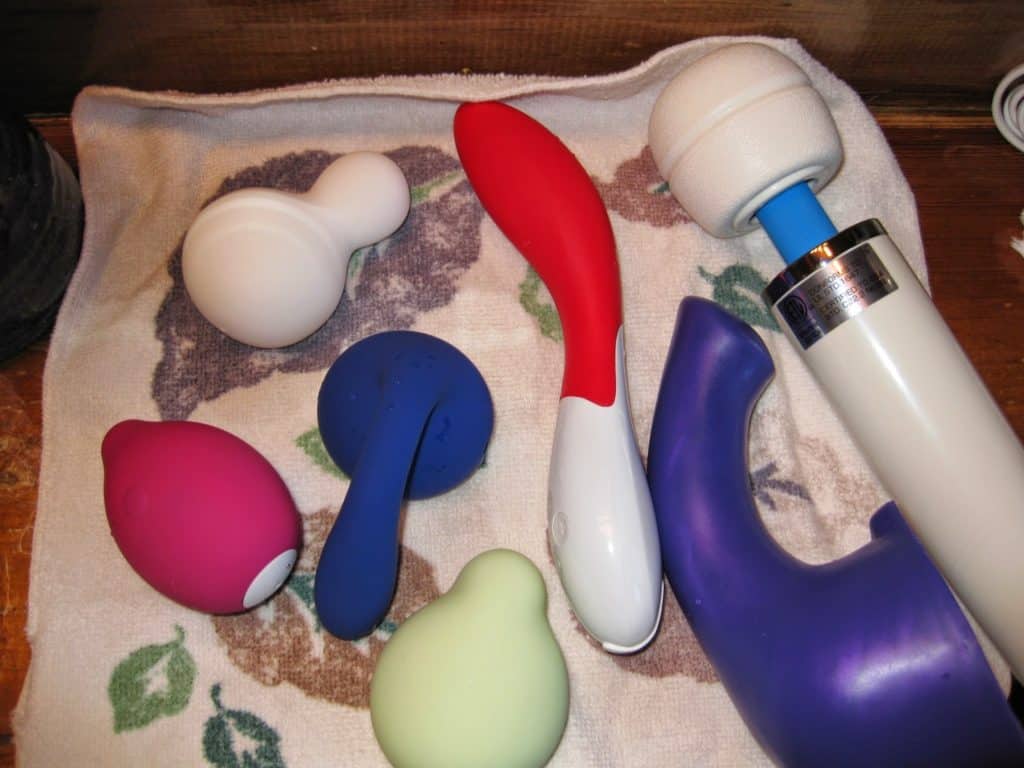 Older people, especially healthy ones, and especially men, are enjoying sex, finds a study published in the
British Medical Journal
, March 9, 2010. Ellen Barnard, MSSW — sex educator extraordinaire and co-owner of
A Woman's Touch
sexuality resource center — explains why women have been left behind and what they can do about it.
Satisfying Senior Sex for Women, Too!
by Ellen Barnard, MSSW
Older women stop having and enjoying sex sooner in their lives than men do, a study in the British Medical Journal found. That's because the medical community has no idea how to help women maintain their sexual health and pleasure after menopause without the use of potentially dangerous hormones. Women don't have any "little blue pill" to make things work better when their bodies have given up.
But the truth is, there are simple answers:
1. Live a "Good Sex Lifestyle" which includes daily exercise, a healthy diet full of fruits, veggies, nuts, whole grains and healthy fats and free of white sugars and flours, low-to-moderate alcohol intake, and daily doses of chocolate, Omega-3 oils and lots of Vitamin D. Healthy women enjoy good sex much longer than those in poor health.

2. At menopause and later, care for your vagina. Moisturize her daily or more with a good moisturizing lubricant (no glycerin), and massage her inner walls two to four times per week for five to ten minutes, with either a well-made vibrator or a partner's fingers or penis. For more details, see our Vaginal Renewal™ program.

3. Have at least one orgasm per week, with yourself or a partner, it doesn't matter. Keep those nerves functioning properly and remind them what pleasure feels like. If it's hard to have orgasms, use a vibrator. Men use tools all the time, why shouldn't you?

4. Get enough sleep, keep your stress under control, and keep a positive outlook. Your body will thank you for it, and your mind will be able to think sexy thoughts without distraction.

5. Think sexy thoughts, often. Fantasize, reminisce, create erotic stories in your head (or on paper), talk about sex, plan for sex, and make it a priority. Nurture your sex life, and it will love you back for many years to come.
– Ellen Barnard, MSSW is a sex educator and co-owner of A Woman's Touch Sexuality Resource Center, which offers education and products to support healthy sexuality for everyone, with a focus on older adults and those living with cancer. She can be found at http://www.sexualityresources.com/.
I think Ellen's information is vital, and I hope you'll pass this link to your friends, colleagues, lovers, wives, and mothers. If more mid-life and older-age women knew these self-help strategies for enhancing their sexuality, there would be more satisfied smiles on their faces! — Joan Price