Posts Tagged 'interesting blogs about sex and/or aging'
7/25/09: I'm updating this post from two weeks ago with new information — see end of post.

I hear and read both delightful and icky stories from readers who are using online dating sites. Have you met people this way? Has it worked for you? What are the highs and lows of this new world of dating opportunity?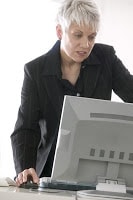 I hear from readers that both men and women notoriously post outdated photos on their profiles, understate age and weight, overstate financial stability and looks, and so on. At the other end of the happiness bell curve, I hear from readers who instantly (or after 3 dates) had great sex and/or found a love connection with someone they met this way.
Let's get specific — which sites do you use, or have you used, and what have your dates been like? Which ones have a lot of single seniors to choose from?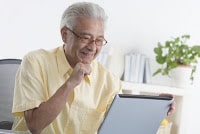 What are the pros and cons of the sites you've used? Inspiring stories, funny stories, worst-date stories — I welcome them all. I'd like to hear from single seniors and elders so that the information is targeted to my readers, and please name the site.
I'm also looking for a volunteer posse who would like to report back on an ongoing basis as you look for matches, email, meet, and date (or not). Email me if you'd like to be one of my confidential reporters.
Note: Please don't comment here in order to advertise a site you operate or work for. Instead, if you're affiliated with an online dating site, please email me with all pertinent info rather than commenting here. I promise I'll respond and look into what your site offers.
Update: "Granny B" is a 69-year-old widow "looking for one last Love." she writes a funny and informative blog titled GrannyBoogies on the highway of life chronicling her adventures in online dating. Although at first she didn't identify the sites she's using, instead giving them pet names like "Silvermatch" and "fishyfishy," her July 24 post — "Granny's adventures in cyber date land or somewhere out there…" — tells which six online dating sites she has used: e-harmony, Senior Match, Plenty of Fish, Senior Friend Finder, BBW and Cupid. She shares wisdom and caveats, such as this:
Beware of guys who are "legally separated" and don't post a photo of themselves. Watch out for profile names (you usually don't use your real name for your profile, I am Granny Boogies, Granny B and NVHeart on my profiles). If you find a profile name like 694U or Buttlover, you might want to take a pass. You also might want to skip the profiles without any personal information, where the answers are "just send me a message". Watch out for guys who take photos of themselves in their bathroom. Keep a sense of humor, remember men are both wonderful and strange. Use common sense, first dates in a public place and let someone know where you are. Yes, we are grownups so let's use our grownup smarts.