7 Tips to Spice Up Your Sex Life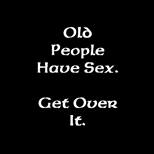 I was asked by a reporter for my best sex tips for better sex life during this time of sheltering in place, especially for couples who have been together for a long time. How many of these have you tried?
1. Take turns during sex. Luxuriate in having your partner's full attention on you, pleasuring you in the ways that turn you on the most. Then after you're fully satisfied, turn your attention to your partner. By taking turns instead of trying to please both of you with one activity (which might not be what you want at the moment), you get double the pleasure: yours and your partner's.
2. Relive memories. Cuddle in bed and ask each other, "What do you remember about our first date?" or "What was our first kiss like for you?" or "When did you know you wanted to go to bed with me?" Describing how you felt when your relationship was new can help recapture those fluttery feelings of lust, even if you've been together for decades. Your brain is your main sex organ.
3. Try a new sex toy. There's a world of sexy orgasm tools out there, and each one can arouse you in a new way. While you're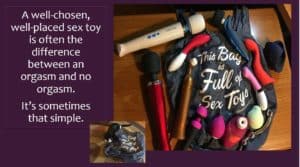 sheltering in place, look at the websites of your favorite sex toy retailer (or discover one of mine in this blog if you don't have a favorite) and pick out something new. Explore together what it does and how you enjoy using it. Don't know where to start? My Sex Toys for Seniors webinar is a lively show-and-tell of some of my favorites. Try a new lubricant, too!
4. Use a favorite sex toy in a new way. A vibrator that you use on your clitoris can arouse a penis as well, and nipples, and any erogenous zone. See how many new uses you can find for a toy. Explore! Fun suggestion: blindfold your partner and use a sex toy that your partner doesn't expect. Or try "Refrigerator Sex"!
5. Gift the pe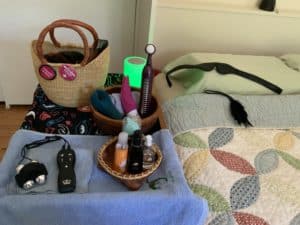 nis owner in your life a new vibrator. Whatever your gender, it's common to need more stimulation for arousal and orgasm as we age. Vibrators for penises such as Hot Octopuss's Pulse or JETT  or Fun Factory's Manta  can take your penis of choice to a shattering orgasm while you assist or just watch — and they don't require an erection for use.
6. Exercise together. Exercise increases blood flow to the genitals as well as to the muscles and brain. Dance in the living room. Take a Zoom exercise class together. Power walk around the block. Chase each other through the house. Exercise before sex can rev up your arousal and make orgasm easier!
7. Talk before, during, and after sex about your desires and pleasures. Ask for what you want. Tell partners what you love about what they do to/for/with you. Talk about new things you'd like to try, fantasies you'd like to explore, new ways you'd like to be touched. Your partner wants to please you, so make it easier to know what you want. Communication is sexy!
Do you have your own favorite sex tips for better sex you'd like to share? Tell us in the comments.