Posts Tagged 'sex pillows'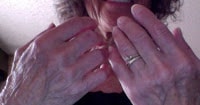 You can't ignore joint pain — but don't let it push you into avoiding sex! When sexual positions and activities worsen pain, we can find props and positions that work for us so we feel the pleasure, not the pain. Julie Weingarden Dubin interviewed me about sex and joint pain for
Grandparents.com
, and the interviewgot me thinking about more tips I'd like to share with you. Here they are.
What can we do to minimize joint pain before and during sex?
Schedule sex! Spontaneity is vastly overrated when it comes to sex at our age! We get more pleasure if we plan for it, and that's true for avoiding joint pain especially. Make a "sex date" in advance, whether you're newly dating or long-time partners. This way, you can both anticipate it and make time for it, which raises the pleasure and decreases the stress. Turn off the phone ringer, the computer, the gadgets, lock the door, and just enjoy each other.
Time your anti-inflammatory medication so it kicks in before your "sex date."
Get some physical exercise before getting naked. This lubricates the joints and gets you in touch with your physicality. Dance, walk, cycle, do yoga — whatever you like to do.
Get a supportive sex cushion (no kidding, they exist) to make any position more comfortable. For example, the Wedge by Liberator is terrific for assisting back, hips, knees.
Have lots of warm-up/ foreplay/ arousal in a comfortable position. This
way you'll need less time in a less comfortable position when you get to
it.
Use a sex toy to hasten orgasm, minimizing the time in a less comfortable position or action. For example, if your partner likes manual stimulation (and who doesn't?), but that hurts your arthritic wrist or hands, use a sex toy to help out. A vibrating cock ring or masturbation sleeve for the man doesn't require the partner's wrist. For the woman, try one of the many vibrators that "rests" in the right position with no or minimal effort to hold it in place. I review sex toys from a senior perspective – which includes whether they're easy on arthritic wrists! – right here on this blog. Look for the label "sex toys" or "vibrator reviews" in the right-hand column.
See these reviews for ideas.
I've been asked, "What would recommend as the BEST sex positions for seniors?" I have to answer this way:
There's nothing that "seniors' in general will agree on, whether politics, movies, or the best sex position. We're all individual in finding positions we find comfortable, and maybe your favorite position isn't comfortable for your partner, or doesn't do much for you sexually. It's all a matter of trial and negotiation. Creativity and a lot of laughter help, too!
Do you have any tips for avoiding joint pain during sex? Please comment!
"Don't forget to tell them about the sex pillow!" Robert always reminded me as I was leaving to give a workshop about senior sexuality. Indeed, if you experience discomfort due to a medical condition, or just the aches and pains of living and loving in aging bodies, experiment with firm, ergomically shaped pillows made especially for sex. You'll find an amazing difference once you've found the one that works best for you.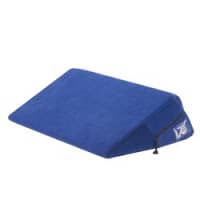 For us, our friend the
Wedge
(photo, right) was our regular companion, permitting me to lie comfortably on my back with a lifted bottom and allow Robert free movement on his knees. This has especially helped us during episodes of back injury, knee pain, and arthritis flares, as well as delightful encounters when we have no aches or pains. Using a firm, specially shaped cushion also provides optimal comfort and convenience for enhancing lovemaking with a favorite sex toy. (Our personal favorite, as you must know by now — the
Eroscillator
,
the only sensual product endorsed and recommended by Dr. Ruth Westheimer
.)
Have you experimented with different types of pillows and cushions for comfort and pleasure? Let me know your favorites!