"Don't forget to tell them about the sex pillow!" Robert always reminded me as I was leaving to give a workshop about senior sexuality. Indeed, if you experience discomfort due to a medical condition, or just the aches and pains of living and loving in aging bodies, experiment with firm, ergomically shaped pillows made especially for sex. You'll find an amazing difference once you've found the one that works best for you.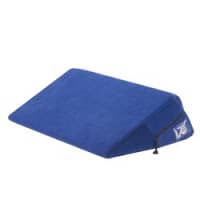 For us, our friend the
Wedge
(photo, right) was our regular companion, permitting me to lie comfortably on my back with a lifted bottom and allow Robert free movement on his knees. This has especially helped us during episodes of back injury, knee pain, and arthritis flares, as well as delightful encounters when we have no aches or pains. Using a firm, specially shaped cushion also provides optimal comfort and convenience for enhancing lovemaking with a favorite sex toy. (Our personal favorite, as you must know by now — the
Eroscillator
,
the only sensual product endorsed and recommended by Dr. Ruth Westheimer
.)
Have you experimented with different types of pillows and cushions for comfort and pleasure? Let me know your favorites!