He's History, You're Not: Interview with Erica Manfred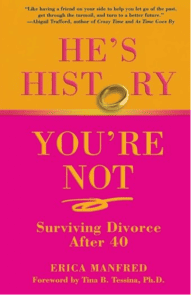 It was Christmas Eve, 2000, the day before her 55th birthday. Erica Manfred, clad in a flannel nightgown, asked her husband why he had been so distant lately, not wanting sex, or even conversation.
"I want to leave you," he said. "There's someone else." He named a co-worker half Erica's age. "I'm in love with her. She's my soul mate."
After eighteen years together, Erica had to face that her marriage was abruptly, painfully, horribly over.
In the next years, Erica Manfred went on to make every mistake in the book. The good news is that "the book" has just been published — He's History, You're Not: Surviving Divorce After 40 — and she learned from her mistakes in time to help you avoid them.
Divorce is different for women in their forties, fifties, and sixties, and Erica Manfred addresses those special concerns head-on, from grieving to financial to dating and sex. She spills her guts, disclosing even embarrassing experiences with emotional nakedness. Her tips are invaluable, and her candor will make you feel she's your best friend sharing her mistakes so you don't have to make them. Through it all, she even manages to be laugh-out-loud funny! I had the pleasure of interviewing Erica Manfred:
JP: What are the signs that your marriage is in trouble?
EM: You can't remember the last time you had (or enjoyed) sex with your husband. You're stuck in a deadlocked relationship where you "always" do X and he "always" does Y. You have no emotional connection. You wish you could go on vacation without him.
JP: How do you start dating again when your perky parts have gone south and so has your self-image?
EM: Good question Joan. All the women I interviewed lost weight, started going to the gym or exercising like crazy, got manicures, pedicures, new hair colors, makeovers. Buying a new wardrobe helps. Aside from that, act "as if" you're devastatingly sexy even if you don't feel that way. Make believe you're Susan Sarandon or Madonna even if it feels silly. It works.
JP: Give us some tips about dating at our age.
EM: Nothing has changed since high school, except now you want to get laid more than he does, but you still have to play hard to get. Depressing but true. Remember the guys you're dating came of age in the 50s and they're not used to getting asked out on dates. They need to do the pursuing.
JP: How soon is too soon to get involved with a new lover?
EM: I'd say give it at least a year after the breakup of a long marriage. Jumping into a new relationship too early can leave you more devastated than when your marriage ended. That said, if you're hot to trot, experiment a little. Just don't take it seriously until you're ready.
JP: What did you do after your divorce that you're embarrassed to admit now?
EM: Jumped into bed with every Tom, Dick and Harry. Literally. My first lover was Harry and he was a cutie. I was a tad too promiscuous.
JP: What do you wish more women in this situation knew?
EM: How to stop being so dependent on men. You can take care of yourself, pay the bills, get the roof fixed and even live happily alone if you have to. The bad news is there aren't enough men to go around. The good news is you don't need a man to be happy.