Jan's Story: Love Lost to the Long Goodbye of Alzheimer's by Barry Petersen, reviewed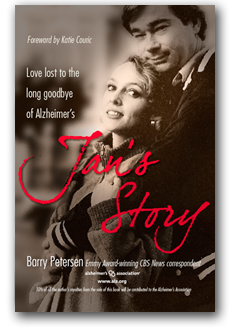 Jan's Story: Love Lost to the Long Goodbye of Alzheimer's
by Emmy Award-winning CBS News Correspondent Barry Petersen is a stunning, wrenching, valuable book about loving and living with a spouse with Alzheimer's Disease. Petersen writes from his heart, his gut, his personal truth as a loving husband who watches his wife disappear and is powerless to change the course of her disease.
Jan and Barry had an intellectually and sensually vibrant marriage. "We were blessed with being two people who couldn't keep their hands off each other," he writes. "Our lovemaking was sometimes slow and easy and sometimes quick and instant, as I sought for her release that left her satisfied and the more hungry for me, and me for her." Although this is not a book about sex, Barry doesn't flinch from sharing that part of their relationship when it was strong, and the heartwrenching loss of their sexual closeness–along with every other part of their closeness–as the disease progresses.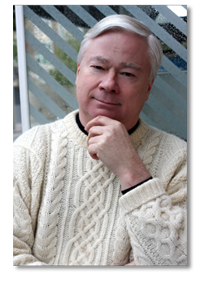 Petersen shares with us his panic and his great grief ("I learned how a man can fall to the floor because he is weeping so hard"), and also his admirable attempts to keep Jan safe and happy, to the best of his ability — sacrificing his own health and quality of life until… no, I need to let you discover that part on your own. Although I itch to write about the ending of this book, the tears still wet on my face from reading it, I'll hold back to let you take his journey with him, step by step, memory by memory.
View the trailer here. And please read the book, whether or not you have a spouse with Alzheimer's disease. Barry and Jan never expected that this disease would invade and obliterate their marriage–but as we age, it's likely that it will happen to us or to someone we love, and we should know what Barry learned the hard way. Highest recommendations.