Fast Girls: Erotica for Women
Fast Girls: Erotica for Women
, edited by Rachel Kramer Bussel, from Cleis Press, is an anthology about women (not girls, though many are young) who zestily pursue their sexual desires and fantasies, flaunting social norms and going after thrills and sensations with bravado. Whether or not we see ourselves in these women (and mostly I don't, personally), we can get a vicarious thrill by reading how they go after whatever turns them on: pretend or real whoring, sex with strangers, danger, pain, bondage, submission, domination, you name it.
Yes, but this is a blog about sex and aging. Is anyone in this anthology over 50? Yes — one character — 51-year-old Shirin seduces a much younger classical pianist (who can resist those fingers?) in "Waitng for Beethoven" by Susie Hara. Many other characters could be any age, so if you like imagining them 50+, as I do, you can get away with it.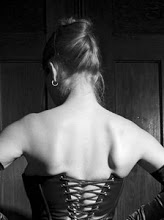 One writer that I know of– D.L. King–is over 50. Her story "Let's Dance" is about a woman who seduces an "adorable" young dancing man (we love our dancing men!) from the "vanilla club" dance floor into a cab to her photo studio/home equipped with pulleys and restraints, and introduces him to his fantasy ("Cute Boy was a total bondage slut") and hers. Though D.L.King doesn't make a big deal about the narrator's age, you know she's older. If dom/sub stories turn you on and you'd like to read a story by King expressly about a man's 65th birthday gift (think a lifesize crate), read "The Gift" online. Check out her blog, too, for more about King's books.
I asked D.L. King her views about age and erotica:
My dominant female characters are often my age and their submissive males are usually quite a bit younger, but that isn't to say I haven't written the obverse, too. I don't always do it, but sometimes it's fun to play with age.

I think erotica is a great way to get the juices flowing. After a while, people tend to lose interest in the same old sex. Erotica's a great way to explore other options and spice up a relationship. If you read a story that really turns you on, bring it to your partner and see if he or she would like to try it on for size. Erotica can also help to stimulate your own fantasies. Anything that helps you to enjoy your sexuality more can only be a good thing!

I love to do readings and meet readers. Most of the readers who turn up for those events are young. I think many of my contemporaries don't attend those kinds of events. I wish more would. After all, we're the original free love generation.
I also asked the editor,
Rachel Kramer Bussel
, a prolific erotica writer herself, if she thinks that characters who are over 50 will become more common in erotica. She replied:
I hope so! I like to see a range of characters, though the ones that cross my desk when I'm editing an anthology tend to skew younger. I'd definitely welcome older characters and in general themes I haven't seen before or as often in my anthologies. I'm editing two new anthologies now, Obsessed and Women in Lust and if there are older authors or those who simply want to add a little more variety, I encourage you to submit your work.
Let me know if this blog post results in your story being included in one of Rachel's anthologies, will you?