Soraya and Alia: two elegant vibrators from LELO
If you can afford a luxury item for yourself or for a woman you love, one of LELO's elegant, uniquely shaped intimate massagers (as LELO refers to them) is a Valentine's Day gift that's sure to please, and I mean that in every sense of the word. They're smooth and beautiful, made of high-grade silicone, rechargeable, quiet, and waterproof. And did I say beautiful?
The Soraya is designed to give clitoral stimulation with the "bump" section while you insert the elongated part for vaginal stimulation. The hole in the widest part is for holding — you slip a thumb or a finger or two in the hole, and it's easy to hold and manipulate with no need for gripping.
The goal is the same as a "rabbit" vibrator, but this dual-action work of art is so far from "rabbit" looking that it's difficult to include it in the same class of vibrators. Each pleasure point has its own motor, so you can adjust how much and what kind (8 modes!) of vibration you want. Most modes rumble or twitch from one section to the other, though you can get steady vibration in either or both and even turn off one motor if you prefer.
As much as I wanted to love the elegant Soraya, I had trouble trying to make the clitoral bump land where I wanted it when the long part was inside. Although the bump is flexible, I couldn't position it comfortably without the innie changing its position and becoming less stimulating or downright unpleasant. For example, if I tried to rest the bump along my clitoris and follow my natural contour while inserting the long part, it went too deep and too far forward. If the innie was comfortable, the bump just grazed the clitoris if I bent it in, and that wasn't conducive to pleasure, either.
This isn't a criticism of the Soraya really — it's a statement about how we're all built in different shapes and sizes, and that applies to our genitals as well as the rest of our bodies. Unless a fully adjustable vibrator comes along (I wish!), sizing and contouring them will be hit-or-miss. From other reviews I've read of the Soraya, most women don't have this issue and find the hot balance easily and eagerly.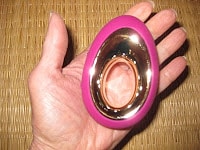 My fit issue with the Soraya made me even more eager to try the Alia, a clitoral stimulator with a unique shape: oval, with holding hole in the middle.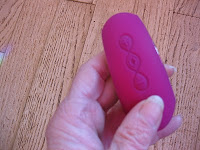 There's no one "right" way to use it — experiment. You might want to lay it flat against your vulva, or hold it perpendicular if you prefer direct rather than diffused stimulation.
This vibrator has 6 modes from the control buttons that, while practically hidden to the eye, are easy to locate by feel. If you want to share the experience with a lover, the Alia is couple-friendly.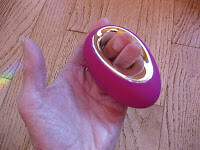 I really enjoyed the shape of the Alia and the ease if use. But it was just a tad too mild for perfection. It's strong — plenty strong for most women — just not super-wow strong as I prefer.
Thank you, LELO, for sending me these two gorgeous products for review.