I-Vibe Rabbit: "It's not you, it's me"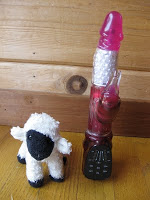 "It's not you, it's me," I said to my I-Vibe Rabbit, a dual-action vibrator made by Doc Johnson and sent to me for review by the nice folks at SexToyFun.com. There's a lot to love here, but it's not my perfect toy.
I loved the shape and cuteness of this vibrator. I liked that the shaft has a penis head and isn't too girthy, and the clitoral part (shaped more like a dolphin than a rabbit, though vibrators of this type are called "rabbits") is flexible.
But for other reasons, this toy won't be one I reach for often.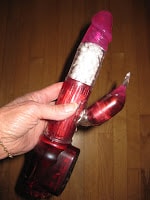 It's a handful — 10 inches total length (5.5 of that is insertable) — uses 4 AA batteries, and becomes a bit heavy for arthritic wrists when we need to keep it going for a long time, as we seniors do. That may or may not be a problem for you — it was for me. It made me wonder why we weren't designed with longer arms, then I wouldn't have had to extend my reach and crook my wrist to hold it properly angled. Like I said, it's me — if you have longer arms proportionate to your torso length, you'll wonder what I'm talking about.
Another problem for me was the "pearls" that rotate in the shaft. This initially seemed like a good idea — the penis head rotates (it seems to wave, actually, very cute) and the pearls jump around. But before long, the pearls were irritating. Fortunately, the clitoral and shaft vibrations have independent levels of intensity, but even at the lightest level, the pearls became unsexy, and I ended up turning off the shaft vibrations altogether.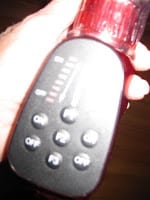 The control panel that looks complicated is actually easy to use. There are three different functions: F1 vibrates the clitoral stimulator (I'll call this part the "ears") fast and rotates the shaft. F2 vibrates the ears slowly and swings the shaft front to back and side to side. F3 pulses the ears and rotates the head and reverses directions. Each function can be powered to go faster/more intensely or slower/less intensely.
Don't worry if all this seems to be too much to figure out — just try pressing buttons, and find what you like. If you're operating this vibrator in the dark, you'll get a laugh from all the lights — I felt like air traffic control guiding the I-Vibe home. I didn't manage to capture the light show in the photo, but it's showy.
The I-Vibe is supposed to be waterproof, though I didn't try it in water. Let me know if you try it in the tub. (I don't have a tub, so I rely on my readers for this and much more!) As with all vibrators, be sure to remove the batteries when not in use.
Thank you, SexToyFun.com, for sending me the I-Vibe.