We-Wibe Touch, Tango, and Salsa: Small and Sweet!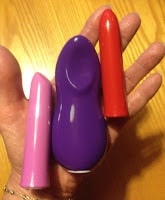 We-Wibe
doesn't just make vibrators for couples, I've discovered. I'm really enjoying the three new We-Wibe vibrators for solo play that 
Kama Sutra Closet
sent me:
The We-Vibe Tango is a tiny (3″x 5/8″) lipstick-shaped vibrator, fine for clitoral or vaginal pleasure.
The We-Vibe Salsa is a tiny (3″x 5/8″) rocket-shaped vibrator, fine for clitoral or vaginal pleasure.
The We-Vibe Touch is a palm-sized (4″ x 1.8″ x 1.2″) clitoral vibrator, shaped to cup the vulva.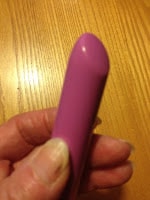 We-Vibe Tango
The difference between the Tango and the Salsa is the shape — would you rather have a flat area against your clitoris, or a narrow tip?
Though I liked the lipstick shape better, I found that it was hard to keep it from rolling around (thus moving the flat part away), especially when it and my fingers were coated with lube.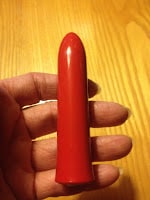 We-Wibe Salsa
Internally, they act similar to a bullet vibrator, though slim and longer than the usual bullet. There's no pull-string, but as long as the vibrations are still going, it will shoot right out if you stop clenching and push a little. (In fact, it will shoot right out if you're not careful to clench or push with a finger!)
Do not, however, insert these little toys anally, because they don't have a flange base and can indeed get stuck inside. You don't want to be the emergency room doctor's next story about what he had to remove from someone's rectum.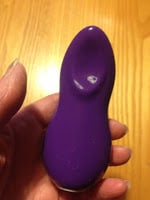 We-Vibe Touch
The Touch is for external use only, and it's my favorite of the three — although I wish (oh, there she goes again…) the vibrations were stronger. I like that it's a little rubbery and flexible rather than really hard. The shape is lovely — just tuck it where it fits over clitoris and parts of the vulva, and let it work its magic.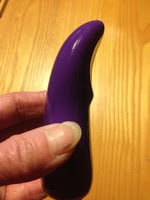 All three together are small enough to fit in a hand, and lightweight enough to be your special travel buddies. They're discreet and quiet for solo pleasure, even if someone is in the next room. They're also small enough to fit between bodies during sex with a partner, if you need extra clitoral stimulation, as many of us do.
Despite their tiny size, they pack quite a strong vibrational punch. Each has four intensities for steady vibration plus four different pulsing patterns. You just push the soft button at the end, and vibrations change — no dials or complicated controls.  (Personally, I just turn it up to the strongest, steady vibration and enjoy, but many people really like the pattern options.) Push and hold, and it turns off. Easy–except when the vibrator and your fingers are lubed, when it's apt to skitter out of your hand and across the bed. Capture it with a washcloth, or — better — get the washcloth ready first!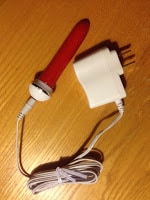 These We-Vibe playmates are completely waterproof, so you can get your enjoyment in the shower or tub!  They're made of body-safe materials: the Tango and Salsa are PC-ABS thermoplastic, and the Touch is medical-grade platinum silicone. All are eco-friendly, carbon-neutral in their manufacturing and distribution. They even come with a storage pouch, which I always appreciate.
Rechargeable, they fasten magnetically to a cute charging bulb, and in less than 90 minutes, they're recharged enough to go for two hours.
Thank you, Kama Sutra Closet, for sending me these dear little vibes to review! I'll be tucking them in my suitcase next trip!