Slim Glass Toys from Joyful-Pleasure.com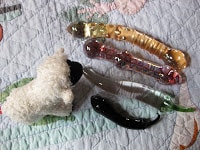 When I
reviewed The Twister
from
Joyful-Pleasure.com
, I complained that as gorgeous as it was, it was a tad too girthy for my personal joyful pleasure. Since glass — delightful as it is! — is hard and has no give, toys feel larger than they are. Joyful-Pleasure was eager to send me an array of lovely glass toys that are slender, sleek, exciting, and beautiful enough to put on display.
Why glass? Isn't that dangerous? Nope. These works of art are sturdy and fracture resistant. They feel smooth and luscious. My favorite part of using glass toys is that they can be safely and sensually heated or chilled. I personally like to chill mine in the refrigerator for a while before use — the sensation of cold, smooth glass in the vagina is intense.
These lovely products were provided by Joyful-Pleasure.com, the company that makes these hand-blown glass toys. The link for each product goes to Joy Hollywood, where you can purchase them at a surprisingly low price.
Have you tried any of these glass toys from Joyful-Pleasure.com? I hope you'll add your comments.I
love to hear from you because our experiences are all different, and your experience
will help readers as much as mine.
(However, if you're a sex toy
retailer, I don't permit links that compete with the retailers I
endorse and who provided the products, so don't do that — spammy, highjacking comments and links
won't see the light of day.)
Please see my other vibrator reviews by clicking here. Keep scrolling down — there are many!