Erotic Electro-Stimulation—Reviews of ElectraStim "Flick" and Erostek ET232
Thank you, David Pittle, for continuing to review sex toys for men here. My readers and I are grateful! Readers: your comments are always welcome. — Joan Price
Electro-Stimulation—E-Stim
Guest post by David M. Pittle, Ph.D., M.Div
Erotic Electro-Stimulation — what a charge! Attach electrodes to your genitals and get stimulated through electrical energy. Eugh! But if it could be a shockingly great form of sexual stimulation, why not?Although I consider myself sexually sophisticated, Electro-Stimulation – known as E-Stim — was beyond my experience or knowledge. I wanted to try it myself. Two of the leading vendors were kind enough to send me their units: ElectraStim from Cyrex, an English company, and Erostek, an American firm.
My first action was to try them on myself and then to enlist another man and two women to volunteer to experiment. These are not just men's or women's products, they are great for both. (I had fantasies of finding a couple to try it together, but that got too complicated.)
ElectraStim "Flick" EM60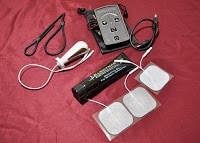 The ElectraStim "Flick" EM60 is a small device, 2.2 x 3.5 inches and only ¾ inch thick. Nicely styled, it has a soft, flocked back and a well-designed control panel. It felt good to hold and use. It came with two penis rings as well as a vaginal probe and several stick-on electrode pads like your physician uses for an EKG. The EM60 has 24 intensity levels and seven different patterns, which you can set to your liking. Like all E-Stim devices, the stimulation is not necessarily steady. And when you hold it and "flick" your hand, it provides an extra jolt of power. The EM60 is a good choice for a first experience because it comes on slowly, but you can build it up to almost full strength with levels of pleasure all along the way.
Erostek ET232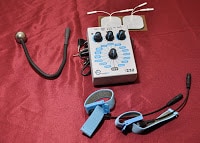 This is a very different device from the ElectraStim. The Erostek ET232 looks a lot less sophisticated in packaging, but it packs many more functions and much more power. There are 15 patterns including one that responds to voice command. The Erostek ET232 arrived with conductive penis bands, and a ball shaped insert for use in the vagina or anus. Enough variation to please almost anyone.
Testing the Devices
To get the best idea of what worked, we began with the EM60. We placed electrode pads near the base of the penis. Our second test was with the penis rings or bands. For the women, we used the pads on either side of the clitoris and then the vaginal probe. After testing the first unit—and some well-deserved rest–we repeated the test with the Erostek ET232.
The results were amazing. The women had orgasms with both devices with the pads. With the vaginal probe, the results were even more spectacular. One of the women had exquisite feelings leading up to each of several orgasms. Changing the orientation of the probe to be either next to her G-spot or side to side made a difference in the feeling, not less or more, but pleasantly different.
For the men too, the results were spectacular. The penis rings or bands produced the greatest pleasure. This increased with one band just below the glans and the other around the scrotum. One man said that he had two full orgasms in a row before "finishing."
All volunteer testers liked both devices. They praised the EM60 for being easy to get into and providing a soft and comfortable feeling that could be taken to a high level. They liked the Erostek as more aggressive and stronger with a different feeling to it.
Is E-Stim safe? You must use it correctly, which includes using lubricant and keeping the electrodes below the waist. Never use it if you have an implanted pacemaker or defibrillator. Read the instructions and follow the cautions. It should be as safe as your masturbation sleeve or vibrator if you follow the rules. In our testing, we measured blood pressure and heart rate before and after each test. Both heart rate and blood pressure do rise in any sexual activity, but there were no instances of anything out of the ordinary.
(Note from Joan: Of course, we do not give medical advice here, so consult your doctor to be sure. But be prepared: your doctor may have no idea what you're talking about. Educating doctors is a good thing.)
I can say confidently that these "beginner" models from ElectraStim and Erostek are great products that will keep working for years. They are an investment for long term sexual pleasure. Which to choose? You won't be disappointed with either.
– David M. Pittle, Ph.D., M.Div., is a therapist in San Rafael, CA, who has been helping people with sexual issues for over thirty years. Many of his clients are age 50-80, when good sex is important, and dissatisfaction may lead to loss of shared intimacy that can threaten the total relationship. David specializes in helping women who are not experiencing sexual satisfaction and men with non-medical and medically-related erectile dysfunction or other issues.
(I am sad to tell you that my friend, sex therapist David Pittle died December 2017. We value his sex toy reviews. Read more reviews by David Pittle)