Marriage Equality and more: LGBT Seniors
We're all reading and talking about gay marriage / marriage equality this week. I'd like to invite our LGBT Boomers, seniors, and elders to comment here about their lives growing up without acceptance or equality.
In high school, I had a guy friend who, I learned 50 years later, was gay. How much it would have accelerated my own education and evolution if he had felt he could talk to me about that then. But he didn't. Maybe he felt he couldn't. Maybe he thought it was none of my business. Maybe he wasn't sure. He dated girls at that time.
Fifty years later, when we met again, I asked if he was married. He told me nonchalantly that he was in a decades-long relationship with a man. He said he wasn't hiding it — he just informed people who asked.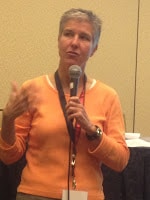 At
CatalystCon
East this month, I attended Terri Clark's session, "The Silver Rainbow: Working with LGBT Seniors." There are more than 1.5 million LGBT older adults in US today, and by 2030,
they'll number more than 3 million, Terri told us. She is co-chair of The LGBT Elder Initiative
(LGBTEI), which is "committed to assuring that lesbian, gay, bisexual
and transgender older adults have rights and opportunities to live
vibrant, creative and mutually supportive lives."
"The LGBT community is very youth-focused," Terri said. "Once you get older,
you cease to exist."
I thought I was well-informed, but this session made my jaw drop, especially when Terri showed a short film from Project Visibility (trailer below). In it, people talked about their need to be closeted growing up. "We always kind of lived a lie," they said. "That was your life and you're not able to share it. Your story would be missing."
Even decades later, they lost jobs, family, and their faith community when they came out. One college professor was told, "We don't have room on the faculty for you any more."
Many LGBT seniors are still closeted today. This makes them afraid to access senior health and legal services that the rest of us take for granted.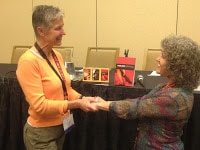 Yes, marriage equality is important. But that's not the only chapter in this story. Gay or straight, young or old, religious or not, activist or not, we need to come together, stand up tall, and speak out loud for equality for all of us, in all aspects of our lives.
In the words of one of the interviewees, "It's who we are. It's not a moral issue."