Iroha Mikazuki and Minamo: soft, slender, gentle vibrators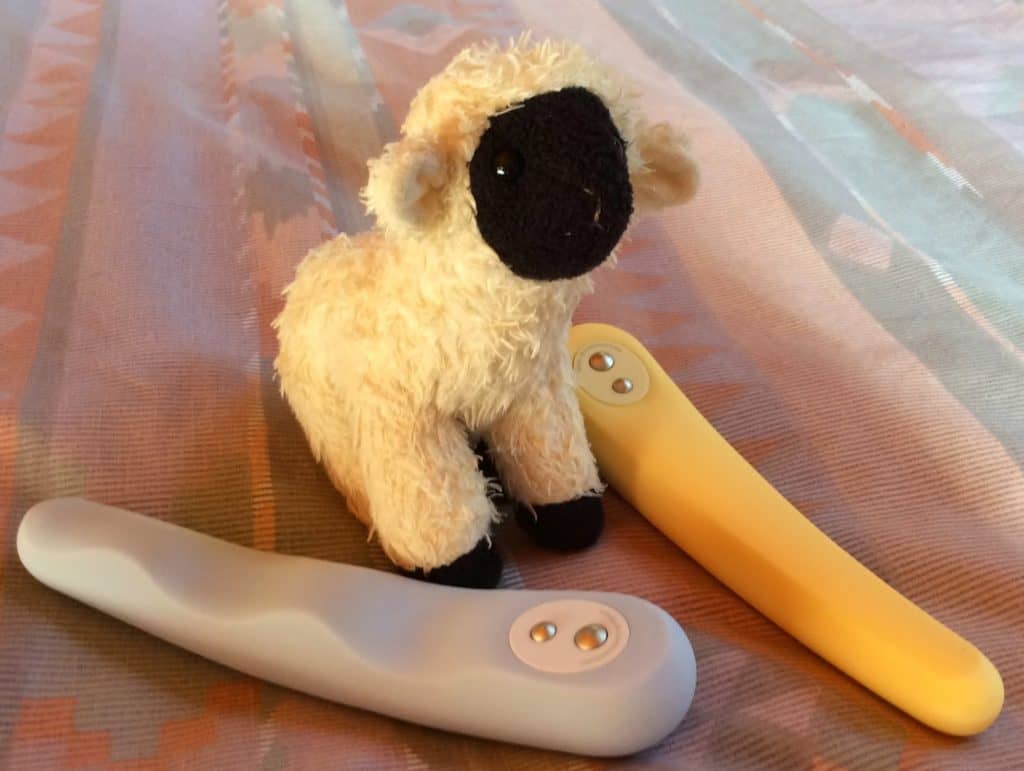 Squishy soft, slim, and ergonomically designed to embrace the vulva, the
Iroha Mikazuki and
Minamo
will delight you if you need or prefer a slender and gentle vibrator.These smooth silicone vibrators can be inserted vaginally or used externally over the clitoris and surrounding area. (It is not designed for anal insertion.)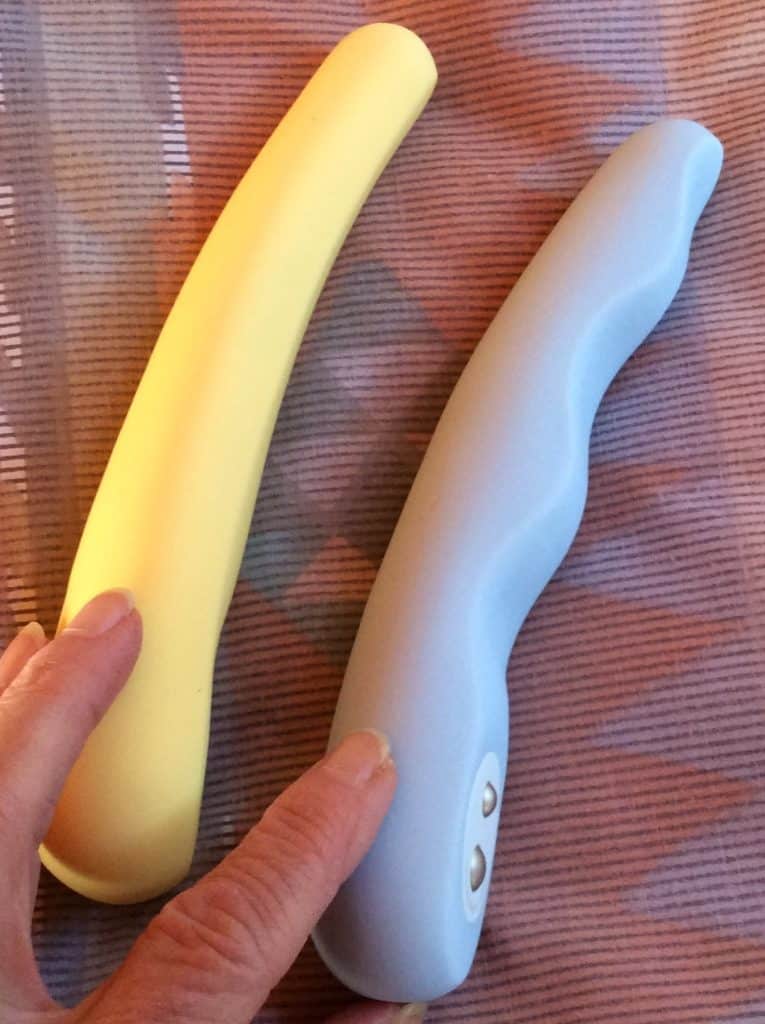 Differences:
Mikazuki is a soft yellow color and has a smooth, slightly curved shape. The tip is soft and squishy; the rest has just a bit of cushion. The tip is .7 inch in diameter, progressing to 1.1″ midway to 1.4″ just above the controls.
Minamo is light blue and has a wavy shape. The waves and tip are soft and squishy. The tip is .9″ in diameter, progressing to 1.3″ at the larger wave.
Pros:
Slender, smooth, and soft enough for vaginal insertion by those who experience pain or discomfort with penetration and for external comfort on older, thinner genital skin. (Of course, use plenty of water-based lubricant.)
Can fit easily between bodies for extra clitoral stimulation during partner sex.
Controls are easy to see and use, even with lubed fingers. Use the big button to turn it on and progress through higher intensities; use the little button to decrease intensity or turn it off. You don't even need your reading glasses!
Body-safe, high-quality materials.
Rechargeable.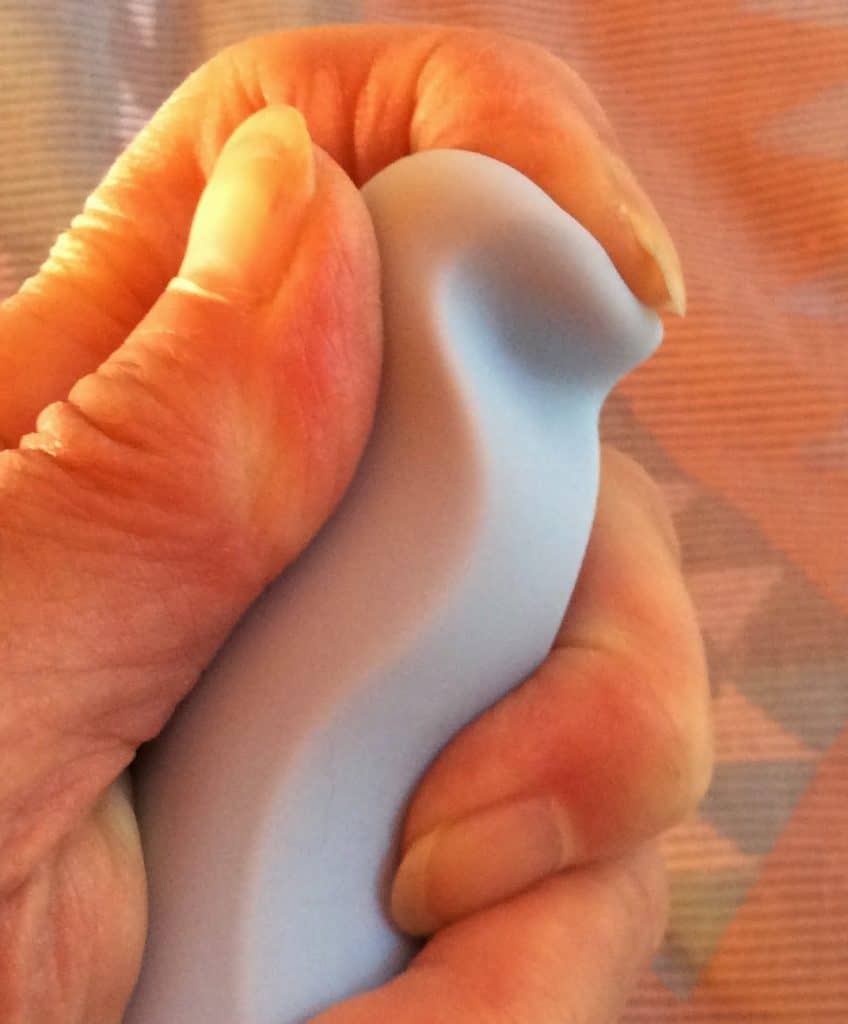 Demo of squishy tip
Waterproof for use in the tub or shower.
Cons:
Although the settings are supposed to be low, medium, high, and pulse, the highest setting is what I would call medium. It's not powerful enough for those of us who need really strong vibrations.
Because they're shaped for both external and internal use, the shape does not easily find the G-spot when used internally.
Expensive (but you're paying for high-quality materials and design).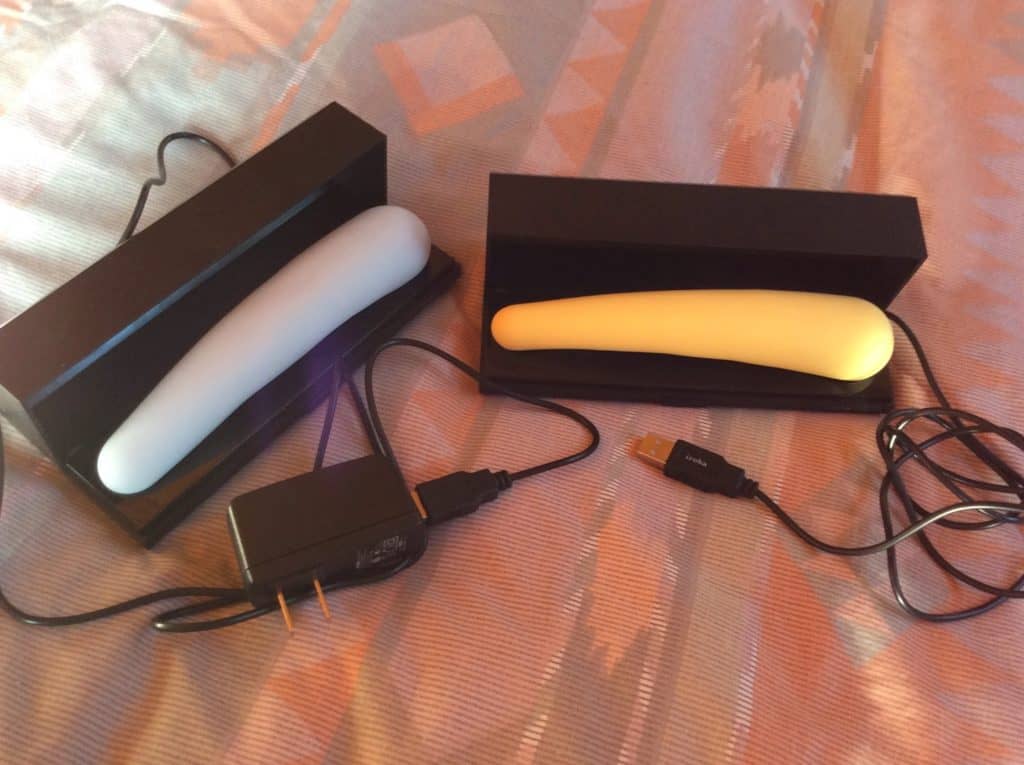 These rechargeable vibrators come in a storage case that is also a charging case. Plug the cord via USB or wall adapter.  Note that when it's charging, a steady light will stay on. That confused me (until I read the directions), because most rechargeable vibrators display a pulsing light while charging, and a steady light when fully charged. Not these.
Is one of these vibrators for you? Yes, if you want a toy that is slimmer and softer than most. (Many of you have told me that most vibrators are too girthy or hard.) No, if you need powerful vibrations or larger girth.
Thank you, Good Vibrations, for sending me the Iroha Mikazuki and Minamo  to review.