#FreeSexAdvice in New York City with Francisco Ramirez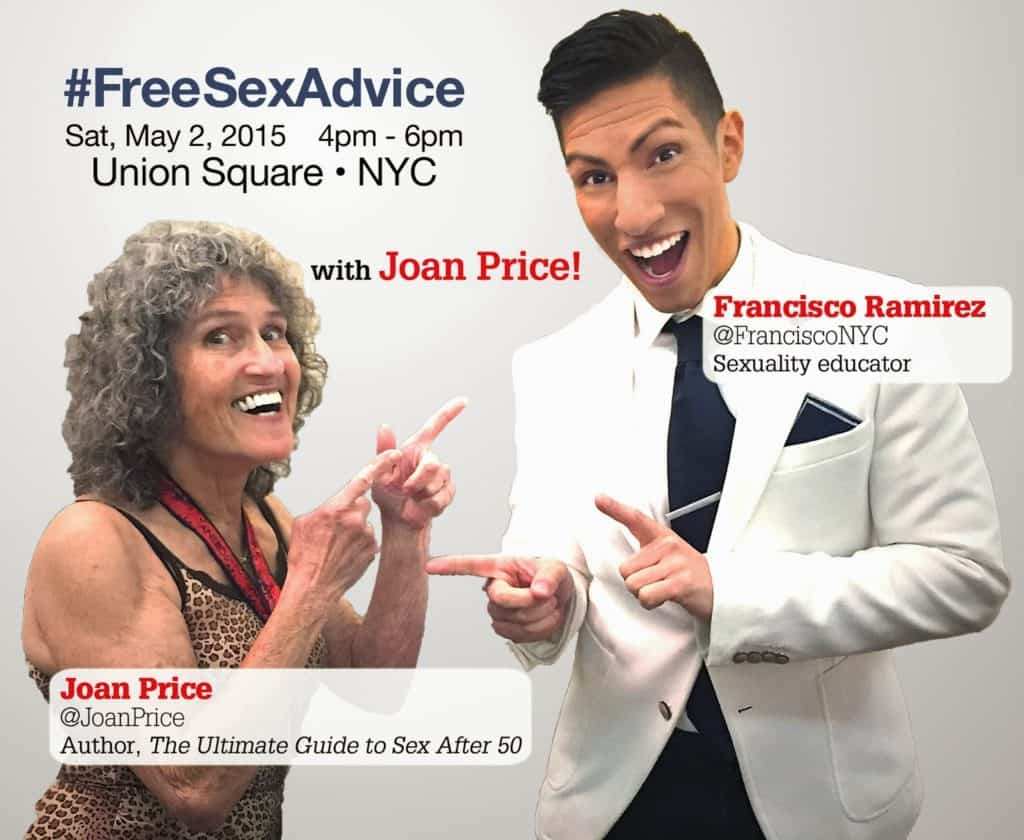 I had the delightful experience of sharing Francisco Ramirez's
#FreeSexAdvice
in Union Square, NYC. If you're not familiar with Francisco's events, he sets up two chairs in a park along with a sign offering free advice about sex, relationships, and dating. Then he sits down and waits for people to join him and ask their questions.
Yesterday — Saturday, May 2, 2015 — he brought a third chair. A chair for me. We had decided to take advantage of my visit to New York to offer park visitors a sex educator duo. We set up and Francisco tweeted that we were ready.
I thought I knew what to expect, but I was surprised and thrilled that people would actually sit down in the chair and, with very little prompting, start confiding their sexual concerns, stories, and questions. They shared confidences that their partners (if they had partners) didn't even know. We heard these types of stories, among others:
I love my partner but we don't live close enough to see each other regularly. I'm cheating when we're apart, feel guilty about it and keep promising "this is the last time," but I can't seem to stop.
I was brought up in a church that condemns same-sex relationships. I know I'm a lesbian and I want a wife. But I love my religion!
Will masturbating to x-rated man-woman pornography make me a pedophile? I've heard that porn does that.
I live with a younger man. It was okay at first, but now it's just blow jobs and giving him money. I don't leave him because I'm afraid of being lonely.
I don't have much trouble finding people for hook-ups, but I'd like a real relationship. Should I be pickier?
Often people talked to us for 15 minutes, getting deeper into their stories, as Francisco and I asked questions to clarify the issues and offered advice. Sometimes the people arrived at revelations and conclusions that they hadn't expected, and after they left, Francisco and I turned to each other and said, "We really helped someone just now." It was deeply satisfying to how good information and a new perspective could change people!
Many thanks to Francisco for including me in this great adventure. We've already agreed that we'll do it again next time I'm in New York.