Doxy Die Cast: So Strong!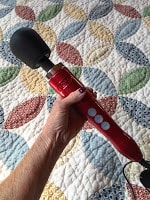 There's a new sheriff in town, and her name is
Doxy Die Cast
. She's strong, brightly colored, strong, made of a snazzy aluminum/titanium alloy, strong. Did I mention that the Doxy Die Cast is
strong
?
Strong
as in lie-back-and-it'll-happen strong, even if your orgasms usually take a lot of effort. If you like a high intensity clitoral vibrator, this power tool will sing to you in great, rumbly, throbby tones.Let's back up. I had the privilege of talking to Ruby Goodnight from
Doxy
 at the
Woodhull Sexual Freedom Summit
 last month. At the Doxy booth, I was dazzled by the gorgeous colors of the Die Cast models. After turning one on, I was even more dazzled by the strength of the vibrations.
In 2014, I had written a glowing review of the original Doxy Wand, so Ruby was familiar with my love of Doxy. When I told her I had to review this new model, she said she worried about its heavy heft for me, because she knew I wanted sex toys to work with arthritic wrists. That's one of my criteria for reviewing sex toys.
However, having experienced the Doxy Die Cast, I must repeat what I said about the original Doxy:
I generally prefer vibrators that are easy on arthritic wrists — this one is not. It's heavy, it's huge, and I would be in pain from trying to hold it for any length of time. However, that's irrelevant, because it works so fast that my wrist barely notices. Yes, it's that good.
What do I love about the Doxy Die Cast? Let me count the ways:
It's really strong. (Yeah, I know I've made that point already, but that is the point.)
The head is made of body-safe silicone and has a bit of cush for comfort.
The head is large enough to send vibrations over much of the vulva and the internal clitoris, those pleasure-giving nerve endings under the surface. (See my Clitoring for an illustration of the wishbone-
shaped part of the clitoris that we don't see.)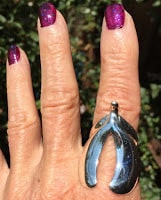 The control buttons are large, easy and comfortable to press, and they light up.
The vibrant color wouldn't be enough to sell me on a vibrator, but when I'm already sold, gorgeousness is an added bonus.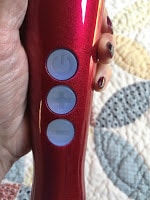 The Doxy Die Cast is easy to use — just press the power button quickly to turn it on, then increase or decrease intensity with the "+" or "-" buttons. But there's also a mode called the "pulse setting" that you might not find on your own if you don't read the manual. This is a revving up from low intensity to high. Once you're in this mode, the "+" or "-" buttons vary the rate of acceleration. I usually don't care about vibrational patterns, but this is especially pleasing! Access the "pulse setting" it by turning off the Doxy, then press the power button for two seconds and it will be running in pulse mode.
Here are some things you might not like so much, though they don't bother me when compared to the pleasure:
It's big and heavy — 13″ long by 2.38″ wide, weighing 1.8 pounds.
It has to stay plugged in while in use. (That's understandable for powering a motor that strong.)
Be careful following the instruction booklet, which is not completely correct for this model. Since the Doxy Die Cast has a silicone head (not "medical grade PVC" as it says — that's a different Doxy), you do not want to use silicone lubricant with it, despite the booklet's instructions — use water-based lube instead. Doxy tells me that these errors will be corrected on the next print run.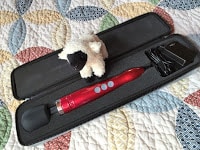 It comes with its own cushioned storage case. It's a huge, hardshell case, 19″ long, so don't expect to carry it in a backpack. I would have appreciated a storage pouch in case I wanted to store or pack it without the mondo case, but this case will keep it clean and protected.
The Doxy Die Cast is available from SheVibe, a splendid sex toy shop with a devoted blogger following, because they treat their bloggers and their customers so well. Their website is also fun, because of the sexy comic art throughout the site. Check it out.
(Would you please tell SheVibe that they need some artwork showing people our age? Do you see me with my hand in the air, volunteering to pose?)