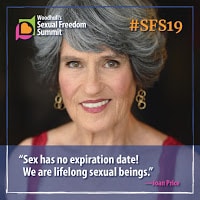 I turn 76 on November 10, 2019. I meant to write this on the eve of my birthday, but I'm rushing it by two weeks. Right now my home is under an evacuation alert because of the huge Kincade fire not far away and projected high winds tonight and tomorrow. The power will go out any minute. The bad air is exacerbating my asthma. Somehow it feels important to write this now.
This past year has been astonishing, both personally and professionally. Who could have guessed that age 75 would be filled with all of these?
A new book, Sex After Grief, that helped bring closure to my own grief and let me help others who are grieving;
Making  a film (!) about sex and aging, a project that I never envisioned doing until the lovely jessica drake told me it was time to do it together;
Speaking events in the US and abroad and much media attention;
A stimulating and nurturing relationship that delights me every day.
Do you want to know what matters less than I predicted? Wrinkles. Puckered thighs. Loose skin. I hear people bemoan their aging bodies, say they have to cover up. Some tell me they're giving up sex because they don't understand why anyone would desire their old bodies. Yes, wrinkles startle us, showing up in places we didn't expect — even cleavage in a push-up bra! — but hey, our bodies are the youngest they'll ever be from now on! We can celebrate our bodies, or hate them, or ignore them. Which choice serves us best? We can't go back in time, but we can go forward accepting ourselves and glorying in our life experience. The more we accept and celebrate ourselves at our age now, the sexier we will feel.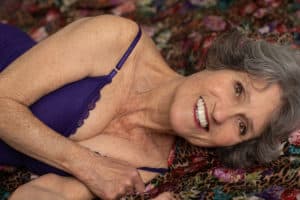 My view: let's celebrate the ability of our bodies to move us, to stimulate us, to feel sexual pleasure. And why should we see ourselves as less beautiful or less desirable because we wear our experience on our skin? Isn't that a badge of living? I've been indulging myself with lingerie photo shoots every few years, and I have one scheduled with Perry Gallagher on my 80th birthday. The point is not to show off my body — it's to accept it and see it with new eyes, and chronicle my aging process.
I'm amazed, actually, at how well my body functions, despite its many health challenges. (You don't need to know specifics, other than I need 5 medications a day to keep them at bay.) I realized a long time ago that I can't change what I inherited (family history of early heart disease; a mother who took up smoking during her pregnancy, resulting in my low birth weight and breathing problems since infancy) and what happened to me (auto accident body destruction).
But I can change what I do to keep my health day by day, hour by hour. I'm a fanatic about exercise, tracking my steps and minutes, challenging myself with 1.5 to 2.5 hours a day of fitness activity: teaching line dancing, brisk walking, Pilates. I lead a very busy life, but I always make time for exercise because it gives back more than it takes — my mental acuity and physical energy are charged up by movement, the more the better. I feel lighter in my body when I exercise. I embrace my physicality. That translate to more joy, better sex, and myriad unseen health benefits. Fitness after 50, 60, 70, or 80 – it's your choice. Start today, don't put it off any longer.
I wrote the following on Facebook, and I'll expand on it now:
I often reflect on this: every path taken or not taken, every relationship that starts and/or ends, every life decision — all of these open doors (and windows) to what happens next.

I realize with the perspective of almost 76 years that our paths aren't linear. They wind around, sometimes end up where we started, but with new knowledge. Or they lead us to a new place entirely. Sometimes the signposts along the way are helpful, other times they're in a language we don't know, so we make our best guess.
I think the only mistake we can make is to be afraid of taking a path because we don't know what's at the end of it. The truth is, we don't know where it will take us even if we think we do.
My advice (if you want advice):
Move as much as possible — your health depends on it.
Adopt the "if not now, when?" mindset and live your bucket list now.
If your relationship situation needs changing, change it.
Put plans in place now that you might need later: financial, healthcare, will, advance directive.
Take care of things now that you don't want your loved ones to have to figure out when you're unable.
Spend time with friends — we don't know how long they'll be with us.
Tell the people you love that you love them.
Learn from the past, celebrate the present, be unafraid of the future.
As I wrote this list, I cringed at a few items. I have a list of important and time-consuming tasks I keep putting off because other things seem more urgent and easier to complete. I'll check in again later once I've followed my own advice on those things!
Did anything on my "advice" list resonate with you particularly? If you were giving advice, what would you add to my list? Please comment and include your age.