Senior Sex Toy Focus Group Invitation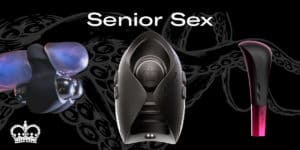 UPDATE: The focus groups have ended. But please visit Hot Octopuss for a variety of exceptional sex toys for penises and vulvas.
Are you a senior (age 50-80+) with opinions about sex toys, and you're not shy about sharing them with us? Hot Octopuss and I invite you to participate in a live, online focus group for seniors discussing sex, sex toys, and more. In return for an hour of your time, you'll get $100 towards your purchase of Hot Octopuss products — and the satisfaction of knowing that a company that is invested in your sexual pleasure is listening to you!
Hot Octopuss is looking for your thoughts on sex, sex toys, and how you buy them. Joan Price, our Senior Sexpert, will conduct our secure Senior Sex online focus groups and would love your views in exchange for $100 in vouchers.
Focus groups will last one hour. They will be recorded by Hot Octopuss and moderated by Joan. All information will be treated with the strictest confidentiality in line with our privacy policy. Your name or image will not be mentioned or used publicly. Register now by taking this confidential survey.
Focus group participants will be chosen from survey respondents.
Right now focus groups are scheduled at these USA times, and we may add more later to accommodate other time zones:
Wednesday 9th December  – 2pm EST (11am PST)
Wednesday 9th December – 7pm EST (4pm PST)
Saturday 12th December – 2pm EST (11am PST)
Saturday 12th December – 7pm EST (4pm PST)
If you're not familiar with Hot Octopuss, here's what I want you to know:
They make superb vibrators, especially for seniors. Their penis vibrators can be used with or without an erection! See Shamus MacDuff's reviews of the Pulse Solo Lux and the JETT, especially.
I'm the Resident Senior Sexpert of the Hot Octopuss Senior Sex Hub, a resource offering senior sex information, blog posts, and Q&As. Check it out!