Womanizer X Lovehoney Pro40 Review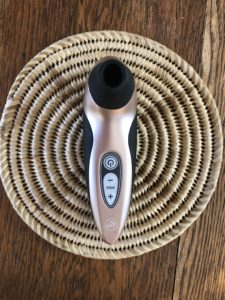 The Womanizer X Lovehoney Pro40 Rechargeable Clitoral Stimulator  from LoveHoney is not a new product, but it's a popular one which I've enjoyed immensely all year and should have reviewed for you sooner. If you're a fan of "air pulse" technology, or if you've never tried it and don't know what product to start with, you can't go wrong with this one.
But first, some history:
In March 2015, I met my first Womanizer sex toy. It was a garish, ugly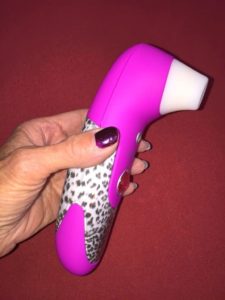 thing with an offensive name and a fake jewel control button that stabbed my thumb. I felt the need to tell you this:
Let's get this part out of the way first — this is the ugliest, tackiest looking sex toy that has ever graced my nightstand. It looks like a design by sixth graders assigned to figure out what a girly ear thermometer might look like…and the name —  Womanizer. Seriously?
But it used a new technology that bestowed orgasms so glorious  that I forgave the appearance, the thumb stabbing, and the name. I described the sensation as "clitoral suction," though it doesn't really suck — it combines vibration and pulses of air to create the sensation of gentle sucking.
Fast-forward five years. By now, end of 2020, most sex toy connoisseurs have heard of and enjoyed the "air pulse" or "Pleasure Air™" technology from Womanizer, which  boasts several models of different sizes and — fortunately — an updated appearance.  The price has come down. The awful name hasn't changed, but we've gotten used to it. We've pretty much divorced the word in our minds from the offensive connotation. (It's similar to the way we've adapted to the name "iPad," which no longer reminds of of sanitary napkins.)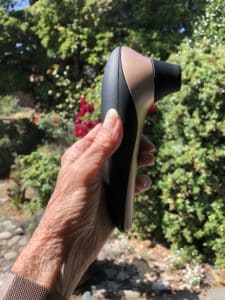 The Womanizer X Lovehoney Pro40 Rechargeable Clitoral Stimulator is based on an earlier model that was discontinued by Womanizer and has been revived with LoveHoney.
Here's why I love it:
Works really, really well. Put a little water-based lube on the edges of the head and on the clitoris, position the Pro40 so it envelopes the clitoris, trying for a tight seal, turn it on, and relax into the sensations. Turn up the intensity as you need it until there's no place to go but over the moon.
6 intensity levels from delicate to "yowza!" Start with mild sensation and build up as you get aroused. There are no patterns, which suits me, because I prefer strong and steady without the distraction of rhythmic variations.
Buttons you can see, feel, and understand even with lube-slick fingers. I'm irked when otherwise great toys need a strong light and reading glasses to figure out the controls. The Womanizer Pro40 has raised buttons and big labels, and nothing extra to confuse you.
Lightweight and ergonomic. Comfortable to hold.
Waterproof. Use it in the shower or bath, just be aware that it makes a funny noise* in water which may cause laughter instead of arousal (or maybe that's just me).
Easy to clean. Just remove and wash the head and wipe lube off the rest.
USB Rechargeable.
* Speaking of noise, yeah, there's noise. On a low setting, it's practically silent, but rev it up and it gets loud. With lube, if you don't have a snug seal over your clitoris, it makes a slurping sound. Just adjust the fit and the slurping stops, but it's still loud. My solution for you if noise is a problem: send household members outside to walk the dog while you attend to yourself.
Some Womanizer models come with two interchangeable heads of slightly different size and design, so that you can choose the best fit for your body.  The original Pro40 did this, too. This one, however, has only one head.
Caveat: Do not use if you have a pacemaker.
Many thanks to LoveHoney, the sexual happiness people, for sending me the Womanizer X  Pro40 Rechargeable Clitoral Stimulator.