We-Vibe Touch X and Tango X: updates that make a difference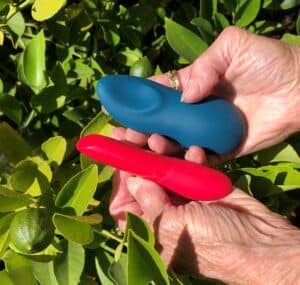 My vulva and I first encountered the Touch and Tango external vibrators from We-Vibe in 2012. The Touch quickly became my favorite travel vibrator because the small size bestowed powerful vibrations. Over the years We-Vibe improved these two fine vibrators by making them more rumbly, more powerful, more ergonomic, easier to charge. The new Tango X and Touch X are the latest iterations of these pleasure tools, and they're marvelous.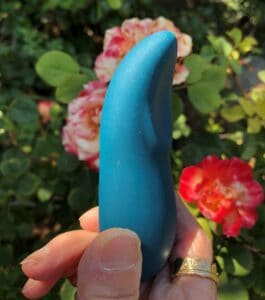 So much to love about the Touch X! Despite its tiny size, the vibrations are strong, and the shape is ideal for a senior vulva that needs strong stimulation. You can use it several ways:
Cup the clitoris in the curved, shallow, bowl-like section.
Hold it upright with the pointy tip on the clitoris or the clitoral hood.
Cover the clitoris and labia with the Touch held lengthwise, pointy tip either at the entrance to the vagina or on the clitoral hood, your choice.
Give the clitoris extra stimulation during partner sex (penetrative or not).
What else? Let me know in the comments how you like to use it, if you're willing to share.
Reviewing the 2018 Touch, I was ecstatic about the improvements. Everything I liked then is even better now in 2021, I am thrilled anew by the power, comfort, and shape of the Touch X.
I don't know if this will be an annoyance for you, but as you can tell if you enlarge the photos, the Touch X is a lint magnet. Just wash it before use as well as after. The feel of the matte silicone is worth it. Use plenty of water-based lubricant for optimal pleasure.
Use Tango X's pointy tip, flat end, or the whole surface area for external stimulation however and wherever you want it: clitoris, vulva, nipples, penis, scrotum. Use it solo or with a partner during PIV or any other preferred sexual expression.
The redesigned Tango X sports a silicone handle which makes it easy to hold, even with lubed fingers.  The earlier plastic Tango models, while enjoyable, were super slippery to hold while using lubricant. If I didn't hold it tightly, it might jump right out of my hand and send me scurrying to capture it in the bedsheets.
If I did hold it tightly, the vibrations transmitted directly to my hand, intensifying my wrist arthritis and making it problematic to hold for any length of time. Although I still feel the vibrations in my hand with Tango X, the intensity is dampened by the silicone layer, so it's less bothersome. This is a huge improvement for those of us with arthritis.
Both Touch X and Tango X
Both Tango X  and Touch X will delight you with 8 vibrational intensities and 7 patterns, and these can be combined. In other words, if you like the boop-boop-cha-cha-cha pattern, you can make the intensity subtle or  yowza or anything in between. Earlier models let you choose an intensity or a pattern, but not both.
The controls have been redesigned and are much improved. Earlier models had one control button at the end. You pressed it for different intensities and patterns, cycling through the possibilities to find the right setting. The Tango X has raised buttons for "+" and "-" and a separate "~" button for patterns, making it much easier to find a preferred setting.
Charging is also easier than earlier models, which had a magnetic charger that slipped off easily, leaving your vibrator sitting there uncharged. The new versions also charge magnetically, but now the magnets won't disengage until you pull them apart.
Touch X and Tango X are waterproof for bath time fun!
Which would you like best?
That's a matter of personal preference, of course. The two vibrators behave similarly, but with an entirely different design and therefore a different feel. If you prefer pinpoint clitoral stimulation, you'll like Tango X . If you like more overall vulva sensation (which stimulates the internal clitoris as well as the external nub), you'll get that with Touch X. If you like varying pinpoint and overall, Touch X does both. If you want a toy that feels especially delightful to a penis, Tango X will get your vote.
Speaking of penises!
These toys are marketed for vulvas, but the design, power, and sensations will have your penis of choice shivering with pleasure. The Tango especially is just right for your penis owner's solo or partnered play. For partnered play, turn it on and try some or all of these:
Roll the length of the Tango up, down, and around the consenting penis's shaft.
Target the consenting frenulum with the flat end.
Use it on the scrotum during while the consenting penis is in your mouth
Try this:
For an extra zing, try chilling them first: see Refrigerator Sex.
Thank you, We-Vibe, for sending me these luscious new pleasure tools in return for an honest review.