VIM Wand from Fun Factory review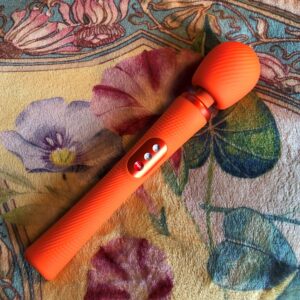 It's long, it's strong – it's VIM, the new vibrating wand from Fun Factory!  VIM, Fun Factory's first wand vibrator, is strong and rumbly. When I say strong and rumbly, I mean STRONG AND RUMBLY, even thuddy! This is a good thing. Buzzy doesn't work for me. VIM never gets close to buzzy. It starts rumbly and stays rumbly, no matter which of the 5 speeds or 3 patterns I choose. The head is weighted for extra rumble.
Wavy texture:
Both handle and silicone head are covered with a wavy textured design. This makes the handle soft to the touch and easy to grip. The wavy texture of the head may appeal to you, but personally, I would have preferred smooth. The waves do hold lube better, but to me, the waviness doesn't add particular pleasure and even makes it a tad rough for delicate aging skin when used for an extended time. I can't say textured or smooth would be better for you – different strokes (literally) for different folks.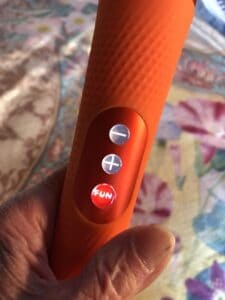 More about VIM:
I'm always asking for controls that are easy to see without reading glasses. Bonus points if they're easy to feel with eyes closed. VIM comes through with both. Press the Fun Factory button for on or off. Press "+" or "-" to cycle through the 5 speeds and 3 patterns. The buttons even light up when VIM is powered on.
VIM comes in bright Sunrise Orange or vibrant Midnight Blue. The neck is flexible, so you can press at the angle you want. Note that although VIM is relatively quiet compared to other wands, it gets louder if it's well lubed and you press hard.  VIM is water resistant (not waterproof, so don't take it into the shower with you). Use with plenty of water-based lubricant.
USB recha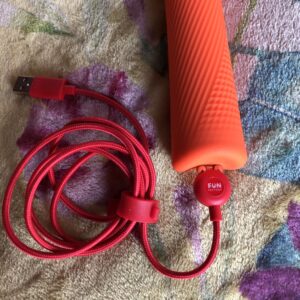 rging is easy with a strong magnetic connection. Unlike many vibrators (including some others from Fun Factory), the connection holds tightly and won't accidentally disengage.
Caveats:
Fun Factory's marketing says, "Vibration stays in the head, not the handle." As a 79-year-old with arthritic wrists, I don't agree. True, there's far less vibration in the handle than in the head. However, the handle does conduct vibrations, and the closer to the head you hold it, the stronger the vibrations to your hand. The very end of the handle has very mild vibrations. But the wand is heavy – 15.2 ounces, almost a pound. So why would you hold it at the end, 12 inches away from its destination, making it heavier on your wrist? I find it easiest to hold close to the middle of the handle, where the controls are located. I certainly felt it in my hand.
VIM comes in a glossy cardboard box, but no storage bag. As a luxury wand at a luxury price, it should come with a bag, Fun Factory!
VIM vs. Magic Wand: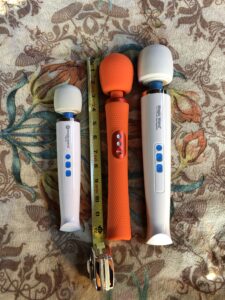 For the wand connoisseur, let's compare VIM, the Magic Wand Rechargeable, and Magic Wand Mini. For intensity, the MW Rechargeable is the strongest on the highest of 4 settings, but most of us don't ever need to get to that highest setting. VIM definitely competes for intensity with 5 levels, and is the most rumbly and thuddy at all speeds.
VIM has the slimmest handle, great for small hands. But see Caveat above.
Weight:
VIM:  15.2 ounces
MW Rechargeable: 1 pound, 5 ounces
MW Mini: 9.7 ounces
Length:
VIM: 12 inches
MW Rechargeable: 13 inches
MW Mini: 9.5 inches
VIM for penises, too
VIM loves vulvas, but if there's a penis in your life, don't be greedy – share your VIM. Our Shamus MacDuff reports enjoying VIM on his penis, first up and down the shaft and scrotum, and then concentrated on his frenulum when he's sufficiently warmed up and ready for a happy ending. He reminds us that his favorite Fun Factory toys are the versatile Volta (his top favorite for solo and partnered penis pleasuring) and the Manta.
Fun Factory, based in Germany, is one of my favorite sex toy companies, specializing in well-made, long-lasting, colorful, multi-use vibrators with unique, often playful designs. Thank you, Fun Factory, for sending me VIM for an honest review. Purchase your VIM from Fun Factory here.
Special for Joan's blog readers:
15% discount with the code JOAN
for all Fun Factory products!*
* Discount excludes kits, bundles, gift cards, Liberator and SpareParts products. It cannot be combined with other offers.