Posts Tagged 'lubricants'
Here's a reader question that will intrigue you! My response follows.
Q: I have recently started to have a physical relationship with a more mature woman. She happens to be 12 years my senior. I normally use lubricant because she is normally dry, regardless of how much foreplay we engage in. She has approached me about engaging in a small orgy. We were wondering if there would be any issues with a few men?
My response:
By "any issues," I can't tell if you're asking whether her vaginal dryness might be exacerbated by having intercourse with more than one man, or whether you're concerned that enacting this fantasy might be emotionally problematic for her, for you, or for your relationship. Since I'm not sure which you're asking, I'll answer both.

It's completely normal for women to need lubricant for sex as they age. A woman can be extremely aroused and still not lubricate the way she used to. You're right to use lubricant, as you've discovered already. Prolonged intercourse – whether with one man or "a few" – will require frequent application of lubricant.

Besides the dryness, though, she may find the group sex she's considering physically uncomfortable sooner than she expects because of the thinning of her vaginal walls. If you plan to go ahead with this scene, be sure everyone understands that not every sex act has to culminate in intercourse, and make sure the other men involved agree not to push that part of it.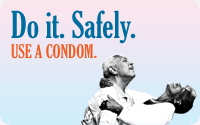 For everyone's health and safety, be sure that condoms and dental dams (or the female condom, which works for both uses) are within easy reach and used with every interaction. Don't forego this because the other men insist that they are "safe." Your sexual health and your partner's are your own responsibility. (Please read the FAQ, "
Six Basic Facts Seniors Need to Know about STIs
")

I can't tell from your question whether your partner has had sex with multiple partners before and wants to do it again, or whether this is a fantasy of hers that you'd like to help her indulge. Don't go into it lightly. Talk a lot first. Try roleplaying, just the two of you, pretending you have a third (or fourth) by "talking dirty" about what you're fantasizing is going on. That may help you each understand what you're imagining and wanting from expanding your relationship.
I could write pages about the issues to think about and talk about, how to negotiate what's okay and what's off limits, how to choose and invite new partners, how to test your fantasy in stages, how to make sure your partner (or any of you) can stop or leave if it doesn't turn out to be right after all, how to care for each other afterwards.
As you see, I'm not moralizing – if you both really want this and it fits with your own beliefs, go into it thoughtfully and with plenty of dialogue and preparation.
If I've left you worried, frightened, or dismayed, then maybe this would be too big a step for your relationship to handle.
This question and my response were first published on the Safer Sex for Seniors website where this question was originally submitted — direct link to this Q &A here. Here's what I wrote about this site when it first went live.


I'd love to know what my readers think about this topic and my response. Please comment!