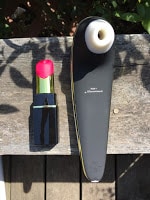 The Womanizer — the sex toy whose name we hate and whose orgasm assistance we love — has two new models! There's the long-handled Womanizer Plus and the lipstick-shaped Womanizer 2Go. As soon as I expressed interest, Good Vibrations rushed to ship me both to review. (Love you, Educator Andy!) I was surprised by how powerfully — and quickly! — both worked.
Let's get one thing settled. In my earlier reviews of the original Womanizer and the later model Womanizer W500, I dubbed the sensation  "clitoral suction." I described it this way:
It doesn't just vibrate (though it does do that) — it gently pulls on the clitoris, bringing blood flow, engorgement, and increased sensation. It's not "sucking" like a vacuum — it's subtle, but oh so effective and pleasurable.
I stand by my description of the sensation, but I guess I need to stop calling it "sucking." Other reviewers** have pointed out that it doesn't "suck" — it blows puffs of air in pressurized pulses. The company calls it "Pleasure Air Technology." It feels like gentle sucking to me, and it feels glorious. In my experience, both of these new Womanizers speed up arousal and deliver orgasms easily and surprisingly quickly.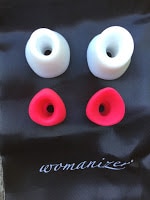 Heads in two sizes
These Womanizers are more attractive than the previous models — the garishness is gone — and the control buttons***  are easier to use. Both come with detachable heads in two sizes and shapes to get the best fit for your clitoris. (Look carefully — the extra head is easy to miss underneath the packaging.) Both models are waterproof!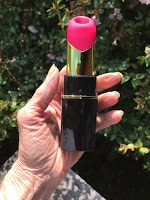 Womanizer 2Go
(10/21/2020 update: Sorry, this model is no longer available.)
Pros:
* Smallish and light to pack for travel — this one is going in my carry-on for sure!
* Quite strong, considering the comparatively small size.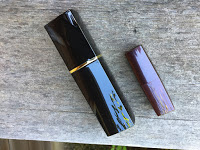 Womanizer 2Go (L)
Laura Mercier lipstick (R)
Cons:
* It's the shape of a lipstick, but not the size. See the difference? This is only a con if you expect teeny tiny.
* The case does not stay closed securely. A little nudge will dislodge the cap from the base. This is a design flaw, and an aggravating one. Be careful if you're carrying it in your purse. Don't let the cat knock it around.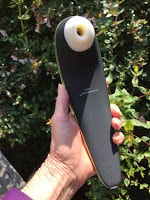 (10/21/2020 update: Sorry, this model is no longer available.)
Pros:
* The long handle is splendidly ergonomic, especially for short arms and arthritic wrists. The design is a huge improvement over previous models.
* The sensation is strong, dependable, and joyous.
Cons:
* I didn't find any cons. Other reviewers criticized the placement of the controls, high and low on the back of the handle, but I liked that I couldn't accidentally turn it down or off.
* Wait — one con: the price. Yeah, it's as expensive as two high-quality sex toys. But in my view, if you can afford the $200, the pleasure and ease of orgasm make it worth it.  Of course your mileage may vary.
** The funny and often snarky Epiphora described the sensation as akin to "a horde of fish nibbling tenderly at your clitoris." The "sex toy critic/ dildo burner" Dangerous Lilly wrote, "I've been told by Womanizer there is no vacuum/suction, instead, the technology is 'pressurized air pulses,'" in her remarkably thorough review of both of these products, Womanizer 2Go and Womanizer Plus, and comparison of all the Womanizer models and  the Satisfyer (which I haven't yet reviewed, but it's in the pipeline). Why am I sending you to other reviewers? Because they're marvelous, and if you don't already read Epiphora and Dangerous Lilly, you should!
*** Control buttons: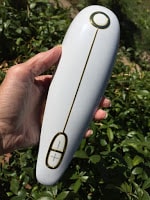 Controls back of handle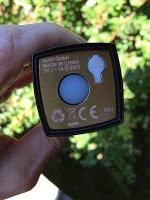 2Go control button on bottom
Thank you, Good Vibrations, for sending me these Womanizers in return for an honest review.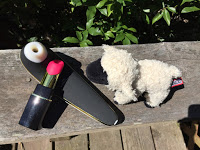 2/12/22: This Womanizer model is no longer available. Please check out LoveHoney's current array of Womanizers. I deleted the dead links but didn't delete the review because, hey, Jeffrey Dean Morgan.
1. It's stronger, with 8 speeds (instead of 5). Even this power queen didn't need to turn it up to the highest intensity, and I almost never say that.
3. It's much more attractive! No more garish, girly ear thermometer — now it has a subtler, more appealing design.
5. It comes with a classy, black satin storage bag instead of a bright, bubblegum pink case.
Both models come with two detachable silicone cups and a USB charger. Use a small amount of water-based lubricant to create a seal.
If you're close to my age (72), you're probably challenged by decreased blood flow to the genitals, making arousal and orgasm a slower and sometimes more difficult process. But this gentle suction pulls the blood into the clitoris and makes arousal and orgasm happen. It just does.
Here are a couple of ways you can enjoy the Womanizer:
* For solo sex, especially if you want a quickie, the Womanizer gets you there faster than most vibrators.
* For partner sex, make the Womanizer part of the arousal warm-up. Then once your clitoris is engorged and you feel ready, you'll find it easier to reach orgasm in any way you play.
"But is it good enough to warrant the $230 price tag?" you ask. I know: ouch. But I really do think it's worth it. I think you'll love it as much as I do.*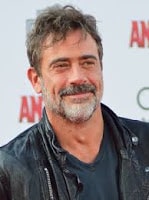 Jeffrey Dean Morgan
2021 update: This first version of the Womanizer is no longer available (mine should go in a museum), but later versions without the garish decoration and thumb-stabbing jewel are sure to delight! I'm keeping this review (after removing the dead links) because it's fun to see this original version. Check out LoveHoney's newest Womanizers.
The Womanizer from LoveHoney.com is a sex toy that sucks your clitoris — and that's a rock-your-world sensation!
Let's get this part out of the way first, though — this is the ugliest, tackiest looking sex toy that has ever graced my nightstand. It looks like a design by sixth graders assigned to figure out what a girly ear thermometer might look like. It's a garish shade of fuschia, with animal print decoration. The "+" button is a fake jewel.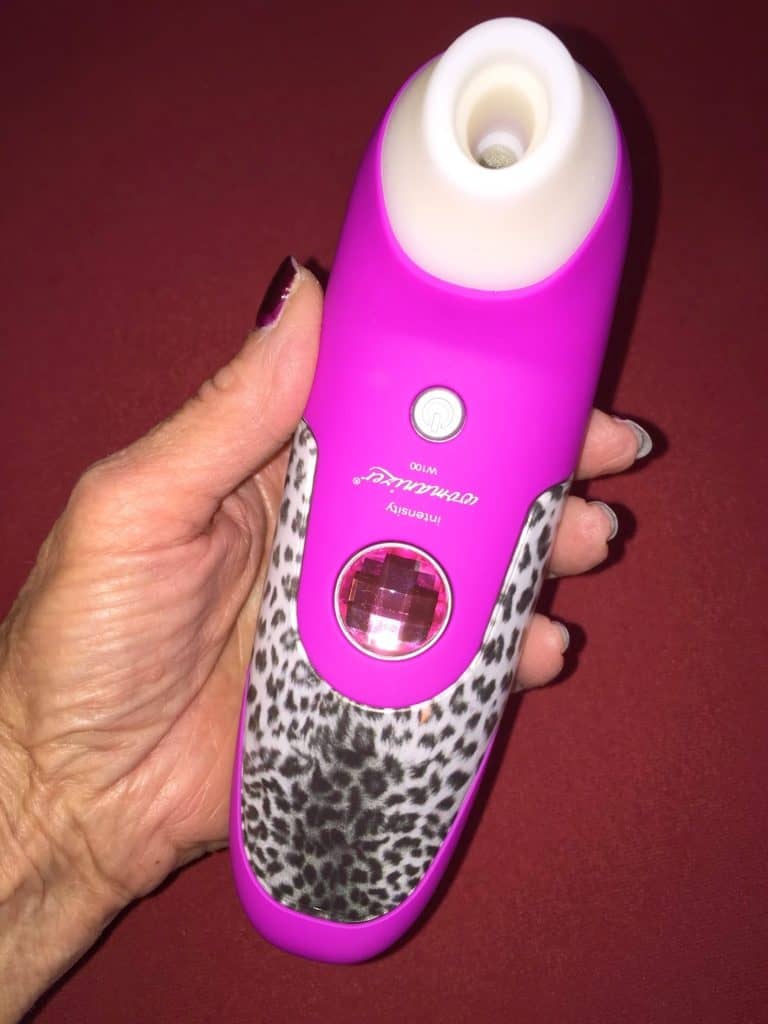 And the name —  Womanizer. Seriously?
And yet… it's wonderful! This magical sex toy isn't quite a vibrator, although it does vibrate. The essence of its power is suction. Position it so that the silicone attachment surrounds the nub of the clitoris, turn it on, and waves of gentle suction tug around the clitoris. It's an exquisite feeling. And yes, the rhythmic suction does lead to orgasm. Oh yes, it does.
This might be a deal breaker for you: it's very expensive, about $200. (Yes, it should be less ugly for that price.) But if the idea of having your clitoris gently and rhythmically sucked for as long as you want makes you squirm, save up for it. It's worth it.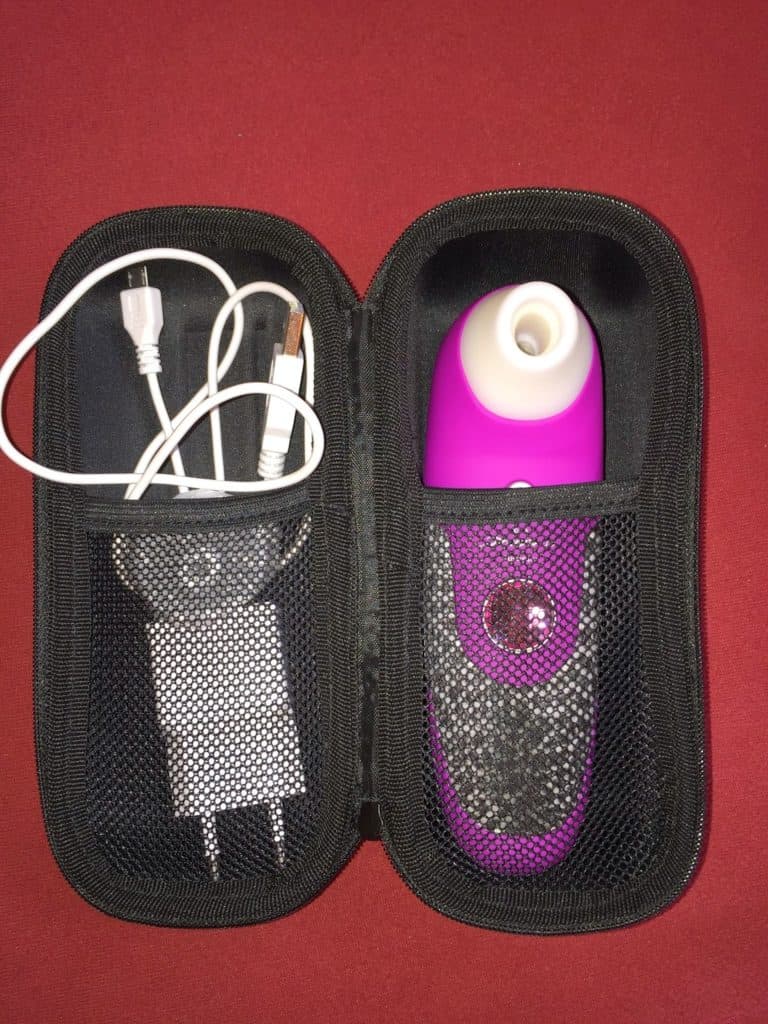 The Womanizer charges via USB, so there are no cords to wrestle with while you're using it.  It comes in a hard case in an unattractive shade of bubble gum pink.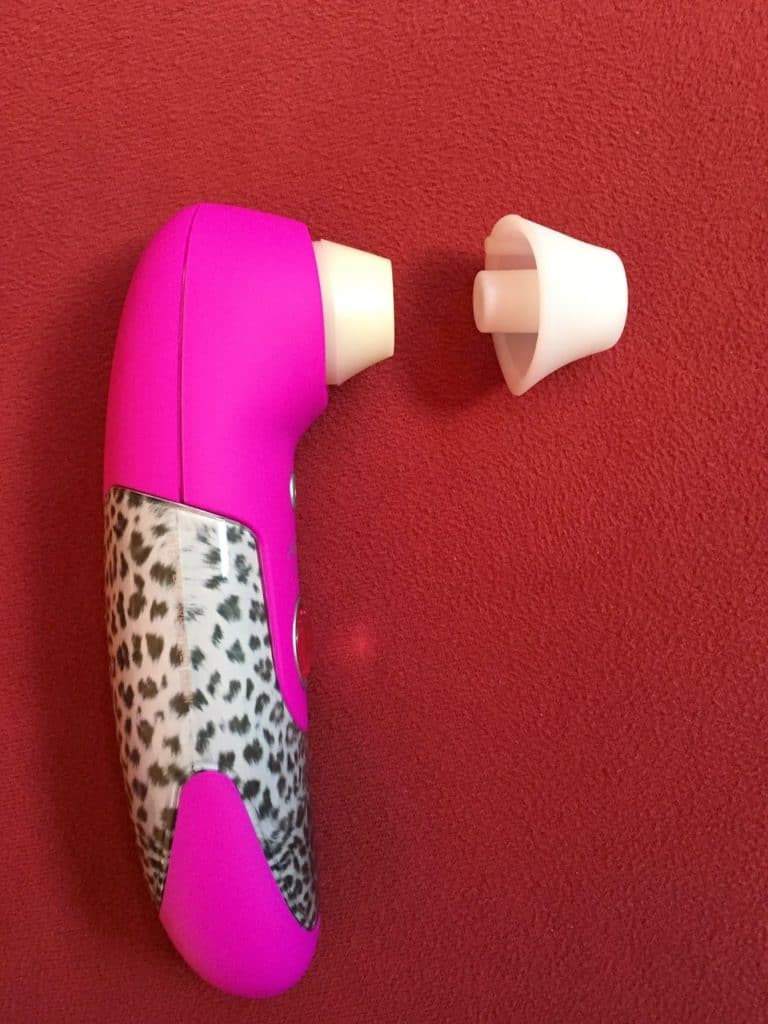 The silicone part that nibbles and sucks your clitoris comes off for easy cleaning, and there's an extra in the case in case you need it. One caveat — the manual says that you can use silicone lubricant, but you cannot. The tip, which is the part you need lubed, is silicone, so use  water-based lubricant with it.
Bottom line — Give me that clitoral suction sensation — I love it. I can get past ugly by closing my eyes.
Thank you, LoveHoney.com, for sending me the Womanizer.