Report from a Sex Educators' Conference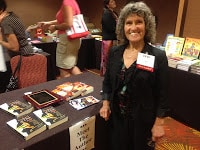 What do sex therapists, counselors, and sex educators do at a conference? No, they don't hold orgies or kiss-and-tell or take off their clothes in public. They don't snicker or tell off-color jokes. Rather, they learn, they teach, they keep themselves updated on new developments in their field, and they network — just like any conference.
The difference is that every topic is related to human sexuality, and for everyone there, talking and teaching about sex is their day job.
I just returned from the annual conference of the
American Association of Sexuality
Educators, Counselors, and Therapists
(
AASECT
) in Austin, and I'd like to share some interesting morsels with you.

Personally, the most significant moment for me was when I received the 2012
AASECT Book Award for
Naked at Our Age
and I read the inscription on the plaque:
"For a major contribution toward understanding the sexuality of
seniors." Can you tell from the photo how thrilled I was (and am!)?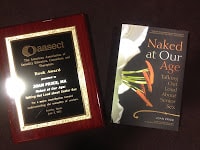 Thank you, all the readers who sent stories and questions
and all the experts who provided answers and advice. This is not just my book –
it's yours, also. Senior sex is
not only out from under the covers, it's receiving major attention now. I loved hearing this from the therapists: "I bought your
book and love it. I keep it on my desk to show my clients."
I had the pleasure of talking to
Betty Mooney
, an 86-year-old sex-ed university professor who received the Distinguished Service Award. (See a clip of her teaching her class
here
.) Betty told me, "I have no wish to retire. This is more than what I do — it's what I am." I get that.
The conference dealt with all aspects of sexuality, but I'll
share just a few tidbits that apply to our age group.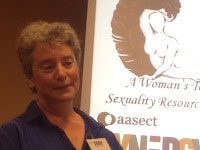 Ellen Barnard
is one of my favorite sex educators – you'll
find her savvy tips all through
Naked at Our Age
. Ellen, co-owner of
A Woman'sTouch
in Madison, WI, works with cancer survivors
to help them reclaim their sexuality. "Oncologists are there to treat your
cancer and save your life–it's not within their job description to talk about
sex," Ellen told us in her session on
Sexuality and Cancer
. So it's up to people like Ellen to do the talking about sex. (Her PowerPoint outline
is available
here
.) A Woman's Touch is a superb resource for sexuality topics, especially for our age group.
See the list of educational brochures
here
. You'll learn cutting-edge information that your doctor didn't tell you about
Penile Rehabilitation after Prostate or Pelvic Surgery or Radiation
, for example, and the complete
Vaginal Renewal program
that I referenced
several times in both
Naked at Our Age
and
Better Than I Ever Expected
.
Barry McCarthy, prolific author of
Enduring Desire: Your Guide to Lifelong Intimacy
(2011 AASECT Book Award winner)
;
Discovering Your Couple Sexual Style: Sharing Desire, Pleasure
, and
Satisfaction; Sexual Awareness: Your Guide to Healthy Couple Sexuality
,
and Rekindling Desire: A Step by Step Program to Help Low-Sex and No-Sex Marriages
talked about Sexual Desire Disorders. He explained that the "l
imerance" stage of a relationship — that initial romantic and highly sexualized time –typically lasts just 6 months to two years. The challenge is how to keep sexual
desire alive and empowered in an ongoing relationship, focusing on
pleasure and
engagement
rather than performance.
"Sexuality is sharing pleasure in a team sport," he said, giving several strategies for developing
comfort, confidence, and connection.
There was so much more — but I hope this gives you a taste!
I wore my Naked at Our Age shirt quite a bit. One attendee
read my shirt and told me, "You sure look good for
– whatever age you are." Struck me as funny!
I couldn't write about sexuality and Austin without posting a photo I took of the Austin Motel. No, I didn't stay there, but I did stare for a while at the sign (which was huge, if size matters)!