I Melt with the We-Vibe Melt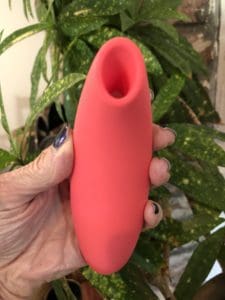 Oh, oh, oh, the We-Vibe Melt! This "Pleasure Air™ stimulator" surrounds the clitoris with vibrating pulses of air that feel to me like gentle, rhythmic sucking — the best kind of gentle, rhythmic sucking: the fast-to-orgasm kind of gentle, rhythmic sucking.
But when I say "gentle," I don't mean mild or wimpy. The 12 — count 'em, 12! — intensity levels are powerful enough for those of us with aging bodies that require extra sensation.
I've enjoyed other Womanizer "air pulse" vibrators immensely (read my reviews here), and those came with two removable heads for optimal fit and easy cleaning. The We-Vibe Melt is all one piece. Can one size fit all?
I don't know the answer to that — but yes, it worked for me, and I've read only positive reviews from others. Positioning it took a bit of effort the first time, and when it slid off-course, the vibrating lube noise made me laugh. Once I got it situated correctly and knew how much pressure to apply to keep it from sliding, it was pure pleasure.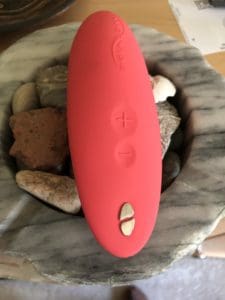 The Melt's shape is ergonomic. It's smooth and easy to hold without crooking an arthritic wrist. It's slim enough to use between two bodies during partnered sex, and delightful to use solo.
The controls are clear and easy to feel and see without any need for reading glasses. Turn it on and increase intensity with the "+" button; turn it down and off with the "-" button. Charge it easily via a magnetized USB connector.
Although I didn't test this, preferring to control my own vibrator, the Melt also has the "We-Connect" app that lets a partner control the intensity and patterns from a Bluetooth-paired smart phone.
At age 76 now, I've been around the block. This pleasure tool takes me around the world. How lucky that we're getting old during a time of high-tech vibrators like the We-Vibe Melt! Get one for yourself directly from We-Vibe.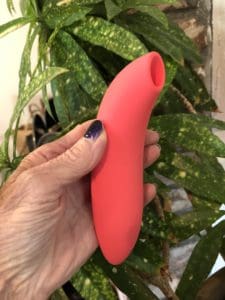 Thank you, We-Vibe, for sending me the Melt in return for an honest review.