Kurve: Vaginal Vibe from Hot Octopuss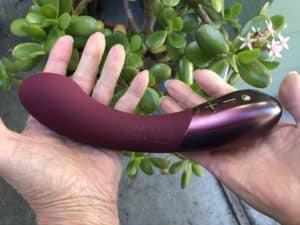 It's a party in your vagina! The Kurve, the latest vibrator innovation from Hot Octopuss, promises to delight G-Spot owners — and it does.
Hot Octopuss is best known for sex toys for penises. Now they've taken the bass-treble dual motors used in the popular JETT  and placed them in a smooth, elegant, penetrative vibrator for eager vaginas. This means you have two motors vibrating at different frequencies. The bass is rumbly and throbby and altogether wonderful. The treble is a higher frequency but not buzzy (I had worried that it would be). The two together are two musical instruments in concert.
The intensity is strong, and I mean strong! I suggest playing with low- to mid-settings before you go full throttle, even if you usually assume you need the strongest, most ferocious vibrations possible (guilty as charged). Spend several sessions experimenting to find what combination of treble-bass and more-less power for a given moment.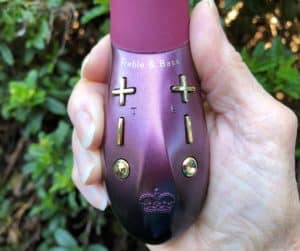 Even if you're a seasoned vibrator connoisseur and you use most sex toys intuitively, I  recommend that you study the one-page manual that you'll find in the box and  online, where you can enlarge it for your old eyes. I would have figured out how to turn it on (press and hold "+" for each motor) and off (press and  hold "-" for each motor) and how to increase (+) or decrease (-) the intensity. But I would not have intuited that the little raised button on the treble side turns off both motors simultaneously, and the little indented button on the bass side cycles through the patterns.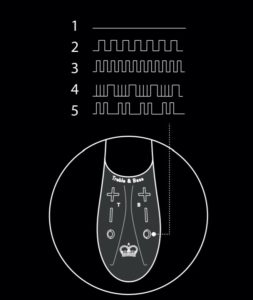 Speaking of patterns! Honestly, I usually ignore patterns. Give me steady and strong, then steady and stronger. Don't distract me with rhythms. But with the Kurve, patterns are exciting! The only one I know how to describe is #5: "beep-beep- cha-cha-cha." With the different rhythmic patterns and the two motors that each have their own intensity choices, the combinations are plentiful. In fact, I find that every time I use the Kurve and experiment, it's a new experience.
Why is it especially good for our age group?
The whole design is beautifully ergonomic and suited to our genitals, from the vagina-pleasing curve to the gel-soft tip.
The controls are super easy to see. (I've been asking for this!) You can even differentiate the raised symbols by touch, with eyes closed.
The large, cushioned tip is comfortable and adaptable to our varying shapes and pressure preferences.
It offers enough stimulation for our slow-burning bodies.
But what about the clitoris?
Personally, I had hoped it could be used externally as well as internally, making it a most versatile sex toy. Though it's a stimulating clitoral warm-up, it does its best work internally.
Easy solutions if you need or prefer clitoral stimulation:
Invite your favorite clitoral vibrator to join the party. Being created with two hands gives us many advantages in daily life: using a fork and knife, pouring coffee and making sure it lands in the mug, tying shoes, petting the dog while changing channels, to name just a few. I'd put on the top of that list: using a clitoral vibrator and a vaginal vibrator at the same time! Try DiGiT, Amo, Eroscillator, We-Vibe Touch, or any smallish vibe that won't clunk against the Kurve.
Enjoy your or your partner's fingers on your clitoris while the Kurve is in your vagina. One partner of a vulva owner reported this technique:
"My partner had the Kurve fully inserted in her vagina on the setting she likes best. I rested the outer edge of my left hand lightly against the protruding end of the vibrating Kurve. Then, using my thumb and index finger, I stroked and manipulated her clitoris with ample lube. The vibrations from the Kurve transmitted through my hand and fingers to her sweet spot, with a lovely result."
Caveats:
The product description does not include the diameter of the largest insertable part. Since it's not uncommon for older vagina-owners to require slim products for comfort, this measurement should be disclosed, Hot Octopuss! I measured it for you: 1.5 inch diameter. The tapered, squishy tip is squeezable and after insertion the mid-section is slender, but there's a moment that it's a non-negotiable 1.5″, in case that's a problem for you.
With two motors at full blast, the handle itself transmits vibrations, which will aggravate an arthritic hand. However, if you prop a pillow for the handle to rest on, you don't really have to hold it. Just keep a couple of fingers on it to keep it from rotating out of position, and it will pretty much stay where you put it.
You have to be careful not to accidentally hit the controls in the handle when you're in the throes of passion.
I don't much love the "KURVE is a sex toy superhero on a mission to seek out your G-spot" marketing. In my view, instead of pursuing the goal of having your body work a certain way — "Was that my G-spot? Or did I orgasm because I enjoy vaginal vibration? Or am I feeling my internal clitoris? Am I doing this wrong?" —  just try it different ways and let yourself relax and enjoy.
Added attractions:
Waterproof! You'll need water-based lube, though, so best to lubricate and insert it before you get in the tub.
USB rechargeable via a charging hole.
If you have a penis-owner lover who is jealous of the attention you get from your new toy, press the Kurve against the penis along with oral or manual pleasuring. Share the joy!
Thank you, Hot Octopuss, for creating the Kurve and for caring about senior vulva owners' pleasure!