Message from Joan, (mostly) not about sex
March 3, 2021: A year ago this month, I wrote the blog post below. It was the beginning of the pandemic, and we had no idea that a year later, we'd still be restricting our lives, wearing masks, staying home, assessing our safety with every interaction, trying to figure out how to get through this alive, crying for those who did not. Massive numbers of people have died from COVID-19: 2.56 million to date worldwide. I'm spotlighting my March 2020 post because everything I said then is even truer now (except that I'm another year older and no longer needing the knee scooter).  I've learned new ways to cope — so have you. Feel free to share your advice in the comments section.
March 18, 2020: I'm under a shelter-in-place order, as are most of you by now. Even before the order, I had started limiting outings and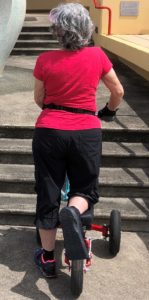 interactions because I'm in a high-risk group. I'm 76, and although I'm usually a powerhouse of energy, I do manage chronic asthma. Twice in the past 5 years, simple respiratory illnesses developed into pneumonia, one requiring hospitalization. To make life even more stressful, I've been recovering from injuries after a fall that put me on crutches and a knee scooter for a month.
I'm sure many of you have similar stories.
I Know We're All Stressed, Maybe This Will Help. I'm used to working from home, so social distancing isn't a huge change for me. If you're new to this and can't figure out what how to fill your time and reduce your stress, here are some tips that I hope you'll find helpful:
Choose one thing you've wished for time to do, something that would bring you a sense of pleasure and satisfaction. Maybe it's as simple as making time to read a novel, or as complex as writing your memoir. Make this something that will bring you joy to do.
Choose one important task that needs to be done that you can do at home. You know, a chore on that to-do list that's been hanging over you for weeks, months, years? You might not enjoy doing it, but you will enjoy having done it.
Build exercise into your day, every day, even if it's power walking your house to the beat of a favorite song. Exercise is important for our physical and mental health. It's a natural anti-depressant. For 300 ideas (yep,I counted them) for exercising wherever you are, get my 2003 book, The Anytime, Anywhere Exercise Book:  300+ quick and easy exercises you can do whenever you want!
Reach out to loved ones. No, we can't visit and hug, but we can interact via phone, Skype, Zoom, Facetime. Make a plan to contact at least one special person each day. Ask for what you need emotionally. Use the time to get closer to people in the wonderful technological ways available to us, rather than feeling distanced and isolated.
Divide your time among these four. Brag when something's done! You'll feel better and less isolated if you're intentionally doing something enjoyable or important or both, rather than just passing time.
Here's the main point: We know at our age that every hour we have matters. We can make this time meaningful. It's our best gift to ourselves.
"But Joan, what about sex?" you're asking. OK, let's add sex:
Give yourself an orgasm at your tingle time.
Try something new during solo sex or partnered sex.
Order a new sex toy or lubricant. Please scroll down the right-hand side of my blog for retailers who support my senior sex educational mission. Let's support them, too, especially now.
Learn something new about sex and aging. This blog is a fine start. Consider my books, film, and webinars, too. As long as the post offices remain open, I can ship your book and film orders (U.S. only), and my webinars are digital, so you can view them whatever your location or situation.
Please feel free to add your comments and tips.
---