Heating Up with Emotional Bliss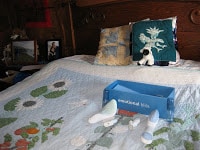 What a lovely day when my special package of solo sex accoutrements from Emotional Bliss arrived from England! From the moment I opened the box, I was impressed by the elegant design of these vibrators — I mean "intimate massagers" — designed for women.
Emotional Bliss knows women. The Womolia and the Femblossom are both contoured to touch and surround a woman's most erotic nerve endings, not only the clitoris, but also the sensitive labia. The tapered tip can be inserted to stimulate the sensitive entrance to the vagina, or, if you prefer, it doesn't need to penetrate at all for more direct clitoral stimulation. Put it over your erotic contours and it will stay there, hands-free, or press or rock it with your hand for added intensity.
Speaking of intensity! The Womolia and the Femblossom tease you with nine vibrational speeds and intensities. Press the easily accessible button to make the vibrations stronger, milder, pulsing, steady, or surprising (some settings ramp the intensity up and down). One setting amps up in a way that reminds me of singing the scale — Do-re-mi-fa-so-la-ti-DO!
Besides the shape, the Womolia and the Femblossom are unique because they heat up! I mean literally. After about 15 minutes, they get deliciously hot. I don't mean they're overheating like some vibrators in our past that came with instructions to turn off after 20 minutes of use (at our age, 20 minutes may be just getting started). No, these erotic helpers are designed to get hot. The brochure suggests leaving the massager turned on for 10-15 minutes before use, but you might enjoy letting the warm-up happen while you're using it instead.
The difference between the two massagers is shape. The Femblossom stimulates the clitoris and a large area of the vulva, while the Womolia aims itself more directly at the clitoris and/or inserts readily into the first two inches of the vagina, the most sensitive area.
Want something small and subtle that you can use either solo or with a partner instead? The Isis and the Chandra are like vibrating fingers. Slide one on your(or a partner's)finger, push the button, and it becomes a vibrating extension of the finger wearing it. The Chandra is slightly larger and more intense then the Isis.
All of these vibrators are medical-grade silicone and come with a charger (you never have to deal with batteries), lubricant, and a blue storage box. The instruction booklet is detailed and dignified in text and photos, and even a first timer will learn exactly what to do and how. After that, experiment and enjoy!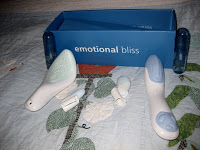 Emotional Bliss is based in England and ships to the UK, Europe, and the USA. For other locations, contact them.