Favorite Sex Toys for Seniors: Gift Guide for Our Lovers and Ourselves
Lucky me, many sex toys cross my path and vie for my reviews from a senior perspective. When I'm not working on a review ("This is work?" you ask. Actually, it is, and also wonderful), I reach for my favorites. Here are the toys that win my current "keep these charged and within reach at all times!" status. A couple have been favorites for decades. Others are new discoveries. All are recommended for our age group, because of their strength, ease of use, and high quality.
Though I can't promise that you'll have the same experience I do, I find that these come pretty close to guaranteeing orgasms, even at our age. Check out my sex toy gift guide.
But first —
Tips for gift-giving a vibrator
Make sure that you're prioritizing the way your giftee receives pleasure, not what you think they ought to enjoy. Best way to find out? Show your lover this post and ask what they'd like best. Don't worry about ruining the surprise. Foreknowledge is better than an embarrassing surprise of a vibrator that your giftee doesn't want and doesn't like. A gift certificate might be a good choice, if available from your chosen retailer.
Absolutely do not look for a cheap knock-off to save some bucks. If you needed a power tool to get a job done, you wouldn't buy one of unknown origin, from a shady vendor, with no warranty, with parts made of questionable material and a motor that sputters instead of gets the job done, would you? So why would you trust a lover's intimate parts to a low-quality, short-lived, even potentially chemically toxic product?
Buy quality, and please support the folks who care about your health, safety, and pleasure (such as the retailers I link to in the sidebar and in reviews) instead of an unknown vendor or the richest retailer in the world (you know who I mean).
If you haven't treated your own genitals to a special gift lately, find one for yourself as well! Not sure what you'd like? Read How to Choose a Vibrator and answer the questions.
Note that the first mention of each toy below links to my or Shamus's review of that vibrator, so you can learn more before deciding if it's for you. Within the original review, links go to retailers that I endorse and that are supportive of my senior sex pleasure and education, not just sales.
Joan's Five Favorite Sex Toys for Vulva Owners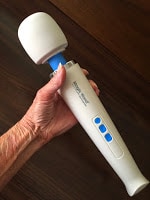 From my first one purchased in the "personal care" department of Macys to the updated rechargeable version from Good Vibrations, the Magic Wand has been my vulva's solo sex companion for  half a century.  This version has a large, wipe-clean silicone head, and four speeds. Since it's rechargeable, no cords to deal with when in use and no need for an outlet. It's heavy and loud, but it does its one job very, very well, and it's built to last for years.  This  is the one to reach for when you want super strong clitoral stimulation for an easy orgasm. (Note that it's an external vibrator, which I have to mention because I get questions about how it fits in a vagina. It doesn't!)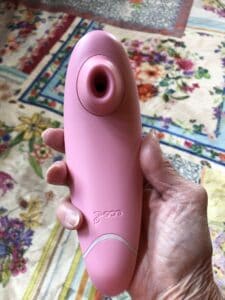 Eco from Womanizer
Eco is a beautiful, environment-friendly, ergonomic clitoral stimulator using "Pleasure Air Technology." It feels like your clitoris is being gently sucked or nibbled and vibrated at the same time. This model is unusual because all its parts are recyclable. Like all the Womanizer pleasure tools, it's powerful, and the sensations are unlike any other kind of vibrator. Everything about the Eco is special: the feel, the appearance, even the cotton bag. I recently reviewed three Womanizer models, and all three are treats for your (or your lover's) clitoris.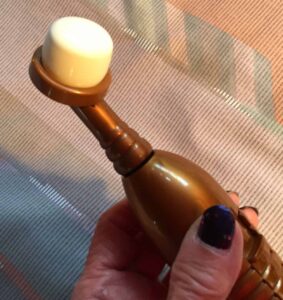 Eroscillator
Oh, Eroscillator, let me count the ways! This clitoral stimulator has been my orgasm tool of choice since long before I started writing about sex or reviewing sex toys. I've used it joyfully (a) solo; (b) with a partner for clitoral stimulation during intercourse; and (c) for clitoral stimulation during partner-assisted "outercourse."  Up to 3600 steady "oscillations" a minute make orgasm easy and thrilling. The Eroscillator comes with snap-on attachments so you can vary the shape of the head. My favorite is the "soft finger" (I call it the "marshmallow") attachment, shown here.  Caveat: it needs to be plugged in during use.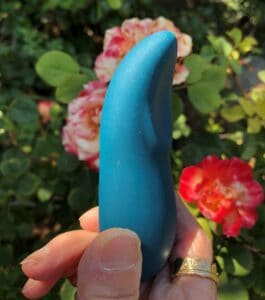 Touch X from We-Vibe
The Touch X is the ideal travel vibrator, whether you're on a long trip or a hot date. Tiny enough to pack in a pocket or purse, the intensity is surprisingly strong — powerful enough for our slow-burning, senior vulvas. The innovative shape lets you choose to envelop the vulva or use the tip for pinpoint sensation. It's small enough not to get in the way during penetrative partner sex, too. Compared to older versions of the Touch, this one is even stronger and more rumbly, with improved controls for ease of use. Rechargeable, completely waterproof.
Oh my goodness, the Kurve, a strong, rumbly vibrator designed for vaginal penetrative pleasure, is my clear winner for  2021 sex toy innovation. The dual motors create a party in  your vagina of  deep, throbby bass vibrations coupled with higher (but not buzzy) treble frequencies. It cuddles the G-spot with intense vibrations yet the pressure at the tip is soft and cushiony. This orgasm tool is for you if your vagina enjoys the feeling of fullness with vibrations, and 1.5 inch diameter of the biggest insertive part isn't a problem. (I've talked to Hot Octopuss about the need for slimmer toys for many senior women — stay tuned!)
I asked Shamus MacDuff to choose his favorite sex toys, too. He selected two recently reviewed favorites and two all-time, never-fail favorites:
Shamus Macduff's Four Favorite Sex Toys for Penis Owners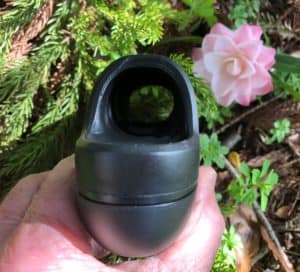 Ion is manufactured specifically to entertain a penis solo. My suggested instructions for your pleasure: (1) Lube the tube; (2) Lube your penis; (3) Insert Penis A in Tube B; (4) Fasten your seatbelt; (5) Find the "magic spot" in the ION tube that initiates the action on your frenulum; (6) Hang on for a ride!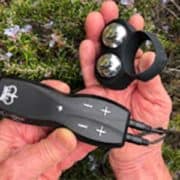 JETT  is purely a penis joy toy. Revel in the sensations of its variable bass and treble motors. Make music using JETT's 10 vibration patterns. Its flexible sleeve fits over the penis and the two vibrating stainless steel balls scoot underneath. A separate battery-powered control box connects by cords. JETT is my "go-to" masturbation toy.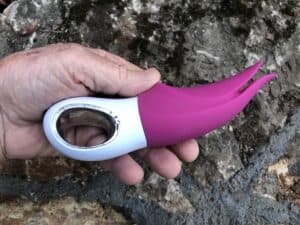 The versatile Volta vibrator was made with vulva owners in mind. But my partner and I find that it works wonderfully on a penis, either combined with fellatio or as a well-lubed stroker. Volta also feels marvelous on nipples or any other erogenous zone. It is our prime sex tool when my partner wants to pleasure me and is also fun for solo sex.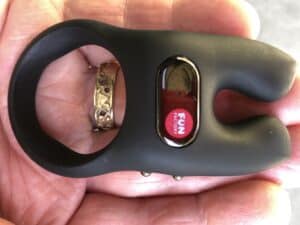 NŌS from Fun Factory
NŌS is a clever little device that fits on a penis and vibrates at different power levels. The vibrations will make you hard quickly and wearing it as a cock ring will help you keep your erection. Wear the the ring around the base of the penis with the open parts dropping down to provide delightful sensations to the testicles. Or place the ring just behind the ridge at the head of the penis to send thrumming vibrations to the frenulum and the sensitive ridge simultaneously. While marketed for partner play, it's great for solo pleasure.
Want sex toy education and more choices?
At our age, a well-chosen, well-placed vibrator can mean the difference between orgasm or no orgasm. What do vibrators do that a hand or partner can't? How do I choose the best one(s)? What if my partner doesn't want me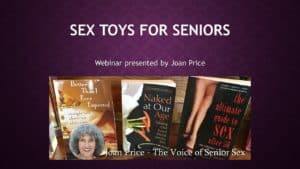 to use a sex toy? Will using a vibrator decrease my sensitivity? Will I become dependent on a vibrator? Are there good sex toys for penises as well as vulvas?
Sex Toys for Seniors webinar includes:
Joan's criteria for evaluating sex toys
8 questions to help you choose your personal vibrator.
5 myths and facts about vibrators.
Show-and-tell: Joan's highly recommended sex toys for seniors.
Links for recommended sex toys.
Although this 90-minute webinar was made in 2017, it's as relevant today, and you'll likely discover a new favorite (or first favorite!) orgasm tool!
Don't forget the lube!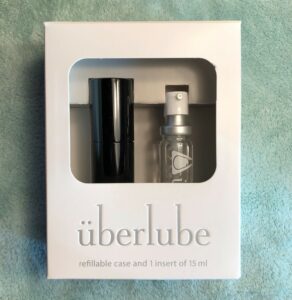 For sexy times when you're not using a silicone sex toy, you can't beat the smooth, slick feeling of überlube silicone lube. Being silicone, it won't dry up in use, making it perfect for both penetrative and non-penetrative sex. It's condom compatible and never sticky. The travel-friendly refillable case with insert makes a great gift for yourself or a lover. I've given gifts of überlube to friends who say it immediately became their favorite brand.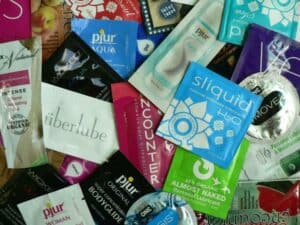 It's fun to try new brands of lubricants. Lucky Bloke  offers many different lubricant sample packs. Choose from silicone, water-based, or flavored. These are great for travel, personal exploration, and to tuck in an overnight bag or purse for a date that might turn special. And if you're single or not fluid-bonded with your partner(s), Lucky Bloke specializes in condoms of all types, brands, materials, and sizes. Try a sampler pack of condoms.
For use with silicone sex toys, you'll want to use water-based lubricant. Wicked Sensual Care has a new line called Simply that's pH-balanced and free of glycerin, propylene glycol, parabens, and fragrance. There are several options, and I especially recommend Simply Aqua Jelle, which is a thicker and longer-lasting formulation.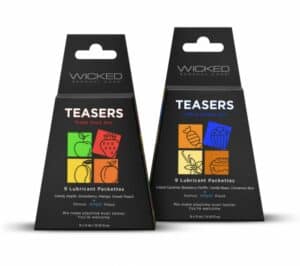 For an oral sex treat, try the remarkable flavored lubricants from Wicked Sensual Care. My favorite? Mango!  Try one or both of the two Teasers sampler packs — Coffee House mix and Fresh Fruit Mix — with four luscious flavors each. Just between us, these flavored lubes don't work as lubricants as much as "flavoring" during oral sex because they're so tasty that you'll end up slurping up every drop. The recipient of your oral ministrations won't mind that one bit.