Bob, 81: "I've never seen a sex toy…."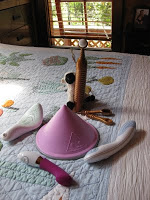 "I have a strange request," Bob said to me, eyes sparkling. "In all my 81 years and with all my sexual experience, I've never seen a sex toy…."
"What are you asking me, specifically?" I pursued, although I knew. He and his wife Leona wanted to look at my stash of sex toys. Although I share liberally here, it's one thing to photograph a vibrator before I've used it, all clean and shiny, and write about its pleasures a few hours later — and another to have people in my bedroom handling my used (though scrupulously cleaned) buzzing buddies.
"Yes," I told Bob and Leona, "as long I can write about it and take photos." If I call myself a sex educator who has no reservations about talking candidly, surely I can do show & tell with two good friends.
If you've read Better Than I Ever Expected: Straight Talk about Sex After Sixty, you met Bob and Leona, then 76 and 77, who candidly discussed the pleasures of sex without erections following Bob's heart surgery. "If I can't have intercourse, that doesn't mean I can't have sexual union," he said at that time. "Sex doesn't have much to do with the penis. It's between the ears, at the end of the tongue, in the finger, in the cuddling." It made sense that now they were curious about sex toys, which brought them to my bedroom.
I didn't want to overwhelm them by opening the lid of my gargantuan toy chest and letting them rummage around. So I prepared a display of just a few to show the variety, shapes, and potential of the new wave of vibrators designed with a woman's contours and hot spots in mind — the Cone, Emotional Bliss Womalia and Femblossom, Lelo Gigi, and my decade-long favorite, the Eroscillator.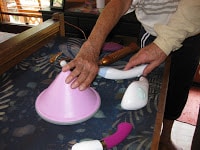 Bob asked many questions, mostly variations of "what does this do and how?" His guesses about the Cone were quite comical, but otherwise he had no trouble figuring them out. Leona's smile widened as I handed her one vibrating toy after another.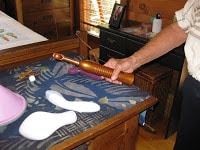 Bob was ready to leave, thanking me for supplementing his sexual education. Leona lingered for a moment, holding the Eroscillator. I think they'll have "the talk" later.