Do you blog about senior sex?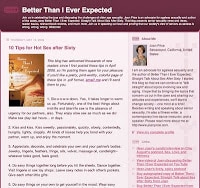 SENIOR SEX BLOGGERS:
Do you have a blog or website about
Senior sex/ dating/ relationships?
Sex — and you don't shy away from aging?
Aging — and you don't shy away from sex?
If so, please email me with the URL of your blog/site, a description of what you publish, and your direct email address. I'll tell you why after I hear from you!
You're welcome to post a link to your blog or site as a comment here, too, but please email me so I know how to contact you directly.
Thank you!