Jimmyjane Form 4: How do I love thee?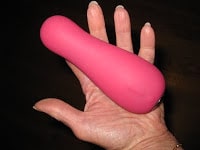 I have a new lover. He teased me in the shower, and then I took him to bed with me and had my way with him. His name is Jimmyjane Form 4, but I'll call him Frankie because his full name sounds too formal and boring, and he's anything but boring. He's a luxury vibrator, and I think I'm in love. Thank you, Kama Sutra Closet, for introducing us!
What do I love about Frankie? His vibrations are strong, and just the type I like: throbbing and rumbly rather than buzzy. The shape, which looks rather odd, is a lovely fit lengthwise against the whole vulva, with the business end (the smaller end which houses the motor) covering the clitoris and the rest of the vibrator pressed down for extra stimulation. At least that's my favorite way to use it.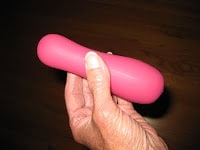 If you prefer, the smaller end can be inserted to stimulate the G-spot. I'm enjoying Frankie so much externally that I haven't wanted to switch. It's about 1.5″ diameter at the bulby part of the smaller end, then tapers in, then expands again to a 2″ diameter at the biggest part, which I can't imagine inserting.
I love the velvety silicone — a matte finish that is smooth but with a little drag for friction. Use lube, of course — non-silicone is best for use with silicone toys. It has a little flexibility, making it easy to position and not have to crook an arthritic wrist uncomfortably.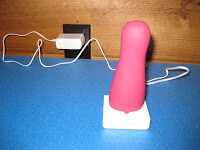 It charges by sitting in its charging seat. Once charged, it's cord-free and battery-free. It's completely waterproof — not just splash-proof, but immersible. Hence my shower foreplay.
I have to chide Jimmyjane for making the controls impossible to read unless you're wearing reading glasses and standing in bright sunlight. Fortunately, once you've learned where the three controls are and what they do ("+" for more intense; "-" for less intense; a wavy squiggle for changing function), you can do it by feel.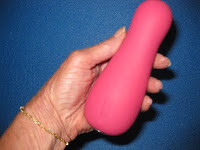 Be careful that the side with the controls is facing away from your body, or you might accidentally press a button with your thumb that changes the action at the wrong moment, and that's a sad event indeed.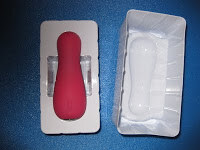 Shouldn't a luxury vibrator come with its own lint-free storage pouch? I think so. But Frankie arrived in a plastic case that clearly was meant for recycling, not for storage.
Never mind the case and the buttons — Frankie is a dream lover of a vibrator.
Thank you, Kama Sutra Closet, for bringing us together. Right now Kama Sutra Closet is offering the Jimmyjane Form 4 for $116 (regular price $145!). Put in the code Better15 for a 15% discount on any other, regularly priced item.