NŌS Vibrating Cock Ring: Review by Shamus MacDuff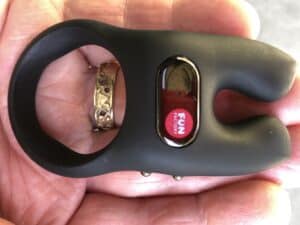 The NŌS is an outstanding new vibrating cock ring from Fun Factory. I have enjoyed it immensely during solo sex. Stretching the ring over a flaccid penis, NŌS quickly brings an erection when the motor is turned on. Moving it to different positions on the shaft yields various pleasing sensations.
My own favorite position is to point the motorized ends downward and inward so that they contact my scrotum. Revving up the power then produces wonderful vibrations all over my genitals. Rub a dab of water-based lube on the frenulum, and an orgasm will soon follow.
Generally, the controls on the center button work well. However, they are somewhat difficult to operate with lubed fingers. The solution is to start NŌS before slipping it onto your penis and before using lube. It's then easier to change the settings with or without lube on one's fingers.
The name NŌS derives from the Latin for "we/ours." It also means "us" in Spanish and Portuguese. This name was chosen specifically to indicate that—in Fun Factory's marketing lingo—it is "a cock ring for both of you." "Both of you" clearly refers to a heterosexual couple who wish to "come together" and orgasm simultaneously during penis-in-vagina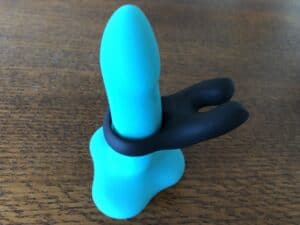 (PIV) intercourse.
NŌS is designed to facilitate this "coming together." It fits around the penis and at the same time can hug the partner's clitoris with its vibrating pincher-like tips. The expectation is that a couple can sync their orgasms. Fun Factory claims that "you'll climax together harder than ever."
The likelihood of that happening even occasionally strikes me as a tall order. Especially for us older folks, the chance of both people getting exactly the kind of stimulation they need at that same moment is unlikely and puts unreasonable pressure on the couple — and on the vibrator. Instead, experiment with the variety of ways to use the NŌS, see what feels good to each of you separately, then explore using it during PIV if you wish. Let your goal be pleasure, not a fantasy simultaneous orgasm.
To their credit, Fun Factory mentions several ways to use NŌS other than trying to produce orgasms for two people at the same time, such as wearing it on your hand as a finger vibe for your partner.
NŌS is — as Fun Factory hopes — also effective in partner sex, although not necessarily in the way they emphasize. In what my vulva owning partner and I affectionately call "old people sex," we seldom engage in PIV, far preferring lots of stroking and oral and manual play. Two ways that we enjoy using it on me:
Oral: NŌS is a wonderful adjunct to fellatio. Installing NŌS at the base of my penis, also touching my scrotum, my partner slowly increases the vibration level as oral sex proceeds. She giggles when she feels the NŌS-generated vibrations of my penis transmit to her mouth. What do I feel? Bliss.
Manual: My partner holds NŌS in her hand and applies the vibrating double end to sensitive spots on my penis, scrotum, and nipples, which I find very stimulating!
NŌS is a great addition to anyone's sex toy collection. Don't expect it to magically provide the rare simultaneous orgasm. But do recognize it as an effective, versatile little sex toy. Some of its many qualities:
Made of body-safe silicone

Waterproof

Quiet during use
Four speeds plus one pattern
Recharging is easy via the included handy magnetic charger.
Vibrations are remarkably strong for its small size
Ideal size for travel
I heartily recommend Fun Factory's NŌS. You'll be happy to own one!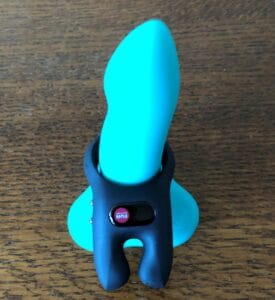 Note from Shamus MacDuff's clitoris-owning lover:

I love Fun Factory toys — especially the Volta and Limba Flex! — but this one did not work for me as a clitoris vibrator. The so-called clit extensions felt hard, and it was too easy to accidentally pinch myself when trying to manipulate it for my own pleasure. I loved using it on Shamus, but for myself, I'll grab the Volta from my Fun Factory toy bag.
Caution: Cock rings are safe when used properly. Wear for no longer than 20 minutes at a time. If it hurts, remove it. Do not use if you have a blood/bleeding condition.
==============
— Shamus MacDuff, age 77, was oblivious to the delights of sex toys for penises until about three years ago. He's been making up for lost time! Read his other posts here.