SUBMISSIONS ARE CLOSED. EMAIL ME IF YOU WANT ME TO NOTIFY YOU EITHER WHEN STILL NAKED: EROTICA FOR SENIORS IS PUBLISHED IN 2013, OR WHEN I EDIT ANOTHER SENIOR ANTHOLOGY.


2/1/12 8 a.m. update: Today's the deadline for submissions to the Senior Erotica Anthology! My email box is jumping today. Since I posted this Call for Submissions in September, I've received exactly 100 (100!) submissions–I'll be able to accept just 25-30 of those. Erotic stories and memoir essays have come in from professional writers in the erotica genre, professional writers in other genres (young adult, self-help, science fiction, memoir, and more), and from many new, unpublished writers. Some are sweet and romantic, some are rough and kinky, and everything in between. The topics are as diverse as the writers. Ohhh, this is going to be a fabulous anthology! Maybe we should do this every year! Writers, please be patient–I'll get back to you as soon as I can!


(1/18/12: I'm moving this post to the top because we're so close to the Feb. 1 deadline. The submissions are coming in quickly now, and I'm having a delicious time reading them. If you submitted, even months ago, hold on — acceptances will go out by mid-February. If you haven't submitted yet, please read the guidelines carefully first. I look forward to hearing from you!)


(11/20/11: We have many new readers, thanks to placing #14 of the 100 Best Sex Bloggers 2011 and being recently featured on the front page of Suddenly Senior, so I'm bringing this Call for Submissions to the top again. Please send me your complete contact info if you'd like to submit a story or personal essay to this anthology. The submission isn't due until February, but I'd like your contact info ahead. Please read my updates at end.)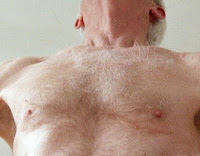 Joan Price
is seeking erotic stories and memoir essays of high literary quality from writers over age 50, featuring steamy characters also over age 50, for a senior erotica anthology to be published Spring 2013 by Seal Press.
Will this be your typical erotica anthology with a few wrinkles?
No, the truth is that we seniors don't respond to the sopping-wet panties and rock-hard erections that are the hallmark of traditional, youth-oriented erotica. Instead, we want erotica that we can relate to, that encompasses the changes and adaptations of age, that acknowledges how we like to be stimulated. Age is accepted, celebrated, and sensually enjoyed.
Characters may be having spicy sex with partners they love and have loved for decades; or with new loves or casual encounters; or solo with hands, vibrators, memories, and fantasies. Although I admit my bias towards erotica that is tender and loving, I'm also looking for edgy and kinky stories for a balanced collection.
Seal Press and I will choose submissions of high literary quality, not just good, explicit sex scenes. Arouse us with a sexy, well-crafted plot we haven't read before, characters who entice us and feel real to us, language that describes sex in a new way. I welcome diversity of all kinds, including race, ethnic background, gender identification, sexual orientation, disability, and every other kind of diversity.
Word length: 1,500-3,000 words, previously unpublished preferred.
Payment: $100 on acceptance and 2 copies of the book on publication.
Submission deadline: February 1, 2012 (earlier submissions preferred). Please submit Word document, double-spaced, Times or Times New Roman font. Authors may submit up to 2 contributions.
Before you submit (right now would be good!), please email me at SeniorErotica@gmail.com with the header "senior erotica submission" and include your 75-100-word author bio written in the third person and complete contact information: legal name, pseudonym if applicable, mailing address, email address, and phone. Please include your age, also
(which won't be public unless you want it to be)
.
I'll put you in my database of potential contributors and update you as the project progresses.
Please feel free to copy and forward.
Thank you!
Joan Price
Updates — please read:
9/22/11 update: I'm receiving submissions already — thank you! I'd prefer the sex scenes to take place at the characters' current age (over 50, 60, 70…). A story or two with flashbacks to younger years is fine, but I'm getting too many youthful flashbacks and too few current-age erotic scenes. What makes a story sexy and arousing at our age? That's your challenge!


10/4/11: Please read this new post updating what I'm seeking — even if you already submitted your story.


11/1/11: I know it's tempting to write about older characters having sex with impossibly attractive, young partners, and yes, it's ok if you've written a truly fabulous story in that vein — but I'd love to see more stories about older characters who are wildly attracted to each other and have amazing sex together. Let's show our youth-oriented culture (and ourselves!) that we're sexy at this age, too.


11/13/11: I'm pedaling away on my Fitdesk, rereading the 30 erotica submissions I've received already. It's too early to officially accept any contributions, but I can't resist sharing with you that I absolutely love five of these stories. The ones that work incorporate seamlessly and unapologetically the realities of making love as an older person, whether it's the man taking a pill or the woman applying lubricant or one of them placing a pillow under creaky knees before giving oral sex. Meanwhile, the focus is on the gradual building of the erotic details, as the author brings the sex scene to life and invites the reader to join the characters' arousal. "How the heck do I accomplish that?" you may ask. Only really good writers manage it, those who are our age and can describe what great sex feels like now. Looking forward to seeing your submission!
11/18/11: I've received contact information & bios from 51 writers, inquiries from about 20 more, submissions from 30. Clearly this is an idea whose time has come! If you are interested in submitting, please send the contact info/bio ahead so you're in my database. We have plenty of time before submissions are due, but don't wait if yours is ready.
11/20/11: It's a fine balance between erotically arousing and realistic older sex, isn't it? A few writers are doing that brilliantly–but many get stuck in gloom or reverie rather than bringing to life the exuberance of senior/elder sex. Some have so much story going on that the actual erotic part is bare; others are just writing the sex scene, without a story. Again, it's a fine balance, and it takes a skillful writer to make it work.