Sex Toy Sightings Winners!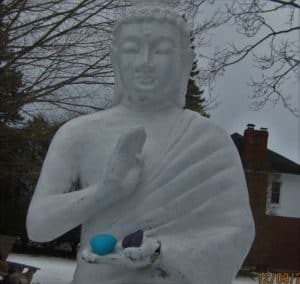 When I announced my Sex Toy Sightings contest, I didn't know what to expect. I knew it would  be funny and surprising, and I was right about that.
This project has been a delight, thanks to all the contestants and their creative photographs. Sex toys were spotted in workout rooms and yoga classes, on library shelves, at a cemetery, and in stores of all types. There were plenty of outdoor scenes, including Rockefeller Center in New York City at Christmas. Many people noted that although their toys were public and very visible, passers-by generally ignored them.
Here are our winners
Most Prolific Sex Toy Photographer, first place: Louise, age 69, submitted 27 photos. She took her glass dildo to the ocean, her flogger to the library, her strap-on dildo to the pool, her handcuffs to the gym, and various sex toys to stores selling food, clothing, even children's toys. It is my honor to pronounce her the winner in three categories (see below) as well as Most Prolific. Her prizes: We Vibe Melt and Fun Factory Stronic Drei.
Most Prolific Sex Toy Photographer, second place: Dave, age 81, submitted 12 photos, including three category winners (see below).  His prizes: We Vibe Melt and Hot Octopuss Pulse Duo.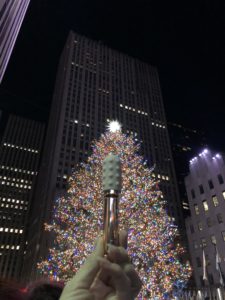 Photo Taken While Surrounded by the Most People: Adult film star and sex educator jessica drake took her LeWand Chrome Grand Bullet to New York City for Christmas. She wrote me, "At Rockefeller Center I used it to put the star atop the iconic tree with tens of thousands of people standing shoulder to shoulder all around me. Some of the comments were, 'You GO, girl,' 'Is THAT…?" and "That's amazing, what's it called?" Although jessica told me she had all the sex toys she needed, she was happy to receive copies of my Ultimate Guide to Sex after 50 and Ageless Erotica as her prizes.
Most Beautiful Photo(s): Louise captured the prize with these two lovely shots of her glass dildo at the ocean.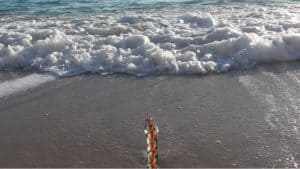 Best Story of What Happened When the Photo Was Taken: Dave posed his We-Vibe Unite  and his We-Vibe Wish cuddled together atop a police car at the police station. As Dave tells it, "Got some strange looks and comments from one officer who came out in the rain to ask why I was putting a 'bug' on one of their vehicles. I had forgotten about the security cameras in the parking lot. I guess being 81 years old helped get me out of that one. Are the police ever young!"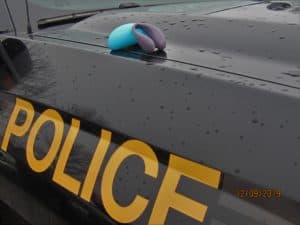 Best Conversation with a Stranger When the Photo was Taken: Sharon, 60, took her Magic Wand on a 4 a.m.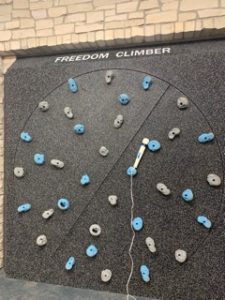 romp in her workout center, submitting 9 photos. While she was taking this one of her Magic Wand climbing the climbing wall, "Four beautiful young men were working out." One of these men told her, as she clicked the photo, "Excuse me, you're standing on my mat!" Her prize: We-Vibe Touch from The Smitten Kitten.
Best Story About No One Noticing the Sex Toy: Raven, 64, took her Fun Factory Volta to the yoga studio. She posed it on the altar, among the carrots at lunch, and on her mat in a variety of yoga poses. "No one even asked me what I was doing, although I took my time placing the toy in several fun poses and then casually putting it away in my yoga bag," she says. "I was surprised and amused that not one person made a comment to me, although many were around. I have trouble believing no one noticed. In the yoga studio maybe they are all just too deep in meditation." Her prize (by her request): a new Fun Factory Volta.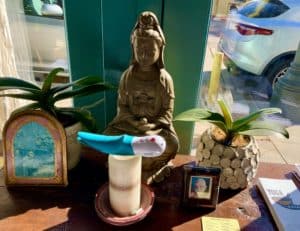 Riskiest Photo: Ness created her "Tadpoles" photos with her collection of Tracey Cox Supersex Kegel Balls by climbing over rocks and hanging onto a tree branch to get the "tadpoles" positioned right and position herself for the best angle to take the photo. Glad you survived it, Ness! Her prize: Three of my webinars.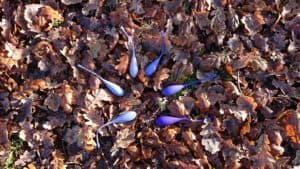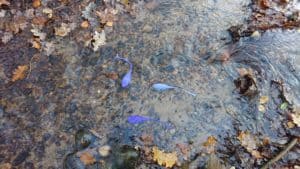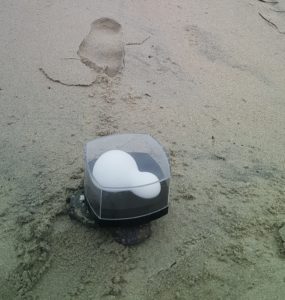 Best Footprint in the Sand: I invented this category when I saw Jeanne's lovely photo of her Tenga Iroha Yuki at Mission Beach, San Diego. Her prize: $100 gift certificate from Good Vibrations.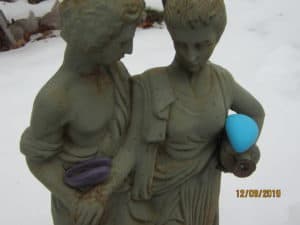 Best Statue Carrying Sex Toys: I invented this category, too, because Dave's photo of The Lovers, each carrying a We-Vibe sex toy, needed an award.
Most Fitting Juxtaposition of Sex Toy and Surroundings: We have three winners here: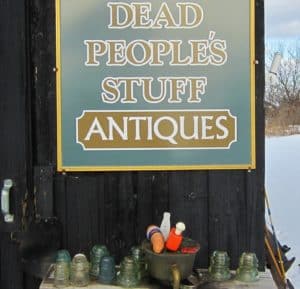 Dave's half-century-old sex toys were just right under the sign, "Dead People's Stuff: Antiques." Dave tells me, "Both these toys are over 50 years old and still fun and pleasurable. Advertised as a 'personal massager' back in the '60s, the Prelude was way ahead of anything else on the market and still gets plenty of fun time use. I have rewired it a number of times." (Hey, Dave, I used to have a Prelude, too!)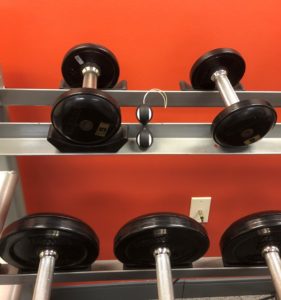 Linda's Kegel balls look like a miniature version of the dumbbells in the gym at the Hilton Garden in Phoenix. "There was a gentleman running on the treadmill behind me," she says. "He was either too engrossed in TV to notice, or maybe did not realize what I was taking a picture of." Her prize: $100 gift certificate from Good Vibrations.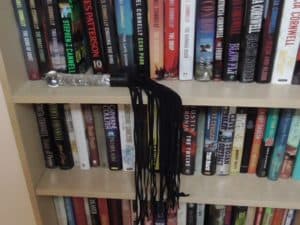 Louise's flogger-wearing dildo knew its place at her public library: in the crime fiction section, in this photo titled "Crime and Punishment."
Photo That Made the Judges Laugh the Hardest: Louise's Sunbathing Strapless Strap-On Dildo was the funniest photo submitted. If we had a category for Best Sex Toy That Looks Like Something Else, she'd win that, too!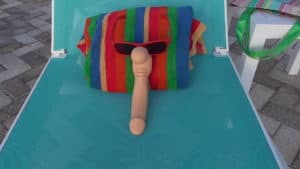 We also had several runners up who won't go empty-handed: They'll get $25 gift certificates from Lucky Bloke. And our friends at Wicked Sensual are sending all the winners and runners up a bottle of Toy Love lubricating gel, plus a variety of water-based lube samples to keep their sex toys well lubricated for pleasure.
Shamus MacDuff wasn't eligible for a prize because he helped me set up and judge the contest, and he took preliminary photos to show what we were looking for. But he kept on taking photos — 43 total! —  including this one of the Womanizer 2Go and the Hot Octopuss Pulse at a rural cemetery with a fitting message.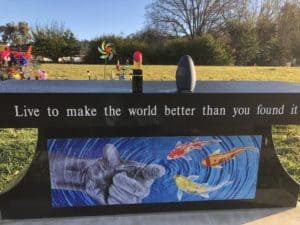 Congratulations to all our winners and runners-up, and many thanks to the wonderful companies that donated prizes! Please click on their links and purchase from the stores that support senior sex health and pleasure.