Blossom Organics Lubricants for Women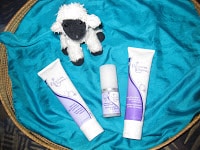 We women need lubricant as we age and our hormones are no longer providing enough natural lubrication for sexual comfort and pleasure. So many different varieties exist now that we're not limited to what our local drugstore offers for "intmate care." In fact, we'd do well to do our shopping in a woman-friendly sexuality shop — buying online if we're not lucky enough to have such a a store close to home.
"The ingredients found in common drugstore lubricants are the same ingredients found at your local Jiffy Lube!" says Melissa Jochim, creator and formulator of Blossom Organics, a new line of vaginal lubricants and moisturizers using only natural, beneficial ingredients.
She explains, "As a mucous membrane, the vagina is quite absorbent. The ingredients commonly found in intimate care products can have questionable long-term effects on a woman's health and well-being.These harsh ingredients disrupt the natural vaginal pH. In addition, these ingredients coat the vagina and have a drying effect on our natural moisture."
Blossom Organics uses only naturally pure, female-friendly ingredients. No parabens, petrochemicals, silicones, glycerin, alcohol, hormones, pesticides, or artificial dyes/ flavorings/ fragrances.
OK, let's get to the experience of these lubes. I was most eager to try the
Pure Pleasure Arousal Gel
. I had tried various so-called arousal or stimulating substances before, with varying success. Most provided a sort of mild, stinging sensation, not unpleasant or painful, but not what I'd call arousing. In any case, the sensation disappeared much too quickly for me to know whether they would hasten or intensify pleasure.
Blossom's arousal gel felt pleasant enough, a mild tingle, not enough to make me squirm or hasten arousal that I could tell. It's nice, I just didn't feel anything special. I tried it several times with my favorite toys — I don't know whether using it with a partner instead would alter my experience. (I know, it would alter every bit of my experience, but I'm talking about the effects of the gel.) Update May 2011: The effects of this gel intensify with continued use — I'm definitely getting more of a tingle from it than I did at first!
I really liked the Blossoms Organics Moisturing Lubricant — slick but not too slick, long lasting, never got tacky. Very nice indeed. The smell was pleasant — sort of spicy floral. Nothing artificial, just nice, slippery stuff that feels good, smells good, and lets you enjoy your experience, whether with a toy or a human partner. Use a smaller amount than you think you'll need — a little goes a long way. This was my favorite of the bunch, and I plan to use it regularly.
I also liked the
Warming Lubricant
, with one caveat: I didn't sense any particular "warming" effects — it was just a good lubricant. On the other hand, one reviewer at GoodVibes.com complained that it was "way too strong" and irritated her for a day. This surprised me. I know we experience sensations differently, but I'm bewildered that one woman would complain it burned when I didn't even think it felt warming. Maybe someone can explain this to me.