Iroha Zen and Tori: Cushy, Cute Vibrators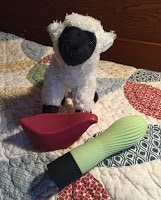 Iroha makes adorable, squishy sex toys for people who want sex toys that don't look like sex toys. I was delighted to receive the Iroha+ Tori from the wonderful folks at Good Vibrations, along with the Iroha Zen, a pleated, mild vibrator that comes in 3 colors. Both are silicone and look more like art objects than vibrators.
Iroha+ Tori
The Iroha+ Tori is a sweet, cushy, pretty vibrator. With its curved, birdlike shape, it doesn't scream "vibrator!" to a visitor who might see it drying on your sink counter or nesting on the side of your bathtub. Yes, bathtub — it's waterproof.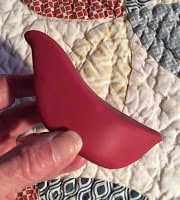 I wanted to love this because it's so pretty and I love to squeeze soft, squishy objects. The vibrations, though, are only mild to moderately strong, despite 5 intensity levels and two pulse modes. For me, it's a nice warm-up, but it doesn't pack the punch I need to get more than pleasantly aroused.
However, I've read several other reviewers (younger than I am) who find it perfect for a leisurely ride to an orgasm. So if you prefer vibrations that are less earth-shaking than the turbo power my 74-year-old body requires, it might be just right for you. Or — and I recommend this often — use it for sweet arousal for as long as you like. Then finish with a more powerful vibrator, or a partner, or a partner and a vibrator.
Besides being pretty, the Tori's shape is ergonomic and easy to hold. However, the vibrations transmit through the vibrator and into your hand as you hold it, which may aggravate an arthritic wrist.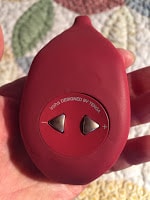 A  problem led to frustration: although the control buttons are easy to use with dry fingers, I couldn't seem to make the controls advance with lube-slick fingers. So if I started with level 2, I was stuck there unless I stopped the action, wiped my hands and the control buttons, and tried again. Buzz kill. The best solution I found was to turn it up all the way to intensity 5 before starting. (Don't worry, the power won't startle you the way an all-the-way-up
Magic Wand
would startle you — the vibrations are never blast-off strong.)
Although Iroha advertises the Iroha+ vibrators  as "redefining pleasure for women," a testing assistant reported enjoying the curved shape vibrating over penis and testicles. If you have a partner with a penis, don't be selfish — let the vibrating bird flutter over your partner's erogenous zones, as well as your own.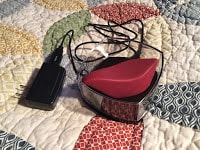 Besides Tori that looks like a bird, the new Iroha+ line offers Yoru that looks like a whale and Kushi that looks like a seashell or hedgehog. All of these are rechargeable using an attractive, clear plastic charging case, which doubles as a storage case.
Although this official video is absurdly delicate, you can see the  models and features here: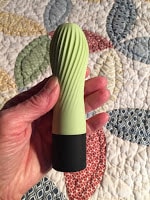 The
Iroha Zen
 is a cute, swirly-ridged vibrator modeled after the 
bamboo tea whisk used in Japanese tea ceremonies
. It's not rechargeable — it uses two AAA batteries. Despite this, it's waterproof! I'm not sure how to interpret this warning on the FAQ page, though: "Use in water can expose your body to the water you are using it in. Please ensure that you are using the item in a hygienic environment." Isn't that true anytime you're in water, whether or not you're using a vibrator?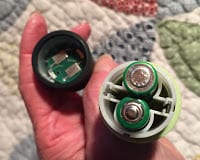 At first I was baffled when I tried to figure out the battery placement with no "+" or "-" label to guide me. The instructions in the box were in Japanese. I foolishly didn't peruse the website for help until after I tried to insert the batteries by squinting at the minuscule diagram, and it took me three tries. Not my proudest moment. You don't have to go through that. Fortunately, the Iroha website has the 
manual in English
 as well as 
FAQ in English
.
Using the Zen is as simple as pressing the button at the end. Unfortunately, the placement and ease of pressing led frequently to pressing the button accidentally and turning it off. I tried to train myself not to touch the end-cap button, but that made it awkward to hold. It can be used externally or for shallow vaginal insertion. (There's no flared base, so don't use it anally.)
Although the Zen claims to have these four modes — low/ medium/ high/ pulse — the "high" is no stronger than medium, and a gentle medium at that. I like the pillowy feel, but I'd love to have more power, much more power. If you prefer gentle, give it a try. It comes in three lovely colors: green, yellow, and coral.

Thank you,
Good Vibrations
, for sending me
Tori
and
Zen
in return for an honest review. Check out the special deals from Good Vibrations
here
.