Posts Tagged 'Shamus MacDuff'
by Shamus MacDuff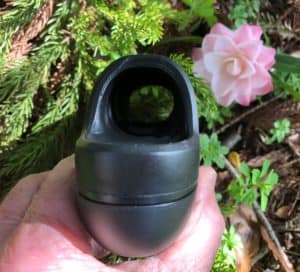 If you enjoy fellatio from a skilled, pleasure-giving partner, then you will like the Arcwave Ion, a new stroker sex toy for penises that feels more like a blow job than any other sex toy I've tried.
The Ion is innovative and unusual. It uses the same Pleasure Air Technology that the Womanizer pioneered for vulva owners, now re-engineered for the penis.
The lower half of the Ion contains the motor and controls, and the upper half is of soft silicone with a ribbed "tunnel" into which the penis is inserted. First, rub some water-based lube inside the tunnel and on your penis. Then situate your frenulum over a round hole in the base. Once the Ion is turned on, you will be also!
The three control buttons are easily accessible and increase or decrease intensity through eight levels. The sensations are so pleasurable and unusual that an orgasm rapidly results. While it works best with an erect penis, the Ion will also accept a flaccid one.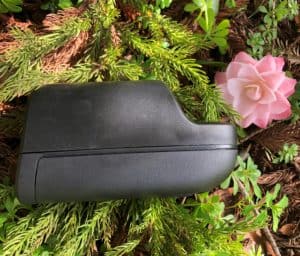 How Does It Work?
The Pleasure Air Technology sends pulsating airwaves to Pacinian pleasure receptors in the frenulum, producing sucking and massaging sensations that lead to powerful orgasms. Pacinian corpuscles in the frenulum are analogous to those in the clitoris. They are nerve endings in the skin that are highly sensitive to vibration and pressure.
"Female Orgasm for Men"?
 That these corpuscles occur in the frenulum as well as the clitoris has led Arcwave to claim that the Ion produces "a female orgasm for men." This strikes me as both odd and counterproductive. Odd because it is impossible for one gender to know what another gender's orgasm feels like. It's counterproductive because few penis owners—whether gay or straight—wish to experience a female orgasm. The quick, strong male orgasms that the Ion facilitates stand on their own and needn't imitate female versions. To me, this strange marketing strategy seems to turn Freud's infamous idea of penis envy on its head.
More Pros:
Fully waterproof!
The 6-inch long Ion twists apart into two halves for easy cleaning.
The Ion comes in a handsome 8-inch-tall hard plastic case that charges the Ion during storage.
Just a Few Cons:
The Ion is rather noisy, sounding like a large dog lapping up water (other reviewers have likened the noise to a bike pump or a small pneumatic drill), but that did not detract from my enjoyment.
The combination of the Ion and its charging case is bulkier than other penis toys so it would be less convenient to carry in luggage on trips.
It is not designed for partnered sex (unless your partner likes to watch).
Bottom Line:
The Arcwave Ion adds a delightful and very interesting new experience for penis pleasuring. The Arcwave Ion joins an outstanding group of other penis toys, such as the Manta from Fun Factory and the JETT and Pulse (in several iterations) from Hot Octopuss.
Personally, I am very happy to have this new toy, and I predict you will be, too. It may just launch your level of pleasure into the ionosphere!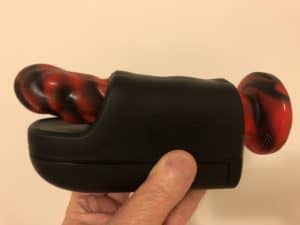 Thank you, Arcwave, for providing the Arcwave Ion in return for an honest review.
— Shamus MacDuff, age 77, was oblivious to the delights of sex toys for penises until about three years ago. He's been making up for lost time! Read his other posts here.