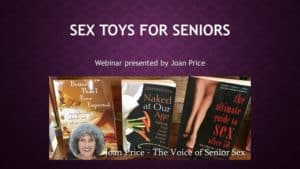 Are you looking toys for senior sex? Do you want to spice things up in the bedroom?
In May 2017, I presented a lively 90-minute webinar, Sex Toys for Seniors, which includes a show-and-tell of about 20 favorite vibrators and other sex toys. I introduced you to the Magic Wand, the Eroscillator, and many well-known and lesser-known (but fabulous!) orgasm-inducers.
Viewing rights to the recording are still available, and I hope you'll watch it. Since then, I've had the delight of  reviewing a few more stellar sex toys that would have been included in this webinar if I had enjoyed them sooner.
For your pleasure, here is a round-up of sex toy favorites that have crossed my path (and other places) recently.  Shamus MacDuff, my penis-owning reviewer, has also added his favorites.  Click on each product name to read our original reviews. These include links to retailers that I personally endorse because they care about our sexual pleasure, education, and health, and they celebrate my message that sexual pleasure is ours lifelong.
Best for Versatility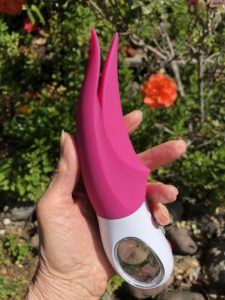 Volta from Fun Factory is delightfully versatile, powerful, and ergonomic. The curved shape and vibrating tips (I think of them as "flippers") can give pleasure to all varieties of genitals in many ways:
Nuzzle a clitoris by surrounding the glans (protruding tip of the clitoris) with the flippers.
Rest the curve of the Volta over the vulva for all-over stimulation.
Separate the flippers to vibrate the clitoris and the vaginal entrance simultaneously.
Cuddle or circle around the head of a penis.
Stroke the shaft of a penis with the flippers during fellatio.
From Shamus MacDuff:

My favorite toy for partner sex enhancement is Volta (a.k.a. "Flipper," or "The Cuttlefish with Attitude"). Not only does my woman friend find it pleasurable when applied to her clitoris, but I also enjoy its "kisses" when she buzzes it against my frenulum, penile shaft, and scrotum while thrilling me with her skillful fellatio.
Best for Penises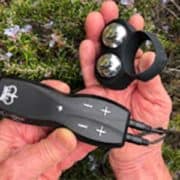 JETT from Hot Octopuss gets the vote from  75-year-old Shamus MacDuff. He loves the way he can adjust the "dual engines" (independently controlled treble and bass vibrations). As he puts it, "JETT has an expandable, circular silicone sleeve positioned directly above the dual jet engines into which you place your penis — flaccid or erect. The sleeve surrounds the frenulum on one side and the ridge atop the penile head on the other. When JETT revs up, the sensations are multiple and magnificent. The real fun with this toy comes (pun intended) in locating precisely the right treble and bass frequencies, paired with one of the 10 vibration patterns, that launches you into the JETT stream."
From Shamus MacDuff:

I especially love JETT for solo sex because it's easy to load my penis into it, flaccid or erect; the accessible controls make it simple to turn on and off and to change settings; and the wide variety of settings, coupled with adjustable, bass and treble intensities, allow me to dial up a  perfect combination of sensations to match my particular mood or arousal level.
Best for Traveling with a Vulva
We-Vibe Touch. The We-Vibe Touch has become my favorite travel vibrator. It's tiny, weighs almost nothing, yet it's powerful and versatile, and the design is so smart.  It's curved to cover much of the vulva for all-over stimulation, or press the cupped area over the clitoris, or point the tip wherever you want it, or combine any or all of these.
The Touch is fabulous to use on the clitoris during partner sex as well as solo, because it doesn't get in the way of two joined bodies. If you enjoy penetrative sex and need extra clitoral stimulation for your journey towards orgasm, this makes it easy and sweet. Add it for extra clitoral stimulation whatever kind of sex you might be enjoying — penetrative or not.
Although designed for vulva /clitoral stimulation, it's also enjoyed by penises and nipples of any gender. See why I love to pack it in my carry-on suitcase?
Best for  Traveling with a Penis
Pocket Pulse. We love all the Pulse models from Hot Octopuss because an erection is not required for use or receiving full pleasure. Just place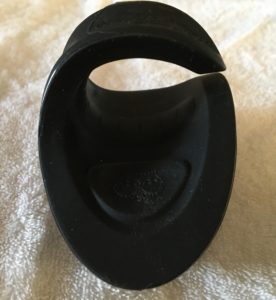 your penis of choice — hard, flaccid, or in between — in the Pulse, turn it on, and feel the results. The Pocket Pulse is a smaller, modified version, and Shamus MacDuff likes it even better than the bigger, more expensive models. The Pocket Pulse is an ideal travel companion for your penis.
Don't forget about lube!
All these orgasm-inducing products are made of silicone, which require water-based lubricant. I've been enjoying the water-based lubes from Wicked Sensual Care. We all have different needs and preferences, but my personal favorite Wicked water-based lube is Aqua Chill which resists body heat for a lovely sensation. If you've been frustrated during extended solo sessions with your vibrator because your lube dries out before you're done, Wicked's Toy Love is a thick and long-lasting gel, and it doesn't dribble off your toys.

What's a webinar, how does it work,

and why should you care?
A webinar is an online class. Using a web camera and microphone, I give an information-packed, lively presentation similar to the way I teach when I travel, but you watch online instead of waiting for me to come to your city. You can watch live if it fits your schedule, or watch a video recording of it later, or both. These classes are on senior sexuality topics that you — my subscribers and readers — have requested.
Recent webinars, available for viewing online:
If you're interested in a webinar that has already happened, you can purchase viewing rights for $55 for one; $50 each for two; or $45 each for three or more. (All prices US dollars.) Each 90-minute webinar was recorded in its entirety and you can watch at your convenience — multiple times if you wish. Once I receive your payment via PayPal or check, I'll send you the link and password.  Email me for details, telling me which senior sexuality webinars you wish to view. 
7 Steps to Reclaiming Your Sexual Pleasure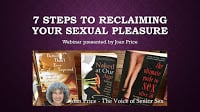 How's your sex life as a senior? If you answer either "Not very satisfying" or "What sex life?" this practical webinar is for you. You'll learn the facts about sex and aging and helpful strategies for overcoming the challenges. With Joan's help, you'll start to design your personal action plan for bringing the zing back into your sex life, partnered or solo. Included:
5 simple, practical tips for easier sexual arousal that you can put into action immediately;
Framework for a 7-step plan to improve your sexual pleasure long-term;
Handout to help you design your plan.
Recorded May 25, 2017.
Sex Toys for Seniors 
Joan has been reviewing sex toys from a senior perspective for more than a decade. At our age, a well-chosen, well-placed vibrator can mean the difference between orgasm or no orgasm. What do vibrators do that a hand or partner can't? How do I choose the best one(s)? What if my partner doesn't want me to use a sex toy? Will using a vibrator decrease my sensitivity? Will I become dependent on a vibrator? Are there good sex toys for men? Included: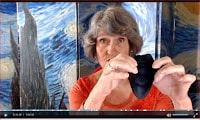 Joan's criteria for evaluating sex toys
8 questions to help you choose your personal vibrator.
5 myths and facts about vibrators.
Show-and-tell: Joan's highly recommended sex toys for seniors.
Links for recommended sex toys.
(Recorded May 27, 2017)
Great Sex without Penetration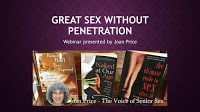 Let's get one misconception out of the way. Sex without penetration is still sex. Real sex. Hot sex. The idea that only penetrative sex constitutes "real sex" limits our creativity and our satisfaction. There are many reasons that penetrative sex might be off the table, but that leaves us with a smorgasbord of delectable options. Get new ideas for what we can do instead to express ourselves sexually, arouse ourselves and each other, share intimacy, and enjoy orgasms. Learn how to talk to a partner about sexual limitations and possibilities and how to negotiate more satisfying sexual expression. Handout included. (Recorded June 1, 2017)
12 Steps to Sexy Aging – Starting Now!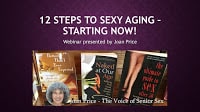 What can you do now to make sure you keep sex alive as you age? What are the secrets to staying sexually vibrant through the decades ahead? In this presentation, you'll learn what you can do starting now, whether you're 25 or 55 or any age at all, to invest in your future sexuality. You'll learn practical tips, communication skills, and attitude adjustments to enrich your sex life lifelong – partnered or solo – despite what the aging process throws your way. (Recorded July 22, 2017)
How the Heck Do I Date at This Age?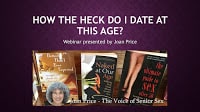 Dating after 50, 60, 70 and beyond can feel awkward and weird. How do you meet people? Do you need to use online dating? What are the mistakes most people make with their online profile and photos? Whether you're widowed, divorced, polyamorous, or a long-time single, this entertaining webinar will be illuminating and practical — plus you'll find out how others our age meet and mate. Useful tips and plenty of laughter guaranteed. Worksheet included for getting what you want! (Recorded June 17, 2017)
⇝⇝⇝NEW FREE WEBINAR! 
⇜⇜⇜⇜
Safer sex barriers — condoms, dental dams, gloves — are FUN and we seniors need to use them. Learn how and why to use safer sex, how to eroticize it, and what to say during the safer sex conversation. You'll learn how to choose which size condom your penis of choice needs, what a receptive condom is and how it works, and even how to put a condom on a soft penis using your mouth. This lively, fun-filled webinar is presented by senior sex educator and award-winning author Joan Price  and sponsored by Lucky Bloke. View it here.
Your Burning Questions? 
I'm planning some shorter webinars at a low ticket price. What burning question(s) about senior sexuality would you like to hear me answer? I'll choose those that are (a) narrowly focused so that I can do them justice in 20 minutes; (b) of interest to many of you; and (c) not covered sufficiently in my other webinars. (If you're not sure if your question qualifies, send it in anyway!) Everyone who submits a question that I use for a new webinar gets a discount to view it! Email me to submit your questions.
What do Joan's webinar attendees and viewers say about senior sexuality?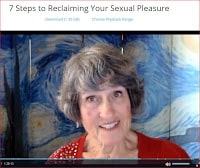 "My wife and I enjoyed your sex without penetration webinar very much. The real value of the presentation was the manner-of-fact way that you talk about sex without penetration. In particular, directly talking frankly about pursuing ones sexual pleasure. Your webinars have been the catalyst for several lengthy talks in recent weeks. Our conversations (especially the pillow-talk) and our play time together have simply been better. We are happy to be part of your community. Thanks for doing what you do!"
"This webinar is a fine presentation and an extremely helpful piece of work and I benefited in a host of ways. Even though I've read all three of your books on aging and sexuality, have followed your blog and other online items, I learned some things this afternoon."
"How is it possible for a 69-year-old woman and a 72-year-old man to enjoy 3 continuous hours of non-stop sex and joyful lovemaking, and then fall contentedly to sleep? And pick right up in the morning, seemingly where we left off? Use Joan's "sex without penetration" method, and leave out any and all expectations! Really. I owe you a big time testimonial!"
"We learned a lot from your webinar. My husband and I have been married 40 years. We are going to take some of the steps you recommended."
"I think you did a real good job of explaining things. I could see that what we were facing is not uncommon."
"Loved the sex toy webinar! I didn't realize the different ergonomic options for vibrators and dildos so this will help my greatly in work with seniors helping to refer them to appropriate toys. I will use this information when purchasing my own toys and also with older age clients wanting to discuss sex and sex toy options."
"Your sex toy webinar was an  excellent presentation and show& tell. Very informative and, as a toy 'virgin,' I liked your very matter-of-fact, 'this is ok and normal' approach. At one point I LOL'd, because I mentally superimposed you showing varieties of cake mixers or vacuum cleaners. Your approach has caused me to want to get one of these 'appliances' yesterday."
"Your dating webinar was interesting and worthwhile and very helpful in clarifying what I'm looking for and what are deal breakers. You were an engaging and authentic speaker!"

"I wrote what I thought to be a compelling profile on OKCupid, but it attracted relatively little interest.  Joan Price's webinar ("How the Heck Do I Date at This Age") provided important tips and suggestions for revision, and after I incorporated these insights the activity level on my profile increased markedly and has resulted in numerous inquiries and several fun dates with good matches."

"Five stars! I think what you're doing is quite challenging and you did a great job. You kept it light and funny while discussing some things most find quite
difficult. You told some nice stories and especially you showed us some of your own vulnerability. Powerful stuff."
"I loved how matter of fact you are about using sex toys. I will keep playing around with my vibrators as a way to get to know my own sexual response, and bring that knowledge into partner sex. Thank you for the wonderful work you do and the beautiful acceptance of all that sex for seniors may entail."
"I found your entire sex toys presentation absorbing and highly informative about the variety and range of sex toys and what they can and cannot do. I delighted in your imitations of the different sounds and speeds of various sex toys. What a kick!"
"Your Safer Sex video is a very good awakening to misinformed seniors (and individuals of all ages) on the Who, What Where When and Why of safe sex. I watched it twice and
was amazed how you packed into that presentation. That video is gold!"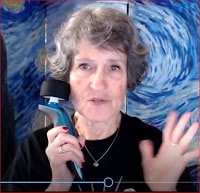 Joan shows her favorites
in Sex Toys for Seniors
Interested in meeting me in person? View my speaking schedule. I am also available for personal consultations via phone or video call. Email me for more information. Be sure you subscribe to receive my occasional newsletter for senior sex tips, events, and special offers for subscribers only. Thank you for being part of my community.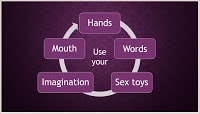 The day after my first "Great Sex Without Penetration" webinar, I received this email from an attendee:
"How is it possible for a 69-year-old woman and a 72-year-old man to enjoy 3 continuous hours of non-stop sex and joyful lovemaking, and then fall contentedly to sleep? And pick right up in the morning, seemingly where we left off? Use Joan's "sex without penetration" method, and leave out any and all expectations! Really. I owe you a big time testimonial!"
A couple of months later, I gave this webinar again, and another man raved to me about how well the techniques and especially the attitude adjustment worked for him and his new lover. I asked if he was willing to say more, and he sent me this. I share with you with his approval:

Sex without Penetration
by Shamus MacDuff
Like most heterosexual males who learned about sex via Playboy, locker room talk, and pornography, I grew up thinking that "real sex" involved putting my penis in a woman's vagina and thrusting in and out until I ejaculated. Oh, how wrong I was!
Widowed at age 73 after two long marriages, I was very fortunate to meet a wonderful, sex-positive woman via an online dating site. We clicked almost instantly and soon became lovers.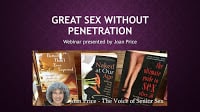 Thankfully, by then I had taken Joan Price's webinar, "Great Sex Without Penetration." It taught me that loving, happy, joyous sex is much more than the classic sexual intercourse — putting penis-in-vagina (PIV: a term I learned from the webinar) — which I had thought defined sex. The webinar also surprised me with the fact that very few women achieve orgasms that way.
When this new woman and I were first exploring each other, open and caring communications about sex without penetration aided us in learning how to please each other and reach a crescendo of sexual joy.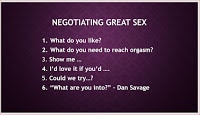 My patient lover explained to me exactly how to bring her to orgasm, which had everything to do with clitoral stimulation and nothing to do with intercourse. Since the webinar emphasized the central importance of good communication toward achieving mutual pleasure and orgasm, I was grateful for my lover's guidance.
Exploring each other without the goal of PIV also let us enjoy excitement and orgasms without any performance anxiety about whether my erection would be hard enough or last long enough. That didn't matter!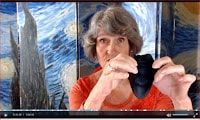 I've discovered that giving a woman pleasure via cunnilingus and touching is highly arousing for me. giving me more excitement and pleasure than PIV. My lover equally enjoys pleasing me with fellatio, stroking, and sex toys. Another of Joan's webinars, "Sex Toys for Seniors," introduced me to the variety of sex toys and the many fun ways that they can be employed. I'm sure that other men will find, as I have, that these toys heighten sexual pleasure without penetration — for us as well as for our partners!
So, listen up, guys: if you're an older man in search of mutual pleasure and sexual fulfillment, sex without penetration is the way to go!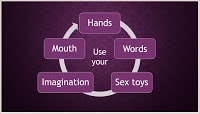 Note from Joan: If you'd like to take one of my workshops live or virtually, see my upcoming schedule here. But you don't have to wait for me to come to a city near you — recordings of my webinars are available now.