Posts Tagged 'vibrator review'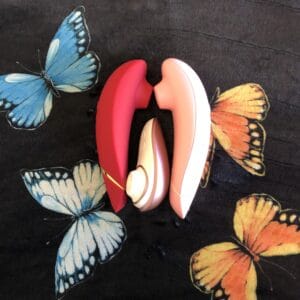 I encountered the first Womanizer clitoral stimulator in 2015, and I was shocked by the name. Did this German company really name a vulva sexual-pleasure product after the generic philanderer, a man who uses and deceives women? But because the quality was so marvelous, I got used to the name.
It was similar to getting used to the name "iPad," which also shocked me when it came out in 2010. "Why would Apple name a new product after a woman's sanitary napkin?" I asked my friends. "Don't any women work at Apple?" I got used to it. I've forgiven both Apple and Womanizer for jarring my sensibilities.
I've been reviewing Womanizer products ever since, and each iteration delights even more. The two newest Womanizers that I own — the Premium Eco and Premium — are so wonderful that I can't choose which I like best. Both models, like all Womanizer sex toys, use "Pleasure Air Technology": air pulses with vibrations. The combo feels like gentle sucking and vibrating at the same time. For best results, use water-based lubricant on both your clitoris and the stimulator head. Luscious. Orgasmic.
Although they look similar in the photo except for color, and they do feel similar in use, they are made of different materials and each has unique qualities. For clarity, I'll refer to the Premium Eco as "Eco" to differentiate it from the "Premium" (non-Eco).
Here's what the two models have in common:
12 intensity levels, from subtle to yowza. As power-hungry as I am, I don't need the strongest setting, and that's rare for me.
"Smart Silence." It's only active when it's in contact with your skin. That means no fumbling to turn it off if interrupted, or if you need to add more lube. Just break contact with your skin and it goes into standby mode until it touches you again. Sweet.
Two stimulator heads of slightly different shapes and sizes so your clitoris gets the fit she likes. The head pops off for cleaning.
Ergonomic design. The shape is easy to hold, and there are no vibrations in the handle — which my arthritic wrist appreciates greatly. The controls are simple to use without looking, and you won't accidentally turn it off.
Easy USB charging with magnetic connection.
5-year warranty coverage for all Womanizer products.

Here's how these two models differ:
They turn on and off differently. 

Start the Eco by pressing the "+" button until the little light goes on. Note that the motor won't start until the head is in contact with your skin. Turn it off by pressing and holding the "-" button.
Turn the Premium on or off by pressing and holding the tiny power button above the three dots near the end of the handle. Use the "+" or "-" button to increase or decrease the intensity.

Getting wet: The Eco is splash-proof only. The Premium is completely waterproof.
"Autopilot." On the Premium, when this feature is activated, intensity levels alternate randomly.  This doesn't appeal to me because I like to be in charge of the intensity, but if you like surprises, this could be a cool feature.
Manuals.

The Eco manual is short, to the point, clearly written and illustrated with diagrams, always black print on white page. And if you lose the booklet, here it is online. Save this link because when it's time to recycle, it tells you how.
The Premium, however, includes a hefty, multi-language booklet with — get this! — white print on a pinkish-beige page. C'mon, Womanizer, we've got some old eyes here. In other words, it's illegible. Because I like to save the day when I can, I've tracked down a PDF version of the manual with print you can read and  enlarge to your eyes' content. You're welcome.
What's Special about the Eco?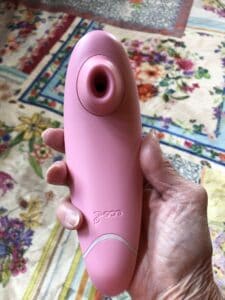 Eco is made with bio-based material that is also biodegradable. The whole thing is recyclable (once disassembled, which the manual illustrates). The amount of plastic is drastically reduced. Inside is a 14500 cylindrical 3.7 V lithium-ion rechargeable battery which may need to be replaced eventually. Even the cord and bag are environment-friendly.
If you force me to choose between the two models, I vote for
Eco,
because I love that Womanizer is trying to help the planet. The cute cotton bag is nice, too.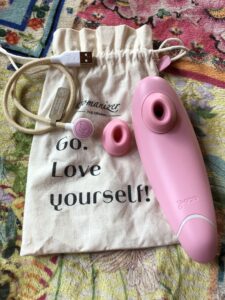 What About Travel?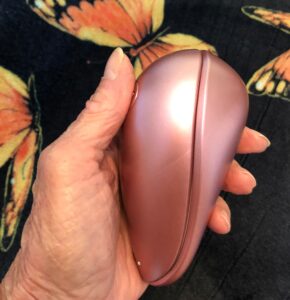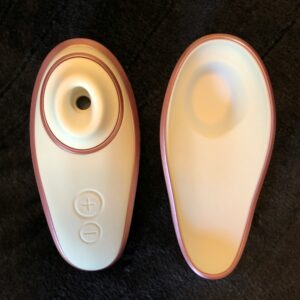 Tuck the lovely little Liberty into your travel bag for orgasms on the go. The Liberty lives in a sleek, beautifully shaped case that is magnetized so that the two halves seal together. Of course it's not as strong as the bigger models, but it still packs a punch with 6 intensity levels. And it's waterproof!
Note that the Liberty turns both on and off by pressing and holding the "+" button. It would be nice if all the models used the same on-off process, but if that's my only complaint, no need to get grumpy about it.
Womanizer + Clitoris = Orgasm
Despite the name, Womanizer products have been delighting clitoris owners for years. I've personally reviewed six models here, and only one, the Starlet, disappointed. From the first utterly garish model to the current elegant deliverers of delight, Womanizer sex toys are among my top choices for dependable, euphoric orgasms. Of course we're all different, and the "pleasure air technology" may or may not be your path to pleasure. Speaking as one 78-year-old woman, it sure does it for me.
Thank you, Womanizer, for providing the Eco , Premium , and Liberty, in exchange for an honest review.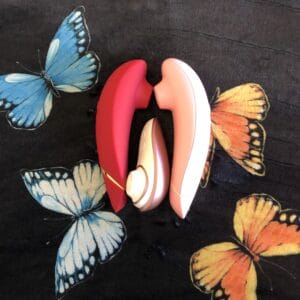 In case you're wondering why almost every sex toy that I review gets a rave recommendation:
Yes, I test my share of vibrators that disappoint. But why waste your time or mine reviewing a product that you don't need to know about? (Exception: if the product gets a lot of undeserved hype, or is so hilariously unsexy that I want you to laugh with me, like the Orgasmatron 3-corded jackhammer and the Siime Eye for vaginal selfies.)
Most of the vibrators that I decide not to review aren't bad, but they're nothing special. Maybe they're not close to strong enough, or they're awkward to use, or they're like so many others that there's not much new to say. I don't want you to have to wade through reviews of products that aren't stellar when there are gems that I want you to know about that you might not encounter on your own.  I realize that a sex toy that leaves me "eh!" might strike someone else as "yeah!" so I'm not going to pan it, I just don't review it. My sex toy providers understand that sending me a product is not a guarantee of a review.