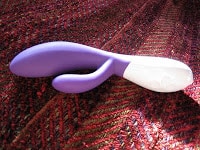 Thank you,
TabuToys.com
adult toys, for sending me the new LELO Ina dual-action vibrator! "Dual-action" means that it has separate parts for vaginal and clitoral stimulation, much like the "rabbit" style, but this toy is so sleek and elegant looking that I can't bring myself to call it a "rabbit." It may be a toy, but it's no bunny!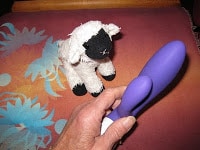 The handle is plastic, and the vibrator itself is high-grade, smooth silicone. The design is gorgeous. The insertable part (the bigger section) is rigid and seems to have a built-in homing device to find your G-Spot. The smaller clitoral part (little bloop) has some flexibility so you can adjust (slightly, not a lot) where it lands. This is a great feature, as I've been frustrated in the past by dual-action vibrators that positioned themselves wrong for my dimensions.
The Ina is rechargeable, so no batteries to worry about and no cords while it's in use.
I tried to use the controls by feel without reading the itsy-bitsy print in the teeny-weeny, 6-language manual, but the joyful toy went wild in my hand and I couldn't figure out what control did what, so I donned my reading glasses to read the manual and decode the controls for myself and for you: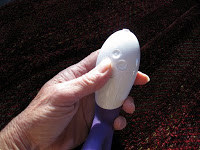 There are two motors and four quadrants to control them (or provoke them to control you). Hold down "+" to turn it on. After that, "+" is up (more intensity); "-" is down (less intensity, and hold down to turn off); the up and down arrows dial through the "stimulation modes" — massaging, tapping, throbbing, whirring, escalating, etc. Some modes alternates between clitoral and vaginal vibrations rather than matching them. The internal part makes a circular motion, very inventive and fun to play with!
The intensity gets very strong if that's what you want (I do! I do!), yet it's surprisingly quiet for the amount of power. I like it.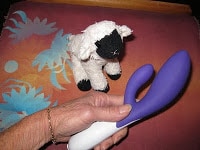 My only problem with the Ina is that the clitoral bump is quite hard. If you enjoy moving or thrusting the toy as it works its magic rather than just holding it where you want it, you may find that the clitoral bump becomes a battering ram on your delicate pleasure spot. I wish that part had been made more cushy. Otherwise, this is a fabulous pleasure object.